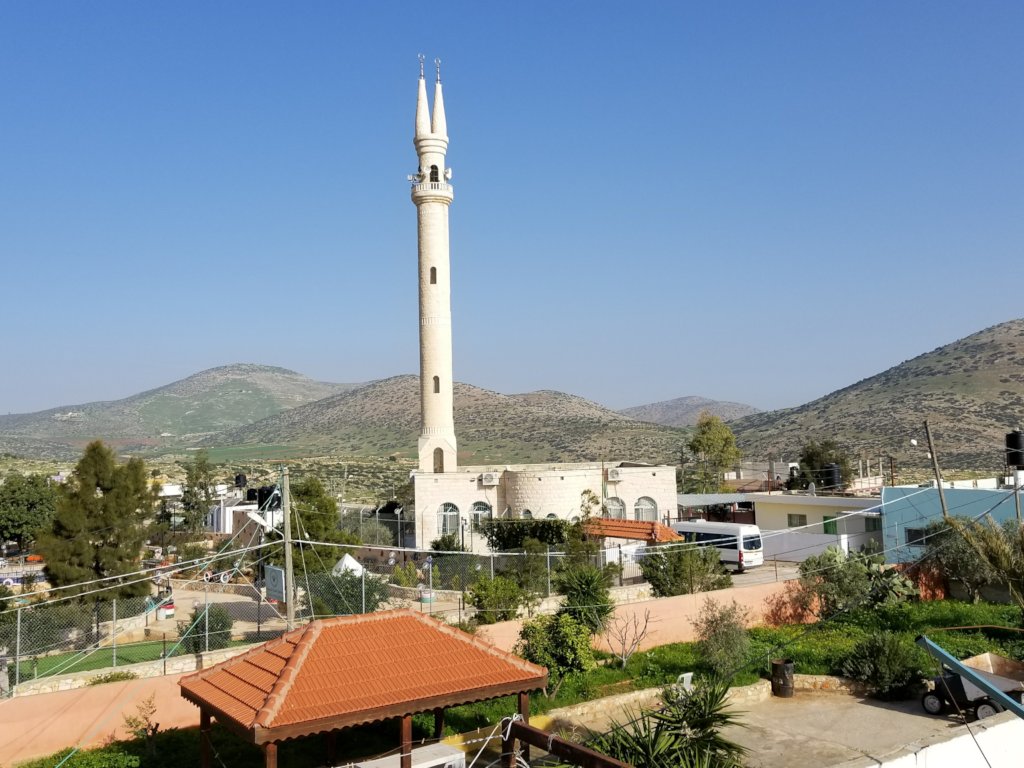 Dear Friend,
If you've been following Rebuilding Alliance and our work for a while, you know that our dream is to rebuild Palestinian communities in the West Bank so-called Area C. We started with the remarkable village of Al Aqaba where, with your help, we completed 3 homes. Families then finished four more and now there are sixteen more in construction.
I brought a board member and an expert in affordable housing with me in February and we had remarkable meetings in the West Bank in February. Rebuilding Alliance is truly the only group doing this work.

Here's the proposal we're presented in our discussions. Thank you again for all that you do.

Sincerely,
Donna
REBUILDING TO REMAIN OVERVIEW
A Proposal
Rebuilding to Remain (RTR) is a precedent-setting joint venture between Rebuilding Alliance (RA), a U.S. 501(c)(3) nonprofit corporation headquartered in Burlingame, California and the Al Aqaba Cooperative Assembly for Housing the Displaced (Housing Cooperative), a Palestinian cooperative organized by the villagers of Al Aqaba in Tubas Governorate.
RTR will be focused on two activities:
Providing the Housing Cooperative with the funding needed to provide long-term affordable financing for the construction and/or completion of homes in Al Aqaba Village in the so-called Area C of the West Bank; and


Continuing and expanding RA's advocacy program in the United States to further develop the grassroots, elected official, and diplomatic engagement needed to keep Al Aqaba Village safe from demolition and ultimately to secure Palestinian planning and building rights.
The purpose of RTR is promoting peace in the so-called Area C of the West Bank through economic development and civil rights for Palestinians living there. When people have basic rights to own land, build homes, educate their children, invest in factories, plan their communities and issue building permits, in other words, are afforded the basic rights of people in civil society, they have a reason to be hopeful and with hope, peace may follow.
Our methods are: (i) financing construction that will support economic development and stability for Palestinian communities in so-called Area C; and (ii) advocacy in the US to keep the construction standing by informing American politicians and people of the facts of the conditions for Palestinians in the West Bank and engaging politicians through constituent requests for intervention.
We request the amount of $180,000 USD to provide financing for the completion of the construction of homes in the village of Al Aqaba and to support political advocacy in the U.S. As described in more detail in the remainder of this paper, $120,00 will be used by the Housing Cooperative for ten (10) loans to complete ten (10) homes in the center of Al Aqaba and $60,000 will be used to continue and increase RA's advocacy work on behalf of planning and building rights in Al Aqaba and other villages in the West Bank.
The Village. The village of Al Aqaba is a remarkable model of peace and stability in a troubled part of the world. Mayor Haj Sami Sadeq Sbaih is a dedicated leader who believes in the right of his village to exist, deeply believes in peace, and welcomes all who wish to help to come to Al Aqaba – this, despite the Mayor becoming a paraplegic victim 45 years ago of Israeli live fire military training in the village.
The Israeli military agreed in 2002 to end its 30 years of live-fire training in Al Aqaba. In 2003 - 2004 RA helped Al Aqaba build a state-of-the art kindergarten that served as a catalyst for investment by some 20 countries, which has led to the establishment of a goat cheese and yogurt factory, a tea factory, elementary and secondary schools, a guesthouse for 30 guests, a new park, and a small store.
Award-winning Palestinian architect Hani Hassan designed plans for homes in Al Aqaba during an eight-day architectural design charrette with the residents of Al Aqaba sponsored by RA. In 2014 three (3) of the Hani Hassan designed homes were completed with 90% financial support provided by RA through loans from the Housing Cooperative. To date, twenty (20) other families commenced construction on homes without RA financing, some using the Hani Hassan design. Four (4) of those families have completed construction and moved into their homes, while sixteen (16) are currently under construction in the finishing stage. Of note, even now, nearly three years after construction, no demolition orders have been issued to any of these twenty-three (23) homes, however stop work orders have been issued to three of the sixteen still under construction. These three homes are located outside the center of the village (see Appendix A for map). The owners of the homes that were issued stop orders are challenging them in the Israeli court system.
Phase 1. The initial project of theRTR joint venture (Phase 1) is an offering of sixteen (16) loans for an average of $10,000 USD each for the completion of construction of 16 homes in Al Aqaba (Completion Loan Program) plus the advocacy to keep them all safe and standing. [For a table of the historical costs for finishing construction in Al Aqaba please see, Appendix B] Of these sixteen homes:
Ten (10) are located within the perimeter designated as within the center of the village as noted by the High Court of Israel on April 17, 2008, an area which the court said, "would remain standing for the time being."


Six (6) are just outside the arbitrary village center defined by the court, and therefore may face more risk of demolition. They are however within the village's master plan, hold village-issued, building permits, and clear title to their land..
Within the framework of Phase 1, RA is independently raising funds for the completion loans for the six "riskier" homes outside the village center plus funds to cover U.S. advocacy. In support of this fundraising effort and the overall advocacy effort, RA will hold a U.S. speaking tour with Mayor Haj Sami beginning in October 2017 to raise the funds needed. RA has utilized speaking tours in the past for advocacy, in order to build U.S. political understanding and support for the right of Al Aqaba and all villages in Area C to plan, permit, and build (among other advocacy issues). Additional information about RA advocacy initiatives and successes is included below.
Phase 1 is scheduled to launch in the fall of 2017. Upon completion of construction of the 16 homes, RTR will provide financing, through the Housing Cooperative, for the construction of fifteen (15) new homes (Phase 2) in Al Aqaba (New Construction Loan Program) at a cost of approximately $38,000 per unit. In Phase 3, RTR project will add two more villages in so-called Area C and build a further five (5) units in each of these villages & in Al Aqaba; thus totaling fifteen (15) units for Phase 3.
The Homes and the Families. All seven (7) completed homes, as well as the sixteen (16) still under construction, received Village Council-issued building permits prior to the start of construction. All construction completed to date has been done and inspected in conformance with Palestinian building codes.
The three (3) homes financed by RA were completed in 2014. The three families who built these homes signed loan agreements pursuant to which they have been making monthly repayments to the Housing Cooperative. To date, the default rate on these three home loans is zero.
The completion of construction for the ten (10) homes to be completed with the grant requested will be provided to the families in a form that requires repayment of the amounts advanced by the Housing Cooperative to each family for construction costs. The families have requested Islamic-compliant financing. This type of financing will be accomplished with either a sale/leaseback or loan structure. In either case, the cost to each family will be the cost of the construction plus reimbursement of fees incurred by the Housing Cooperative in administering the loan program. The repayment term is expected to be 240 months in Phases 3 and 4 but may be fewer months in Phase 1. It is expected that credit support in the form of personal guarantees from families who are members of the Housing Cooperative will be provided for each loan.
From each loan payment made by a borrowing family the portion of the payment representing construction costs advanced by the Housing Cooperative will be returned to the pool for re-lending by the Housing Cooperative to other families in Phase 2 and Phase 3, creating a multiplicative impact over time. In this way, RTR will achieve a level of sustainability in the long-term.
The village identified the families who started construction on the 16 homes to be finished in Phase 1 with the Completion Loan Program and those who will be first in line to apply to build/purchase the 15 homes of Phase 2, the New Construction Loan Program. To pre-qualify for either the Phase 1 or Phase 2 housing program, these families have completed income surveys and they have also each contributed 2,000 – 3,000 JD ($2800 - $4200 USD) to the Housing Cooperative to fund the infrastructure needed for the 31 homes. With these funds, the Housing Cooperative has completed the subdivision of the land into individual lots, wired electricity to each lot, installed underground water cisterns for water storage for each lot and connected each lot to the municipal water system. The Palestinian National Authority and the UN Development Program have built roads.
Advocacy. Rebuilding Alliance's advocacy for Al Aqaba has demonstrated that advocacy in the U.S .is key in ensuring the safety of Palestinian villages. RA learned how to walk the halls of the U.S. Congress in 2008 when the High Court of Israel was set to hear Al Aqaba's petition to freeze demolition orders against its kindergarten and homes. Our efforts succeeded and Al Aqaba not only avoided demolition but continued to grow and thrive. Now is the time to increase this vital constituent 'Contact Congress' effort.
Many are surprised to learn that even conservative members of the U.S. Congress will make calls on their constituents' behalf in support of Al Aqaba and other Palestinian villages to speak up for what is right. We give constituents all the tools they need to enlist the aid of their members of Congress, whose job description includes assisting constituents in resolving any urgent issue that involves a U.S. Agency. At the request of constituents, Congressional senior staff for foreign policy makes calls or writes letters to the U.S. State Department and to the Israeli Embassy in the U.S. to express concern on behalf of their constituency. Now is the time to increase this vital constituent 'Contact Congress' effort. Unless constituents learn to tell their members of Congress about the facts of occupation in the West Bank and ask for help, nothing will change. Advocacy to promote the efforts of peace through economic development in so-called Area C is something all supporters of human rights can be proud of. The goals of economic development are fair, just, and resolutely non-violent.
Rebuilding Alliance's advocacy usually begins with an action alert that is sent out to supporters via state of the art online advocacy tools. This consists of accurate information about a crisis, such as a Palestinian village in danger of demolition, as well as prewritten email that is sent directly to the supporter's members of Congress after they input their information. After these emails have gone out, the Rebuilding Alliance advocacy team analyzes which offices have received requests for action. Using this analysis, 30-minute conference call briefings are scheduled with the senior foreign policy staff at these offices. The constituents that sent letters to that office are asked to join the call. This is why offices that do not represent the district or state in which the Rebuilding Alliance office is located are willing to schedule a call. Also included on the call are residents of the village(s) concerned, as well as experts and lawyers. Designed to work in tandem with this process, Rebuilding Alliance has filed a patent for our mobile app, "Evincible" (available on Android and coming soon to iPhone). We are designing Evincible to make citizen advocacy and Congressional engagement easy and accessible. Featuring monthly advocacy challenges designed to keep Palestinian villages standing, each challenge include a pre-written email and a calling script, and shows a sum of the number of constituents taking action on a map of their Congressional district.
During 2015-2017 alone, RA held over 192 individual briefings, as well as twice-annual Congressional briefings each year since 2003. In September 2017, RA conducted our third annual Congressional briefing featuring a Palestinian child from Susiya in Washington, DC for International Peace Day, sponsored by Senator Bernie Sanders. In our experience, many members of the US Congress are hungry for this information and cannot easily get it from other sources. The perspective of children on this issue is particularly compelling, and these briefings are highly effective in prompting action.
Over the years, RA has witnessed several successes in our advocacy efforts, including:
- Pressed Google to add 236 previously omitted Palestinian Villages in so-called Area C to their maps, by staging a run from Apple to Google's headquarters in Silicon Valley, with Palestinian running club, Right to Movement and by advocating directly with representatives from Google;
- In 2016, a senior Senator published five letters of correspondence between herself and PM Netanyahu, urging him to protect the Palestinian village of Susiya from demolition. In 2017, four Senators signed a letter to the U.S. State Department seeking intervention for Susiya, and a Congresswoman has notified Rebuilding Alliance that she will soon ask colleagues to join her in signing a similar 'Dear Colleague' letter from the House of Representatives;
- The kindergarten built by RA in Al Aqaba is still standing and growing after 15+ years, despite demolition orders, due to the inspiring leadership of Mayor Haj Sami Sadeq and RA's frequent communication with Congress, lawyers, human rights defenders, and ICA.
As this project with the Housing Cooperative unfolds, RA will continue to advocate for Israel's approval of the master plans filed by 121 Palestinian communities in so-called Area C, the recognition of building permits issued by village councils in accordance with those master plans, and for the lifting of the demolition orders. Al Aqaba's experience provides an important model for the region. RA's experience in using citizen engagement to request Congressional intervention to keep Al Aqaba standing provides a vital way to secure Palestinian planning and building rights in this challenging time.
The Future. There are other villages in so-called Area C like Al Aqaba. With continued success in Al Aqaba RA will scale this program to other Palestinian communities and in this way support fair housing, justice, and peace by supporting economic opportunity and security.
In Summary. Sixteen more of Al Aqaba's villagers are already taking the brave step of investing their life savings to build their new homes on their land and move back to live in their remarkable village. Phase 1 of Rebuilding to Remain will help all sixteen families finish their homes and ramp-up the advocacy so necessary to keep them safe and standing. Rebuilding Alliance is already raising funds to help the six homes just outside the center finish. Rebuilding Alliance and the Al Aqaba Village Housing Cooperative are seeking a commitment of grant funds in the amount of $180,000 to fund the completion of 10 homes in Al Aqaba's center, and to continue the U.S. advocacy that will keep them safe and help secure planning and building rights.