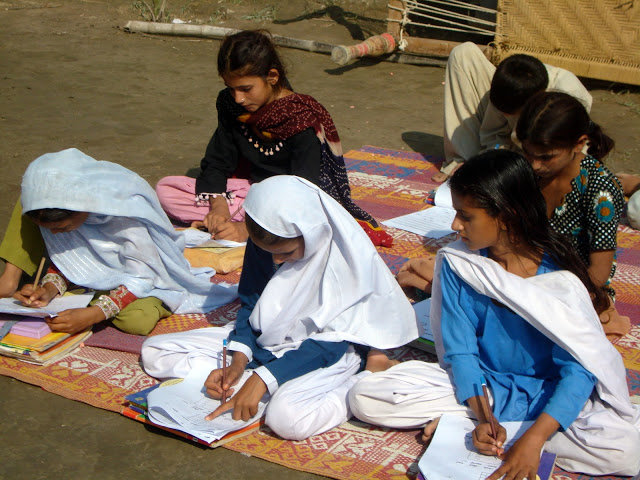 The floods of 2011 and 2012 were one of the worst ever experienced in Pakistan since its independence in 1947. It resulted in extensive damage to crops, livestock, infrastructure and human settlements which nearly crippled the country's economy. In this tragedy nearly 4,000 schools were either destroyed completely or had become dysfunctional for teaching. [i]

After a preliminary damage assessment by a team from the Fatima Memorial Hospital (NUR-FMH) of the worst hit areas such as Dera Ghazi Khan in Southern Punjab, 400 families in flood hit areas were resettled by the NUR-FMH team. The team also provided medical relief, food, shelter and clothing to the flood affected people
Fatima Memorial Hospital than opened a formal school in Habit Mastui – DG Khan in Southern Punjab to address the severe need of an educational structure in in the flood affected areas. Today 200 students attend our school for free from Nursery to Grade 5. Five teachers qualified in the area of primary education have been inducted to provide quality education with instructional standards based on the latest national curriculum.
Teacher's workshops are conducted 3 times a year for quality control in competencies such as communication skills, conflict management and curriculum planning.
Progress Indicators
The following charts detail project progression statistics such as teacher qualifications, textbook distribution, and
stationary supplies provided so far by NCOP as shown in Tables 1, 2, 3 and 4 below as well as pictorial collage of our projects in figure 2:
Our Mission Continues
The children being educated at Habit Mastui are extremely thankful to their donors who made schooling in a devastated area possible again. We need your help to carry this mission forward and request that you come forward and become a part of this initiative through your donations to educate, empower and to create a better future.
It is our aim that one day these children will stand shoulder to shoulder with children from developed areas and feel
empowered by the quality of education provided to them through our humble endeavors.