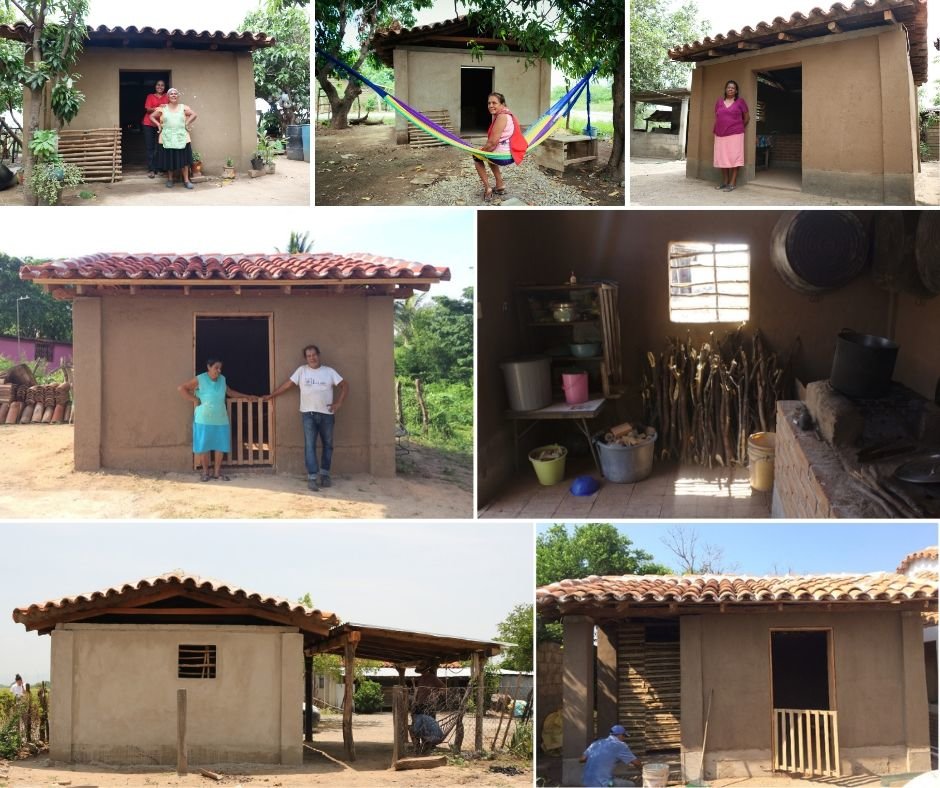 The Comprehensive and Social Reconstruction of Habitat project in the Isthmus of Tehuantepec, Oaxaca, continues improving habitability and diminishing vulnerability of many families in the communities of Ixtepec, Niltepec, Xadani, Chihuitán, San Francisco del Mar, Unión Hidalgo, and San Mateo del Mar; thanks to all the organizations and people that have showed solidarity after de emergency caused by the earthquakes of 2017.
Kitchens, traditional bread and comixcal ovens
Until August 15 of 2019, we have finished a total of 34 kitchens of bajareque cereén; 17 of them in Ixtepec, 16 in Niltepec —a community where all kitchens proposed have been concluded— and one in San Mateo del Mar. There, we started the constructive phase with a school-kitchen, after a series of meetings and participative design workshops with the community to identify its needs.
This last school-kitchen adds up to the ones developed before: 3 in Ixtepec, 1 in Niltepec y 1 in Xadani. On July 17 and 29, we did an evaluation of this process with the indigenous ikoot community of San del Mar, along with the local organization Monapaküy, to gather feedback and establish the following steps.
In the case of Ixtepec, 2 of 3 school-kitchens were built in the middle school 20 de Noviembre, so the new generations could recover constructive traditions, increase their technical capacities and reinforce their mutual support practices —such as tequios— that are commonly implemented in their communities.
In addition to this, we had previously built 156 comixcal ovens: 88 in Ixtepec, 26 in Chihuitán, 25 in Niltepec, and 17 in Xadani; aswell as 22 traditional bread ovens in Ixtepec. The purpose of those constructions is to contribute to the recovery of local economy, mainly for women whose productive activities are carried out with this infrastructure.
Traditional istmeña housing
Regarding the reconstruction of housing, until now we have concluded 19 new constructions and reinforced 38 houses in Ixtepec. During this process 93 construction workers have learned about secure constructions systems, number that may increase towards the ending of the project.
Reconstruction of community spaces in Ixtepec
Also, we continue working with local organizations. On july, the construction works of the Sociedad Ganadera building started, and we followed with a collaborative design process with the members of the Sociedad Agrícola.to reinforce their building, in collaboration with the Comité Ixtepecano para la Defensa de la Vida y el Territorio.
Center of Arts and Crafts
During this period, we also finished the last details of the Center of Arts and Crafts in Ixtepec. The whole constructive process of this building, served as a practical workshop for many workers to learn and specialize on earth construction and the system of bajareque cerén, as well as for other participants of the project who collaborated through collective activities called tequios.

After its inauguration, the Comité Ixtepecano foresees to foster participative diagnoses with local committees, collectives, organizations and community structures with purpose of designing a program for the first six months, that responds to the concerns and needs of the different sectors of the population.