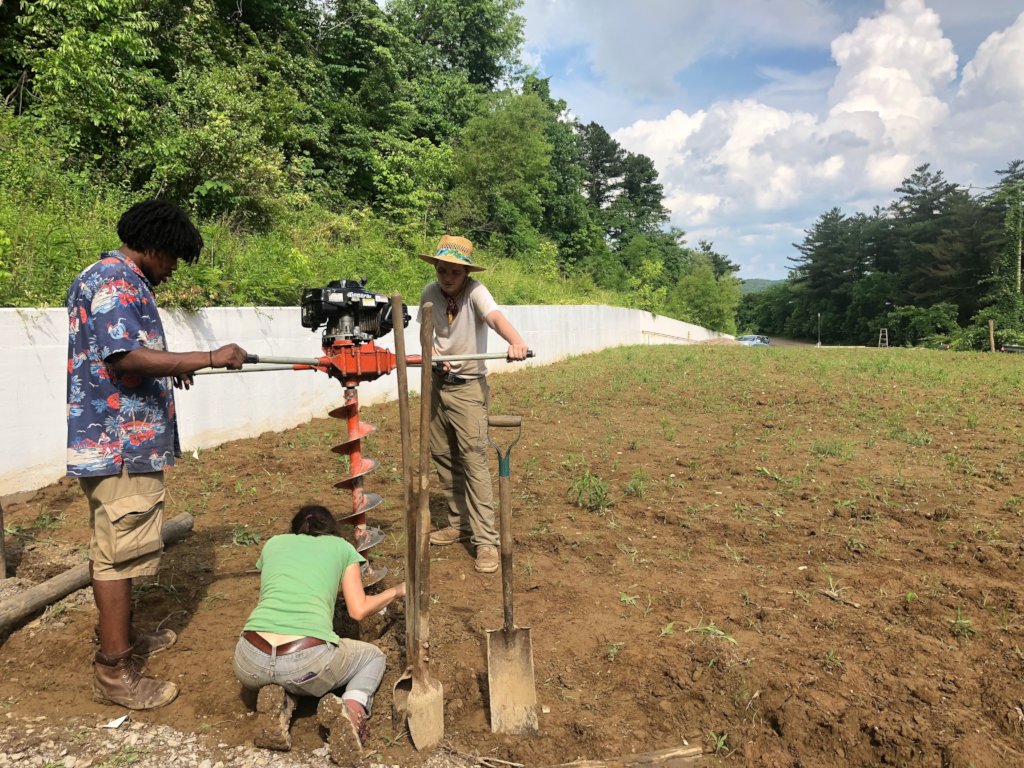 "It has been a long, hard process," says Javi Devia, ComCorps member at CFI, "the change is happening slowly but surely." The site for the new Nelsonville Community Garden literally used to be a parking lot. The asphalt had to be split apart, ripped up and hauled away and what it left behind was an area that looked unfit for growing anything other than weeds. A whopping 18 inches of topsoil had to be brought in and leveled. A soil test was conducted and a CFI intern is in the process of the tedious calculations required in order to add the correct amounts of amendments such as dolomitic lime, phosphorus, and blood meal to the soil that will become the garden plots.
Javi learned how to use a hydraulic post hole digger...what an adventure that was! She and two amazing community volunteers successfully installed a deer-proof fence, complete with locust pole corners, around the entire garden space. It was a long, physically brutal process but the result is a tough animal-proof fence that is sure to stand the test of time.
The next step was marking the plots and pathways. We decided to go with 10' x 12' individual garden plots and a 3' border along the exterior, just inside the fence. All the way around the inside of an almost 8000 sq foot garden is a lot of weed barrier cloth to be laid! Landscape pins need to be installed every couple of feet to keep it in place. Loads of mulch were donated by a local tree care company and we wheelbarrowed till dusk to get some of the paths covered.
We took our truck to the old garden site and could barely find our picnic table! The Johnson grass-filled swampy area practically swallowed it, but we fished it out and hauled it to the new site. The freshly laid weed cloth and mulch will help keep our new community gathering area at the garden weed free.
Our first "New Nelsonville Community Garden Work Party" is scheduled for next week. We are hoping for a big turnout...with plenty of extra hands, we will aim to get the rest of the weed barrier cloth laid over the paths, secured, and mulched. Afterwards we plan on celebrating by sharing a jug of iced tea in our new, weed free picnic space. Check back in a couple of weeks for an update on how great the new garden space will be looking by then!