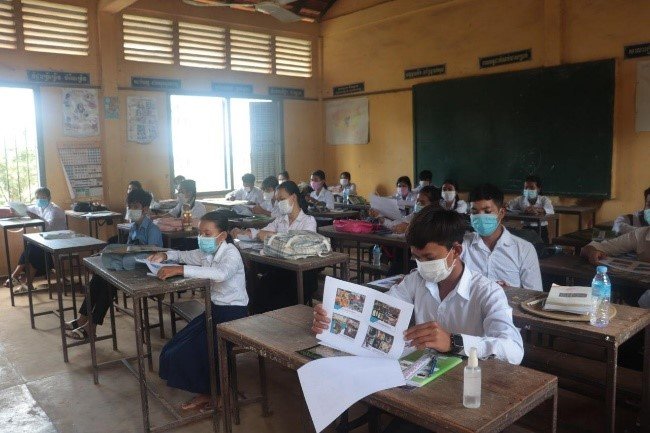 After a long absence from the classroom as a result of a severe community outbreak of COVID-19, the Kouprey Express (KE) is finally – slowly but surely – getting back to school! Cases in Cambodia totaled less than 500 for all of 2020, but then rose exponentially since February 2021 when this outbreak started, to infect over 110,000 people by late September. Thankfully, due to high vaccination rates, the Royal Government of Cambodia has just re-opened 9,800 secondary and high schools in Phnom Penh and 22 of 25 provinces! After nearly two years of repeated school closures and bans on public events, this is excellent news.
For the first in-person activity the team has held since late February, the KE hit the ground running, reaching 5 schools in Kompong Speu Province and the outer areas of Phnom Penh to start. The schools' directors warmly welcomed the KE, and the team reached 2,694 (1,381 female) students using a modified version of our core classroom program. These modifications were needed due to both social distancing requirements and busy classroom schedules as teachers and students scramble to catch up on their studies after 7 months of closures. With the help of school directors and teachers, the KE carefully conducted both in-class activities as well as outdoor assemblies, talking to the students about the vital need to protect wildlife, particularly in the interest of human health. Needless to say it is smiles all around as everyone – students, teachers, and the KE alike – are all thrilled to be back at school. We have several invitations from other schools and local NGOs, so the KE has a busy schedule on the horizon, but of course that remains dependent on the COVID-19 situation.
While we are optimistic about resuming our classroom activities, the KE remains cautious and always has a 'Plan B' in place. These challenging times have made the KE tap into their creativity by developing new outreach methods, such as the door-to-door approach in 2020 to bring environmental education into people's homes and shifting our efforts to producing and posting environmental education videos online to continue reaching the masses despite restrictions on in-person meetings for much of 2021 (see past reports for more on each effort). While these are excellent ways to continue our outreach efforts when travel was not possible, the KE is over the moon to be back in the schools!
Your GlobalGiving donations help the KE to keep educating Cambodians about their natural heritage during these challenging times. Thank you so much for your support!