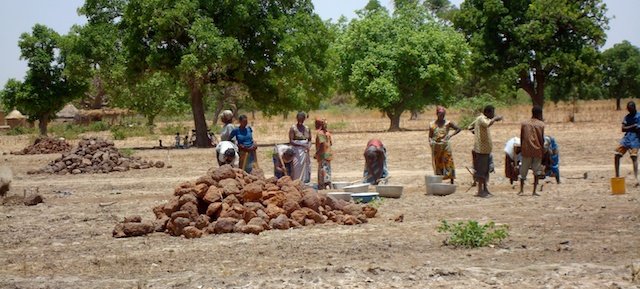 GLOBAL GIVING REPORT JUNE 2014: RAINWATER CATCHMENTS
"If the Women Benefit, We All Benefit"
As Yameogo Brahima said earlier this year in the village of Ramongokamsi: "We all know the water basin will help us, particularly the women, and if the women benefit, everyone benefits." The demand is very high from many villages in Burkina Faso to have water throughout the year. Rainwater catchment basins can demonstrate the most effective way to create a more sustainable community, curb out-migration, promote girls' education by removing the burden of searching for water, and then empower farming's productive ability. To meet the demand, Give Water Give Life (GWGL) is producing a prototype Rainwater Catchment Basin (RCB) that can be replicated throughout the country.
Water Throughout The Year for Rural Villlages
Based on our most recent research, village visits, data and partnership activities, Give Water Give Life broadened our scope and increased our budget. Developing a prototype RCB requires local non-governmental organizations, communities, village leaders, engineers, graduate students, private manufacturers, managers and transportation. Our updated program includes all these and their related costs.
A well designed village rainwater catchment basin collects runoff water in a suited emplacement and topography; stores it; and makes water available year round for agriculture, economic development, and improving rural health. A rainwater catchment basin was envisioned, developed and built by residents in the village of Sisene, in central west Burkina Faso, in 2008. Success is realized by the 2,000 residents using the 6,000 cubic meters of water from their new basin – available to them every day since the initial rainfall in 2008. With the basin water, the aquifer was restored, the water table raised, six formerly dry wells now have water, and families are healthier and able to send their children to school.
Building on this success, Give Water Give Life is developing a prototype RCB. The participation of the villagers in the creation of the RCB is the most important ingredient to its success and long life. To improve sustainability, the prototype is being upgraded with: emergency spillway; satellite imagery processing technologies to determine suitable topography and locations; and solar/wind powered micro irrigation and water filtration systems.
"With Water Year Round, Our Daughters Can Go To School"
Give Water Give Life is raising funds for research, prototype development, installation, testing, and operations. Private, for-profit companies are working with GWGL to develop solar/wind powered water irrigation and water filtration systems to be used in Burkina Faso. Two villages will also be used to test these products. The existing Sisene RCB and the rainwater pond in Djoiuga (northern Burkina Faso) will be retrofitted with the new irrigation and filtration systems over the next 12 months. These will serve as ground tests of the micro irrigation and water filtration technologies. The prototype rainwater catchment basin is being engineered to incorporate the best factors needed for efficiency and productivity in the extremely harsh climes of Burkina Faso.
Once the prototype rainwater catchment infrastructure is completed, 3 or 4 new RCBs will be constructed in 2015 and 2016. Analysis and testing will be continuously conducted to assure quality design and installation, comprehensive understanding, use, and maintenance by residents of each village. Subsequently, the new technologies will be incorporated into the prototype RCB to then be reproduced throughout Burkina Faso.
Give Water Give Life has also committed to repairing the existing Sisene RCB before the next rainy season begins in June 2015.
GlobalGiving
Last October, Give Water Give Life began fundraising with GlobalGiving. We sought donations to build a new RCB in a second village. Many contributions have been received through Global Giving and GWGL is continuously and truly grateful for each one. We are requesting assistance from our donors to improve our project through our refocus on the prototype design, implementation testing, and repair of the existing basin.
At this time, the amount of money needed to build a new rainwater catchment basin is close to $100,000. But before building another new rainwater catchment basin, we need to spend more time and money to produce the prototype. By fine-tuning the design of the prototype, we could have a less expensive RCB and also one that is more easily sustainable. The original RCB built in Sisene has faltered at its one end and is losing precious water. After the fact, we learned that the RCB should have had an emergency spillway in order to better control water flow after heavy rainfall.
Therefore, now each new RCB will have an emergency spillway. Other items being incorporated into the design of the prototype include: solar/wind powered water filtration & water irrigation systems; proper porous basin linings; and use of satellite imagery, GPS, and field survey data to exactly determine RCB locations.
We would like to use the funds to help pay the costs of the creation of the prototype and the reparation of the existing basin in the village of Sisene. If acceptable, we will place a new list of items on our Global Giving page that will delineate how money is used, and whether it is for the design of the prototype, the repair of the existing Sisene RCB, and/or the retrofitting of the water basins in the villages of Sisene and Djoiuga. As we proceed, we will update the amounts needed for each and all of the tasks.
Thank you Global Giving donors! Your support is very much needed and appreciated! Please let us know if you have any additional suggestions for improving our communication with you and other potential supporters. Your comments about our work are also always welcome. Thank you again.