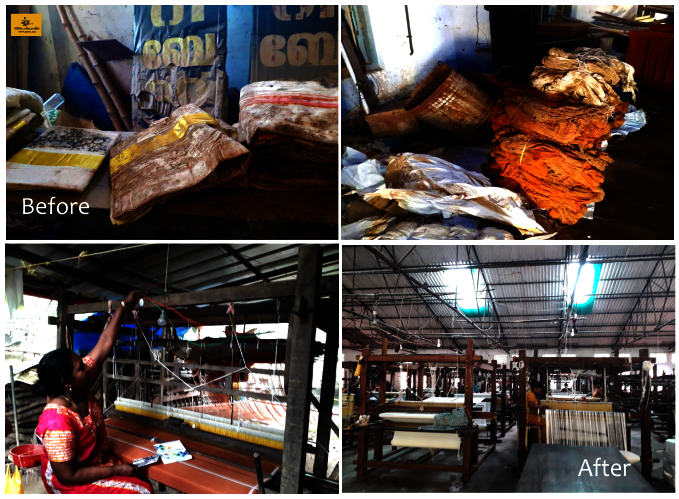 Stacks of white Mundus and Thorthu were ready for the Onam festivals when floods swept over the lives of the weavers of Handloom Society, Chendamangalam in Ernakulam.
Looms and raw material lie destroyed in their weaving units and loads of finished goods was also spoilt beyond use. It was a picture of devastation.. their looms,bundles of yarn, finished products.. lying damaged all around. Speaking to them a distressed local shared "I started weaving when I was 12 years old and it has been more than 50 years since. We do not even have the basic amenities now and income can be generated only once we start producing finished goods that can be sold in the market."
Our team visited them in Chendamangalam we started with reaching relief packs together with basic Tool Kits to help the community get back on its feet and to help them repair their looms.
3 months later,visiting them again we met with many smiling faces and stories. Many woman shared how they had used the tool kits to repair their handloom machines and many other things. "The nails, hammer etc. in the kit was really useful in repairing things in our house. Getting these things at a time when we had lost everything meant a lot to us." said a woman weaver. Supporting sustenance, Goonj reached comprehensive Goonj Relief Material Kits with Tool Kits to over 140 women weavers.
The People of Kayalpuram, Kuttanad in the backwaters of Alleppey (Kerala) need no introduction.. Alleppey is after all the true representation of Kerala, God's Own Country.. BUT it was also one of the worst affected by the Kerala floods in 2018. The boatmen families who use these waterways like we use roads were finding it tough to move as weeds (pola) were choking their canals. More than 100 villagers cleaned a 1000 ft × 25 ft canal connected to the backwaters in return of which they received carefully designed "Relief kits" for their efforts.
Similarly in Vaikom village (Kottayam, Kerala) families who are into coir making, fishing and farming proved that the hands that know hard work will never be happy with charity .. They collectively cleaned their flood ravaged road, temple and school compound and received comprehensive "Relief Kits" as a reward for solving their own problem.
Till date Goonj has reached out to over 75,000+ families across 10 districts of Kerala with its relief and rehabilitation work and has restored many flood affected schools, aanganwadis, public places and damaged roads after the floods.