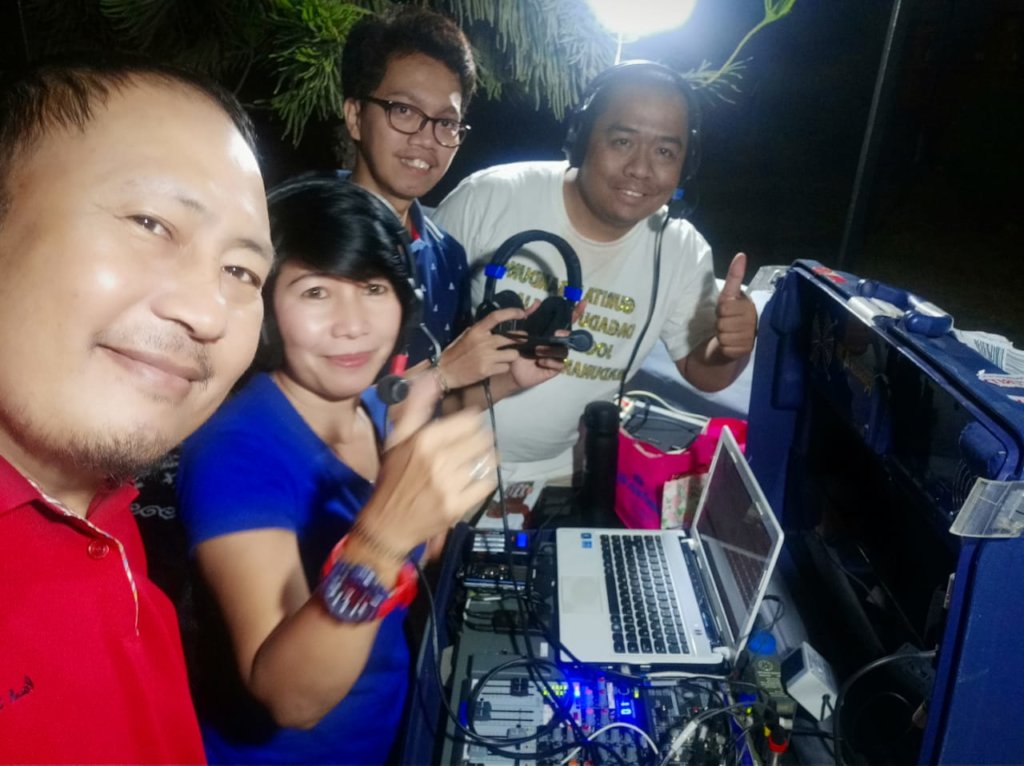 On 28 September, a 7.5 earthquake hit Sulawesi Island in Indonesia after a series of smaller foreshocks. Then a powerful tsunami struck the densely populated town of Palu. The combined effects of the quake, tsunami and mudslides left at least 2,500 dead, a further 1,000 missing and around 210,000 displaced. Most displaced families had lost everything.
The quake hit during rush hour at 18:00 when the roads were crowded. Moreover, it happened to be a festival day and hundreds of people had gathered on the beach. The government immediately issued a tsunami warning for .5 metres, but it was lifted. The tsunami hit later that evening. When it stuck it was more than seven metres is some areas, causing extensive damage and loss of life. It was discovered that the tsumani detectors had been badly damaged in the quake.
Electricity was immediately knocked out and more than 500 wireless communication towers were damaged, as were the radio stations.
Within hours, the Communicating with Disaster Affected Communities (CDAC) Network swung into action. Lifeline Energy is a CDAC partner. A call went out for power-independent radios from our friends at First Response Network (FRR). FFR focuses on meeting the information and recovery needs of disaster affected communities in languages they understand. Further, FFR estimated the immediate need to be 10,000 units for families or small cluster groups.
FRR had a partnership with a local commercial station, Radio Nebula on 101FM and rebuilt the station and started running humanitarian radio programs in nine days with 1kw of power. Their signal is very strong and can be heard across most of the affected area. It was essential that the government and aid agencies, particularly the Indonesian Red Cross, communicate regularly with survivors on all sorts of topics from locating missing persons to food deliveries.
FRR had a small supply of 200 solar radios in stock and were able to distribute them right away in cooperation with the Indonesian Red Cross (PMI) and the International Federation of the Red Cross and Red Crescent Societies (IFRC).
Lifeline Energy is grateful for the timely response to the disaster from GlobalGiving. We received a grant from GlobalGiving quickly and were able to start production on 1,000 of our Polaris solar and wind-up radio emergency radio-lights. It was the pre-Christmas crunch time for our factory and manufacture took longer than it normally would have. Also during the manufacturing process, the PMI secured permission from the Indonesian government to bring in the Polaris units for distribution by IFRC.
The IFRC distribution team created a distribution plan to give priority to the most vulnerable – women, elderly, child families and the disabled. They also noted prospective names and locations of those most in need. A register was created to identify where and to whom the previous radios had been distributed so as to not to duplicate.
It is extremely frustrating that the Polaris units have been detained in Indonesian customs for these weeks - for no known reason. FRR, IFRC and PMI have been in continual contact with the Indonesian authorities and they have not yet released them. Lifeline Energy has been assured that all the necessary permissions were received well in advance to ensure this would not happen. We are reliably informed that other aid items have also not been released.
IFRC told us that they are ready to distribute the units and have a plan in place to do so. They are counting on the units will be released the first week of January. This is indeed very frustrating and surprising to us all. It is worth noting that no corruption is suspected, only onerous bureaucracy.