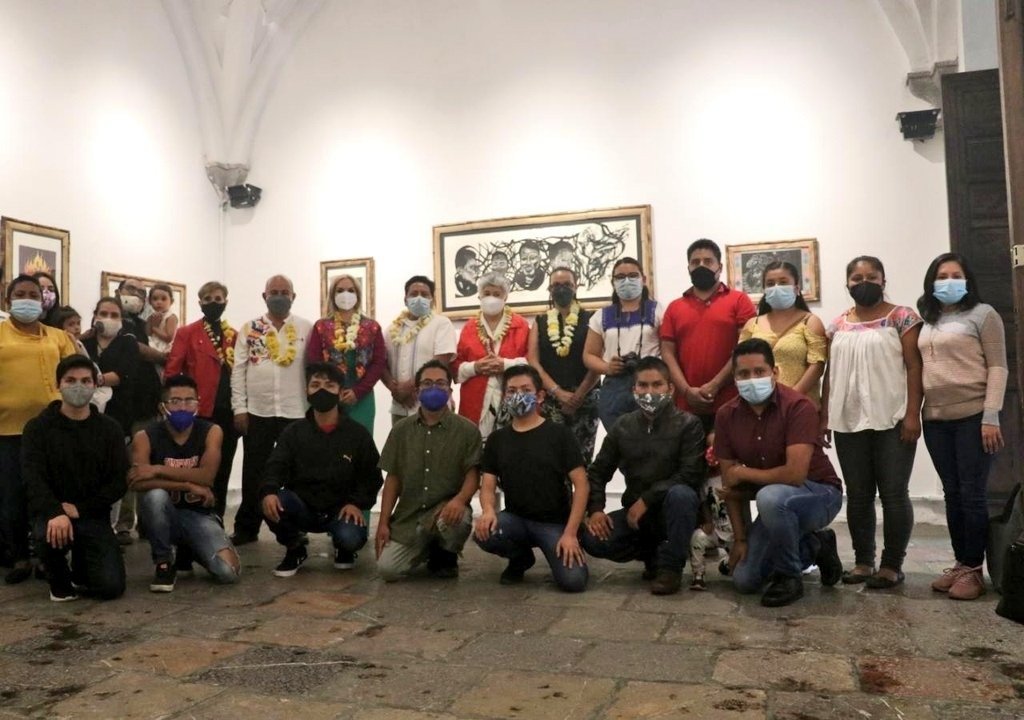 MURAL PAINTING IN COMMUNITIES
One week of various national artists doing mural painting in Xocoyolo, Cuetzalan
Artists all over Mexico came to share their colors and art with people from Xocoyolo, who were wanting to mark a celebration to mark the opening of a "Centro de Bienestar" in their town. They offered food, beverages and lodging, and the artists in return gave thier best effort to make the walls vibrant with color and joy. Look at the results virtually, or come visit by!
One weekend of local artists doing mural painting in San Miguel Tzinacapan
Artist Luis Zanik, and Tiltik's friend Miguel Mendoza, in conjunction with a collective of young artists named Talnamikilis Espacio Literario Cuetzalan, collaborated together and painted this mural, in the framework of a photo exposition organized by Miguel Mendoza in San Miguel Tzinacapan.
Zanik travels to Guatemala, to share mural painting
Artist Luis Zanik travelled to Guatemala in order to participate in one week of mural painting in the frame of the painting of the mural "Cultural resistance"; [to signify that] our cultures resist dying, with wisdom through our elders preserving our ancestral traditions, in a country with voice and strength, organized by Artes Mazatenango.
WORKSHOPS
Linocut engraving Workshop by "Taller Mena"
Friends from the workshop "Taller Mena" shared with us a workshop with linocut engraving with colors, and also a Mural in Xocoyolo. You can view pictures from the workshop here.
Stencil Workshop by "Karas Urbanas"
Stencil Artist from Nezahualcóyot living in Xico, Veracruz, Karas Urbanas, came to visit and gave us a superb stencil workshop. With it our house artists managed these lovely works.
Desparadigmas workshop for concious tourism
Our friends from "Desparadigmas" came to Tiltik to take a brief linocut workshop.Their crew were tourists looking for concious travelling, and local families looking for the same. All the crew really enjoyed this workshop.
EXPOSITIONS:
Exposition in El MUZA (Museum in Zacatlán de las Manzanas, Puebla)
Luis Zanik travelled to Zacatlán de las Manzanas, and was present in the inauguration of the 11th Regional Exposition of the Museum of Zacatlán de las Manzanas.
You van view Luis Zanik speaking about his work here.
Death and Life in the Sierra Nororiental of Puebla
Tiltik put together the works they had done these past three years, regarding the subject of death and life. Then Tonaltzin, our textile arts workshop, embroidered some of the works. And @Bambú Maya (our bamboo workshop), with the help of @Barra de Marcos, framed the works. The exposition resulted in a collection of works that highlight what the Nahuat culture means to the people living it. The inauguration of the exposition was marked by a ceremony in which we asked for help from the ancestors, so that the artists from Tiltik are able to gather the support they need in order to keep on learning and growing as artists. The inauguration was attended by the cultural authorities of the state: the Secretary of Culture in Puebla; the secretary of the Institute of Indigenous Peoples from Puebla; and the founder of Tijiohtli AC, among others.
SELLING POINTS:
Last weekend we sold in Tianguis La Zurda, organized in the Centro Cultural Los Pinos. It was our first time selling there! We will be selling there again on December. ¡See you then!
Products from Tonaltzi:
This season we have T-Shirts and a couple of new designs. ¡Check it out!