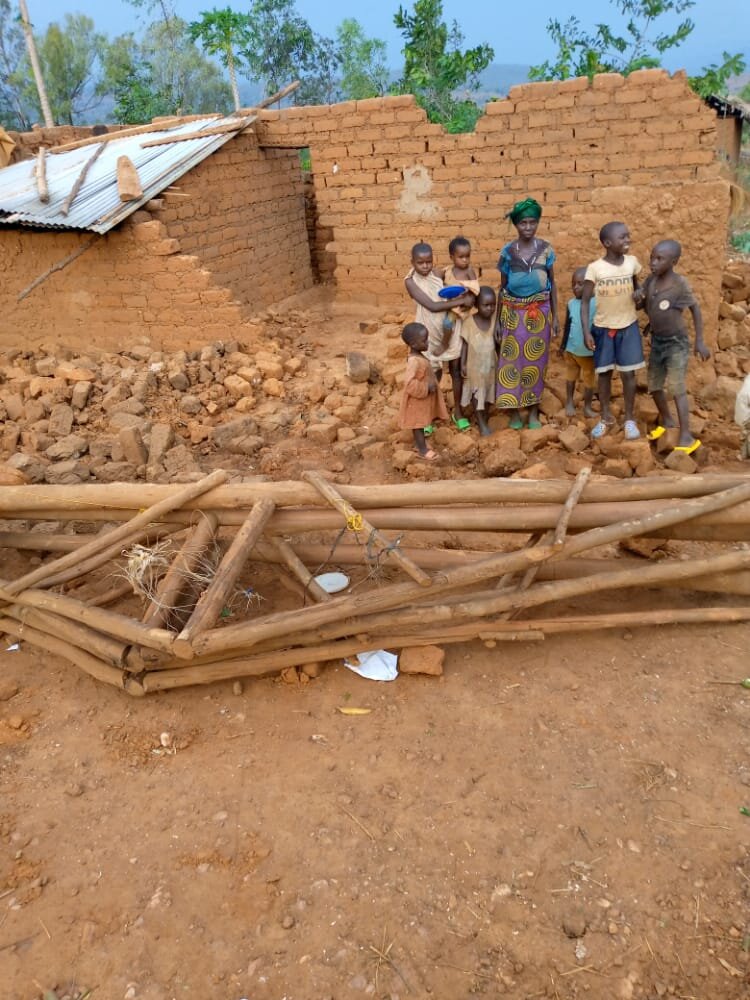 THE HOUSES YOU HELPED BUILD FOR WAR SURVIVORS
AT RUHAGARIKA VILLAGE IN BURUNDI BLOWN AWAY BY THE WIND

In 2012, with your donation you helped build 254 houses FOR WAR SURVIVORS in Ruhagarika Village in BURUNDI, AFRICA.
Some of you contributed a donation to build the entire house or more, still others donated whatever they can to help build a home for survivors of the war that killed over 500,000 people in 1993 in Burundi; a war that lasted 14 years.
Few weeks ago, a strong WIND and heavy rain destroyed over 150 homes belonging to the families that you helped build homes where they lived from 2011 until today. Those people lived in poorness situation and the loose of their homes today is affecting them very badly. Today they have become homeless families without food and health care.
To roof 31 houses costs:
Iron sheets: $16X28X31=$13,888
Timbers: $1.50X30X31=$1,395
Nails: $4.50X3X31=$419
Incentives for volunteers: $65X9= $585
Others expenses including supervision: $1,395
Total Expenses: $17,682
Any donation will enable those families to have shelters and live in peace despite their condition of living. Please, help again, those people you helped before build homes to return and live in their own houses.
To help them return to live in their homes that you helped them build, please donate now through GlobalGiving.
Thank you so much for helping those underprivileged families.
Prosper Ndabishuriye
General Coordinator and Founder