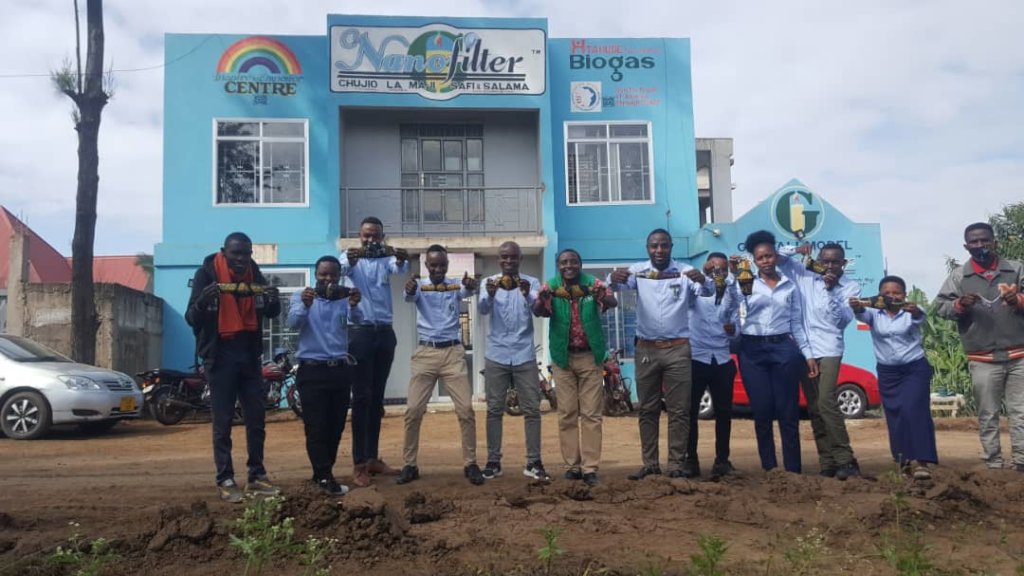 "A friend in need is a friend indeed"! We are so GRATEFUL to the The Girls Foundation of Tanzania (www.girlsfoundationoftanzania.org) for providing our whole team with masks to protect against COVID-19. We continue to extend our gratitude to the GlobalGiving and its partners – including the sponsors / supporters like you. Our track record, through your support, has become a basis for us to apply for expansion projects and further training. This quarter we just submitted a new proposal to International Labour Organization (ILO) to train local entrepreneurs to be involved in various products we are producing, including the Solar Lantern.
Here is the track record we made as the basis for the ILO Project:
1. Training of 1,000 local entrepreneurs, mostly youth and young ladies to operate Nanofilter water stations – funded by Human Development Innovation Fund (HDIF)/UKAid (2016-2019): GBP 350,000.
2. The training of 24 Zambian Entrepreneurs
The entrepreneurs came to Tanzania and were trained under the sponsorship of Southern Africa Innovation Support Program (SAIS): 170,000 Euros. Please kindly consider the YouTube Video Link: https://www.youtube.com/watch?v=nCfZZfvXhLU
3. Training for 400 Tanzanians - sponsored by Tanzania Education Authority under the program sponsored by the World Bank called "Skills Development Fund" (SDF). The training solves the challenge of unemployment and failure to utilize locally available resources. The government of Tanzania provided Tsh.131,000,000 to to conduct this training.
4. Future STEM Business Leaders Training
This is training for young people - sponsored by the Institute of Physics (IOP), UK. Here is the testimony by some of the participants: https://www.youtube.com/watch?v=m_AigAVLSnk
5. The Royal Academy of Engineering, United Kingdom: Sends intern students from UK Universities to work with us in Tanzania. The interns stay at the Inspire and Empower Centre in Tanzania.
Among others, the objectives of the ILO training are:
1. To empower 100 young people every 3 months with much needed skills in the real work environment
2. To enable the trainees earn a "salary" (as normal employees) of at least Tsh.200,000 per month during their work-based practical training
Please kindly let us know how you would like to be involved now or in future. We are open-minded!
Links: