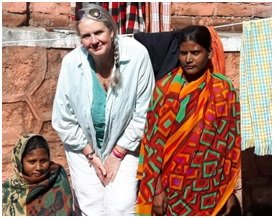 Dear Friend
I hope that you and your loved ones are keeping well.
Whilst much of Europe and North America are still shivering through one of the longest cold Winters on record, Spring has most definitely arrived in Rajasthan.
2018 sees the 50th anniversary of Seva Mandir and while we have many achievements to reflect upon there are constant and changing challenges. With stories of sexual abuse still abounding in the media in the western world, it seems hardly surprising to discover that there has actually been an increase in the rate of violence and abuse towards women and girls in India, as well as an even more worrying increase in human trafficking. Here, unlike in other parts of the world, male violence against women continues to be routinely excused and downplayed.
Girls are still married off at a younger age than the law allows and once they have left their family home they become the 'responsibility' of their husband and his family. Often illiterate and used to working on the land, this new married life is accompanied by drudgery as well as bearing children – having girl babies is still highly undesirable.
Alcoholism amongst the men causes further problems and leads to violence and abuse. These young women rarely have anyone to speak to, no one to listen or give them advice. Once they have left their own family unit, they are expected to remain with their husband and his family, who treat her as little more than a slave and sometimes are also abusive. With nowhere to turn, and because of stigma and humiliation, they continue to put up with this terrible life. Until, one day, it just all becomes too much to bear …
The following is a view from an English volunteer- Gabrielle who has spent the past four months with us and who has visited our refuge on several occasions.
"It's extremely difficult not to get emotional when visiting Seva Mandir's short-stay home, when you hear some of the sad tales that have resulted in these young women fleeing their home. I have wiped away many tears from my eyes whilst listening to their stories.
"One young girl had run away in the middle of the night and was found by a rickshaw driver who knew of the refuge. He had risked retribution from the girl's husband and family by taking her to safety. She later told staff that if the rickshaw driver had not found her that she would have ended her life that night.
"But rather than dwell on these sad tales, I wanted to tell you about the happy times I spent there. During their stay, there is a joyous atmosphere as the girls and women are freed momentarily from their cares.
"Much laughter and leg-pulling at how strong one tribal woman was in comparison to her urban 'sister' whilst stirring a vast bowl, mixing up washing detergent to sell. This is part of the piece-work they have – on one visit the grassy play area was covered in plastic waste bins ready for wrapping. They are able to earn modest amounts of money which they save.
"There is a small kitchen garden where they grow some of their own food and they take it in turn to cook in the communal kitchen. The children have swings and slides and a jolly frieze was painted along the walls by past volunteers.
"I came away feeling blessed that I live in a society that is now finally naming and shaming sexual abusers and dealing with them severely. Seva Mandir has an enormous uphill struggle, but with everything they have been doing in the last 50 years, with your help, I sense that they will continue the battle, one step at a time.
Thank you for your support!"
Regards
Atul Lekhra and the Seva Mandir Team
Follow us on www.facebook.com/sevamandir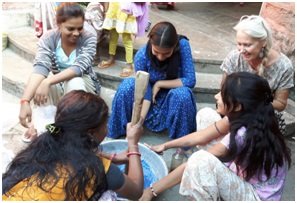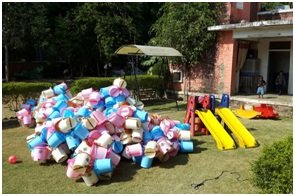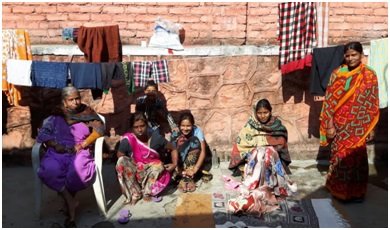 Links: