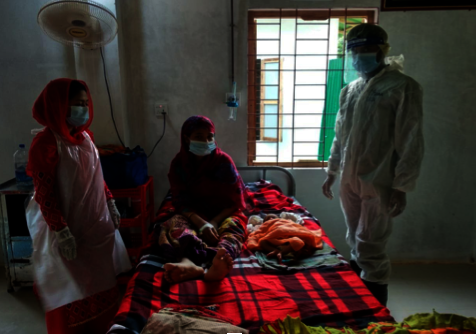 Dear HOPE Friend,
Without your support, expecting mothers would not have been able to give birth in a safe environment with the ability to address any complications and save the mother and newborn from danger.
Your generosity has helped many women to receive quality healthcare by qualified HOPE midwives, who are passionate about maternal care and now fighting at the forefront of the global pandemic.
We keep facing a challenging situation with the consequences of the current pandemic.
COVID-19 is even more dangerous to the people living in underdeveloped countries as they don't have the resources to fight back. Therefore, we are utilizing all our resources to ensure that our patients as well as HOPE staff are keeping safe.
All the midwives in HOPE facilities, and the entire team, is provided with extra Personal Protective Equipment and also extra trained in Infectious Diseases Control to minimize the spread of any virus. We also open areas to treat specific COVID-19 patients separately.
We are strong, doing everything we can to take care of the people in need of essential/lifesaving medical care. We are very thankful for your support to make this type of activities possible.
We are truly grateful that you have been able to help us along the way and be part of the team.
Thank you again for believing in our work.
Attached a picture of HOPE midwives, key in our journey to reduce maternal mortality and morbidity in Cox's Bazar.
Best regards,