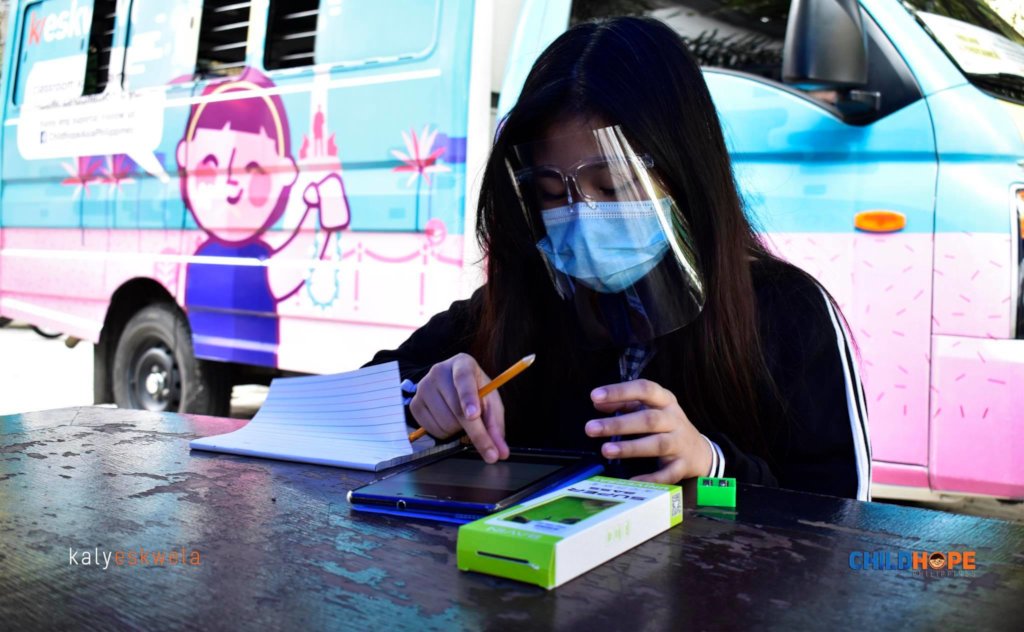 Childhope Philippines Foundation is a non-government, non-profit organization that responds directly to the needs of street children in Metro Manila who are exposed every day to the hazards and risks of working and living on the streets. For 15 years, Childhope's KalyEskwela (mobile education van), a mobile van with audiovisual equipment to conduct alternative education sessions and basic literacy and numeracy classes have worked to deliver basic education to street children and out of school youth in over 16 areas in 5 cities in Metro Manila. Through the organization's alternative learning sessions conducted by street educators, the organization actively protects and promotes the children's right to education and welfare for the betterment of the Filipino youth's future.
New Normal in Education Initiative
To continue to aid street children's education even during the COVID-19 pandemic, Childhope has redesigned its KalyEskwela Mobile Classroom into a Mobile Community Learning Hub. It will give free access to the internet via wifi, equipment like mobile tablets, laptop computers, printing and photocopying services for children beneficiaries continuing their schooling despite the pandemic. This is to address the gap in access to these learning tools and technology that will help them in carrying-out assigned learning tasks by school teachers. Moreover, the street educator will serve as tutors to guide the child learners in accomplishing their school tasks.
To achieve this, Childhope will conduct KalyEskwela Mobile Learning Hub area visits, which will bring to the community where these children live or stay, equipment that will enable them to access the internet like free Wifi, use of mobile tablets, and laptop computers. The KalyEskwela van is also equipped with printers for them to print out modules or research materials that will help them to comply with learning tasks given by their schools. In addition, the van will carry school supplies and reference materials for use by the learners to aid their studies.
To date, through the generous donations of corporate and partner organizations, Childhope Philippines was able to buy 20 units of the tablet, 2 units of laptop, and 2 units of portable Wi-Fi router of which hundreds of street children beneficiaries who are regularly using it this School Year. A total of 120 street children enrolled in formal school were able to attend their online classes regularly. And we are expecting more beneficiaries will join in our education session for the next school year.
In addition, the 160 units of HP NeverStop LaserJet Printer given to our organization were able to distribute to partner local government units such as barangay units. The printers given to the barangay units are also used by our beneficiaries for printing their modules, school projects, and homework which the kids need to submit to their teacher in the given schedules.
Click the link to view the virtual launching of KalyEskwela Mobile Community Learning Hub: https://www.facebook.com/ChildhopePH/videos/2817318108594974
This project is made possible by the donations of our partner corporations and organizations namely; ASMAE Philippines co-funded by Agence Francaise de Development (AFD), HP Inc., Amazon, Transurban, and Mission Inclusion.
Links: