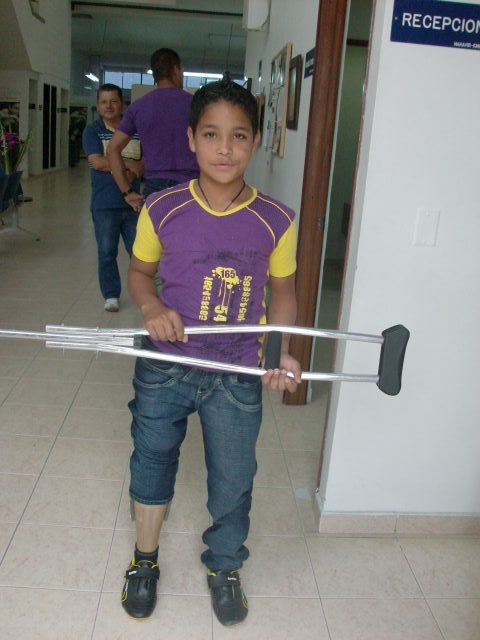 Dear donors,
We want to introduce you to Sergio. Sergio is a 12 year old kid who lost his right leg after a car accident in 2008. Since then Mahavir Kmina has provided Sergio 2 prosthesis (as kids grow their prosthesis have to be replaced). Currently Sergio is in 7th grade and Mahavir Kmina helped Sergio to fully enjoy his childhood. We are committed to replace his prosthesis again, in a few years as he grows up.
Again, thank you all for your support to our project. We love to keep you updated on our achievements in order to share with you the rewarding smiles of our beneficiaries.
Don't forget to participate in the Bonus Day of GlobalGiving, which will take place on Wednesday, 14th March. From 00:00 ET Time (Washington, New York and Bogotá) 6:00 a.m. (Europe) GlobalGiving will be donating an additional 30% of all the donations received. During march all the donations will be used to provde prosthesis to girls. For this reason this is the perfect day to increase your impact and donate!
Best wishes,
Mahavir Kmina Team
Estimados donantes,
Queremos presentarles a Sergio. Serio tiene 12 años y perdió su pierna derecha en un accidente de tránsito en el 2008. Desde entonces Mahavir Kmina le ha fabricado y colocado 52 próstesis (a medida que los niños crecen sus prótesis deben ser reemplazadas). En este momento Sergio está en 7mo grado y gracias a Mahavir Kmina ha podido disfrutar su niñez al máximo. Adicionalmente estamos comprometidos con reemplazar la prótesis de Sergio en algunos años a medida que vaya creciendo.
De nuevo, no tenemos como agradecerles todo el apoyo a nuestra organización y a todos nuestros beneficiarios. Nos gusta mantenerlos actualizados sobre nuestros logros y compartir con ustedes las sonrisas de nuestros beneficiarios.
Queremos recordarles el Bonus Day en el que GlobalGiving estará donando un 30% adicional a todos los proyectos por donaciones recibidas el miércoles 14 de marzo a partir de las 00:00 (Bogotá, Nueva York, Washington) ó 6:00 a.m. (Europa). Los recursos de GlobalGiving para este día son limitados, así que te invitamos a que lo hagas lo más temprano posible.
Los mejores deseos,
El Equipo de Mahavir Kmina