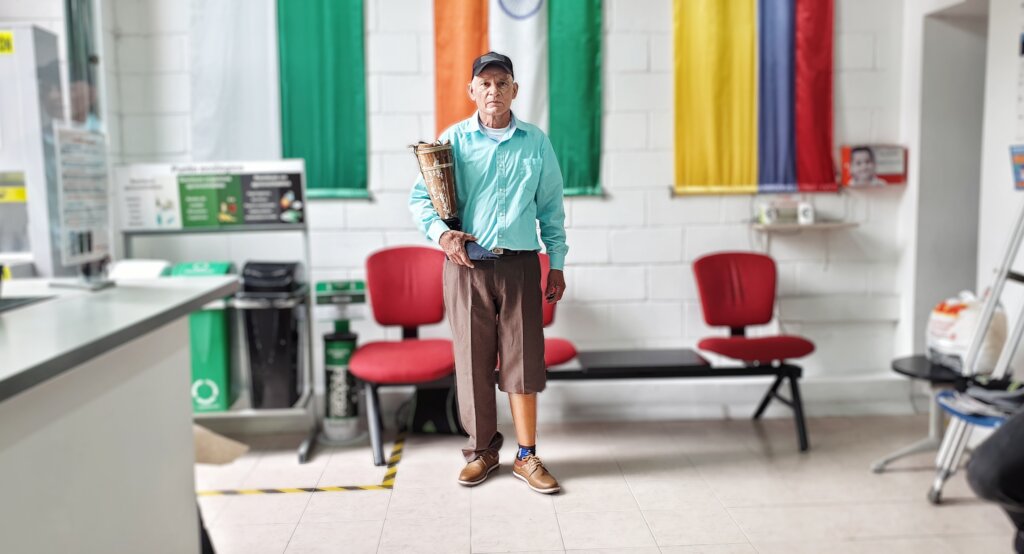 After traveling sixteen hours by bus, Ulises arrived at the Corporation with his son from Íquira, Huila. "I have been working in agriculture all my life. I grow coffee, plantain, yucca, all that. I only like the countryside," Ulises tells us with great pride. Today, at 72 years of age, he exchanges his wooden prosthesis, made by his son 15 years ago, for one made by Mahavir Kmina with the dream of starting over.
Ulises lost his leg in a work accident while cutting down a tree to plant beans and make a paddock, "the tree fell on me and knocked my foot down. That was about 35 years ago," he recalls. This event did not discourage his family, on the contrary, with creativity and resourcefulness, his son made him a homemade prosthesis with charcoal tree wood, so he could continue doing what he loves. This prosthesis was the support element that accompanied him for 15 years. Today, when they gave him his new prosthesis, he decided to give the hand-crafted prosthesis to be exhibited in the Museum of Handmade Prostheses created by the Corporation.
Ulises met the Corporation when his daughter posted on Facebook what had happened to her father. A friend told her about her experience at Mahavir Kmina, "she told her that she had brought a son here. That he was doing good with the prosthesis and that he received great attention during the appointment," he comments thinking about that moment. Trusting the recommendation, they began the application process, once they had the assigned appointment, they prepared to travel from Huila to Antioquia, "we have been making great efforts, but thank God, here we are," he says, describing that the sixteen-hour bus ride to get to Medellin was very long and caused him physical discomfort.
During his visit, he tells us that his great hope is to do daily activities without so much effort, and although he is infinitely grateful for the prosthesis made by his son, the weight of the wood and the rigidity of the material, sometimes make him uncomfortable, have limited him in some activities, "now you can move more freely," he says a few moments later when he tries his new prosthesis and feels its lightness. Ulises thanks us with a big smile for the quality of the Corporation's prosthesis, which, in addition to its lightweight, is custom-made and waterproof, which will be very useful for his work in the field.
He sends a message to all people who have undergone an amputation. With much optimism, he invites them not to be discouraged and to trust in God's strength, "courage, that in the name of God we can do anything, in Christ who is the one who strengthens us and on our behalf also put encouragement. One loses a limb of the body, but life does not end, and today there are many ways to move forward.
Links: