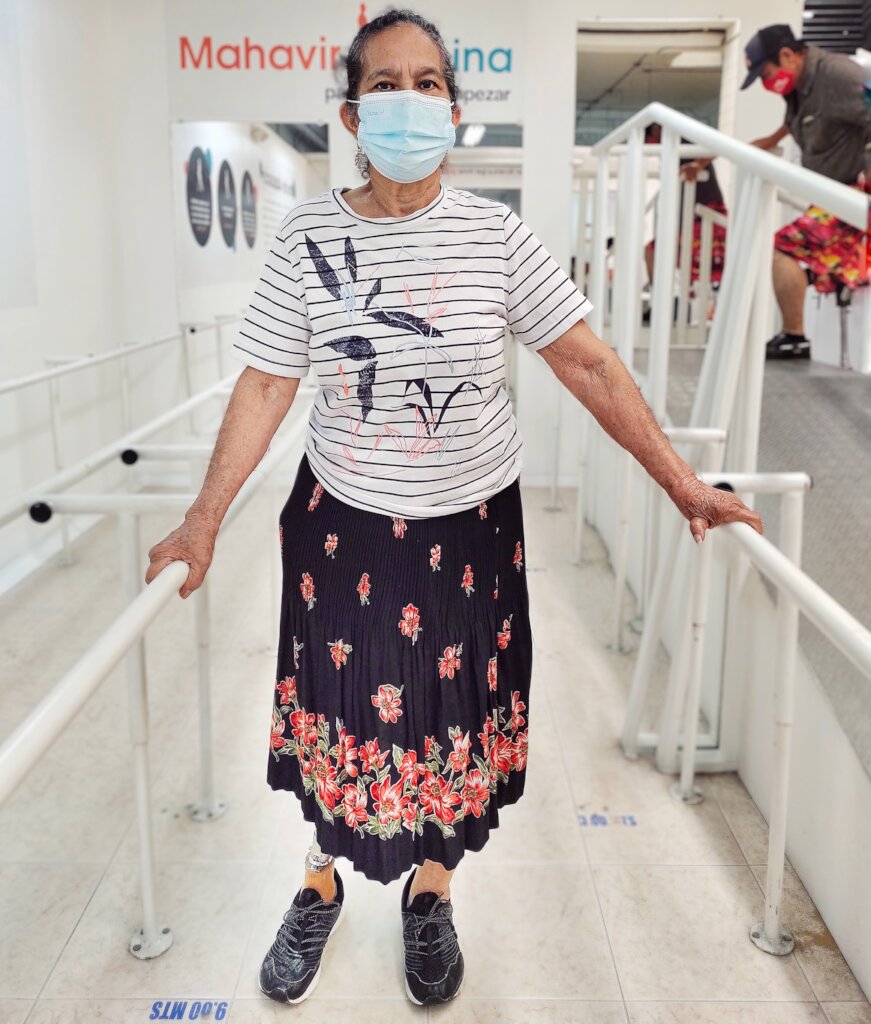 With an unwavering spirit, Maria Teresa inspires everyone in the Corporation with a smile during her appointment. She says that the amputation has not been a reason to stop working, on the contrary, she eagerly awaits the prosthesis to continue dedicating herself to his work with care.
With a great love for the Colombian coast, she works organizing tourist trips to Coveñas and other destinations. In addition, it offers lodging in Medellín with a delicious offer of traditional food from Córdoba, her native department. "I like to prepare all the foods, I like to organize the meats, stuffing, and sancochos from back home, from the coast, good food from there," she says excitedly, as she remembers the coastal flavors.
In 2021, Maria Teresa was diagnosed with soft tissue sarcoma, a type of cancer capable of manifesting itself in any part of the body, and in her case, it appeared in her right leg. Thanks to the advanced technology and knowledge of doctors, she thanks the health personnel who treated her, as she says they saved her life, even though they had to amputate her leg above the knee. "My family has supported me a lot because this is not easy. Losing a member is not easy. So I have had the support of friends and my family, thanks to my God, that all the strength of everyone and mine too, because I have put in an effort because it is horrible, it gives a lot of nostalgia, it gives everything," expresses Maria Teresa.

At the beginning of 2022, she saw a publication about Mahavir Kmina. The hope of walking again, without the help of crutches and a walker, made her feel strong. She did not hesitate to ask her son Manuel to help her with the request for the prosthesis. As the best gift, her son surprised her on Mother's Day with the news that he had an appointment at the Corporation. The following Monday, they arrived at 7:00 a.m. They had reviews with the psychologist and the specialist in physical medicine and rehabilitation, who noticed that at that time, Maria Teresa had a swollen stump, which is why they had to postpone the measurements and adaptation of the prosthesis. Before returning home, Mahavir Kmina's doctor suggested some exercises, as well as keeping his stump at rest and in a position that would allow the swelling to go down.

Two months later, she was summoned again for the fabrication and adaptation of the prosthesis. On this occasion, she made sure to follow the doctor's recommendations. She says that she had to reduce her work in the kitchen, "although I had someone to help me, I like to work, but my leg was getting very inflamed, because I hung it up, now I was careful and put on the blindfold. As soon as they put the prosthesis on me, I will be ready to get back to work, as that is what I hope the most". In addition, this time allowed her to focus on the tourist busses, as this is a job she can do from her cell phone, and allowed her to rest her stump.
She takes the opportunity to thank and show how happy she feels about this new opportunity. "I am hoping to return to work with encouragement and strength. There are many things that I cannot do at the moment, and I have to ask for a favor. We have to thank the Lord because I have a prosthesis. After all, although it is not the limb that I lost and it does not replace it, it is a help," acknowledging that the adaptation is a part of the process that takes time.

Maria Teresa wants her experience to be an example of improvement for those who feel pain due to the loss of a limb, which is why she expresses, "I am going to work to send everything I can to this foundation because I am very grateful. To the people who are amputated and do not know Mahavir Kmina, I tell them not to feel bad, that they have to keep going, that Mahavir Kmina is a foundation that helps and makes them walk again."