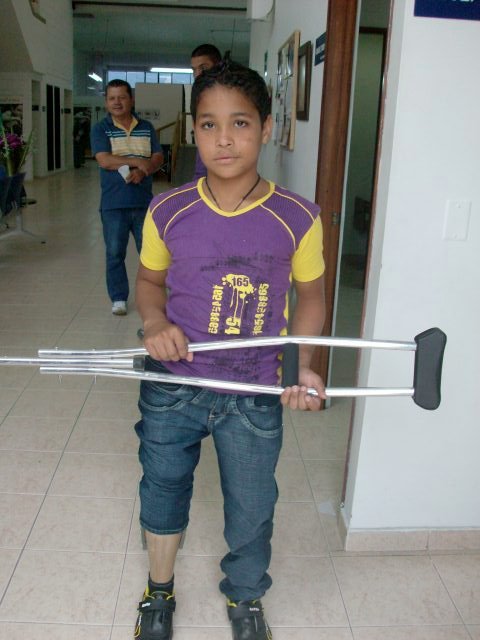 Estimados donantes,
el 2011 fue un año cargado de grandes experiencias y nuevos comienzos. Gracias al gran trabajo realizado por nuestro equipo, pero sobre todo, gracias a su apoyo, en el 2011 entregamos 291 prótesis a 283 personas (8 personas recibieron prótesis bilateral). En total, desde el año 2007 hemos tenido la oportunidad de atender más de 1.100 personas entre niños, jóvenes, adultos y adultos mayores que han perdido al menos uno de sus miembros inferiores por diferentes causas, entre las que se encuentran enfermedades, accidentes de tránsito, accidentes laborales, causas violentas y malformaciones congénitas.
En el 2011 tuvimos también la oportunidad de participar en el Challenge de GlobalGiving, quedando de manera permanente en la plataforma gracias a las donaciones de más de 137 personas que, como usted, han creído en nuestro trabajo. Estos recursos nos permitieron beneficiar a 18 niños, dándoles la oportunidad de empezar de nuevo. Este año continuaremos movilizando recursos por este medio como una forma de asegurar la sostenibilidad de nuestras actividades en el tiempo.
Otro gran logro fue nuestra visita a la India, con el fin de hacer una transferencia de la tecnología láser que Mahavir Kmina ha desarrollado para mejorar la alineación de las prótesis a la hora de su colocación, asegurando una mejor adaptación del paciente. De esta forma Mahavir está contribuyendo a mejorar el proceso no sólo en Colombia, sino también en otras partes del mundo.
Y para terminar, nuestro trabajo fue publicado en varios medios de comunicación en Colombia y otros países. Este aspecto es particularmente relevante debido a que demuestra el mayor reconocimiento que ha tenido nuestra labor y el impacto que estamos generando con ella.
Los invitamos a seguir acompañándonos este 2012 que sin duda estará lleno de retos y satisfacciones.
Cordial Saludo,
El Equipo de Mahavir Kmina
_______________________________________________________________________________________________
Dear donors,
2011 was a year full of great experiences and new beginnings for 283 persons who received 291 prosthesis. Overall, through our 5 years of operations since 2007, we have benefitted more than 2011 persons among children, young people, adults and elders who have lost at least one of their inferior limbs for different causes, such as diseases, traffic accidents, violence, work related accidents and genetic malformations. All this has been possible thanks to your unconditional support throughout this year and our great team.
A huge achievement was our participation in the GlogalGiving Open Challenge. Thanks to your support we have earned a permanent spot in this donation platform. So far we have received donations for up to 137 persons that have provided prosthesis for 18 children. In 2012 we will sustain our fundraising efforts trough the platform, in order to contribute to the sustainability of our activities.
Another milestone for Mahavir Kminan was our visit to India in order to make a technology transfer of a laser device developed by Mahavir Kmina that improves the alignment of the prosthesis with the patient body, thus ensuring a better adaptation to the prosthesis. With this technology transfer we are contributing to the improvement of the process in Colombia and other countries of the world.
Finally, we had several publications of our works in Colombia and abroad. This is particularly important for us because they are a measurement of the impact and reach of our work.
We invite you to keep up with us in 2012 which, we are sure, will be full of challenges and rewards,
Best wishes,
Mahavir Kmina´s Team
Links: