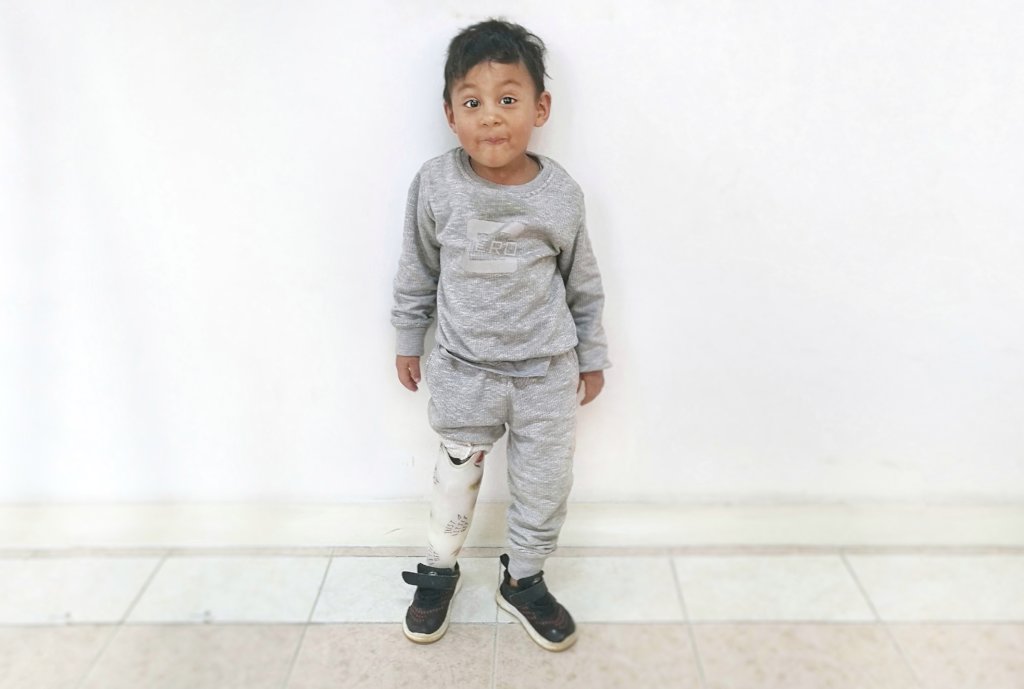 It was not a Sunday like any other. It was December 24, 2017, and while many people were preparing to receive and celebrate Christmas, Ángel's family awaited his arrival with anxiety, and as a gift of life, he was born!
Like all children at birth, Ángel changed the life of his family. He began to become the center of attention, and he was the new member and the only child in the house. All were willing to take care of him with much love, although it was clear from the beginning that the care of the little one had an additional condition because his right foot had developed with a congenital malformation. "It was something very hard for me, and the mother as well. But over time, we accepted the reality of the situation, so it is something that one did not expect, but we had to accept it, and we have struggled to move forward," Wilberto said, the father of the little one.
"The most difficult thing was that he had a lot of complications when he was born. They left him in the hospital for several days, and it was very hard for us" says Wilberto, to tell us what his condition implied. During three years, he went through hospitalizations of long days, countless visits to the doctor, consultations with different specialists, and examinations. The doctors decided to amputate his leg to shape his stump. To give him a better way to go through the rehabilitation process with a prosthesis. In which he could learn to walk, to grow, and dream of his future.
Ángel began to participate in a program, learning playfully, sharing with other children, and enjoying the knowledge, which a few months later, and due to the global pandemic, it stopped. Although the experience has not been the same in recent times thanks to virtuality, he has been learning.
Ángel got a prosthesis before going to Mahavir Kmina, but this prosthesis did not provide the comfort required to take the steps safely. That was how they were motivated to look for other opportunities for Ángel, in a different place, which could offer him what he needed to walk.
Based on his experience with the first prosthesis, Wilberto imagined, at first, that the adaptation process at the Mahavir Kmina Corporation would not be that easy. Once he was in our facilities, he knew that the key to success with the prosthesis was to receive a good service. "I thought it was going to be more difficult. Ángel has been wearing the prosthesis and getting used to walking with it, " he says, and a few minutes later, he adds: " It is an excellent service, everyone is very nice, keeping their attention at the patient. It made us happy, satisfied, pleased. We are letting him use it, sit down, lie down so that he adapts well to it."
As Wilberto sees his son as very talented, he wants him to be into sports once he grows up a bit more. "I would like him to study, that he would like sports a lot, as I once did. I have a double Paralympic medalist friend, who is blind and now is Ángel's godfather" adding "I have many friends with different conditions, and that is not a disability, because the disability is mental and they can do whatever they want".
At Mahavir Kmina we believe in opportunities to walk, to chase dreams, and fulfill them. Ángel will count on our support during his development and growth.
Links: