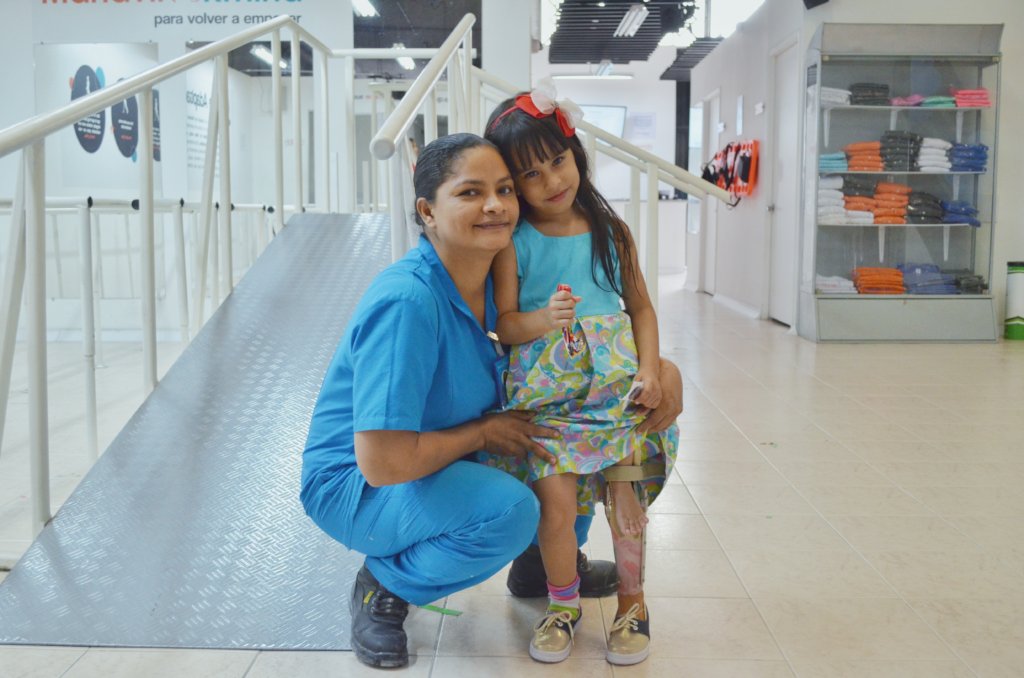 "No language can express the power, beauty, heroism, and love of a mother." H, Edwin.
Yes, that is how it is! As Edwin H. Chapin says, the heroism of a mother is unique, and Tania, Julieta's mom, a 7-year-old girl, has been in charge of proving it from the moment she found out that she was pregnant.
Mothers have the strength to protect their children, and there is no greater happiness than knowing, during ultrasounds, that everything will be fine. When Tania was five months pregnant, in November 2013, the doctor informed her that one of her daughter's lower limbs was not developing. Another perinatologist said that the girl would not be able to sit up. "At that moment, I felt very lonely, I had no support, and I kept asking myself, why me, why me?" Tania said. It was difficult news to assimilate for her. "Someone very close to me suggested an abortion because, according to her, the girl was going to be very dependent on me."
Tania develops strength. She knew it would not be easy. She decided to take her situation with a positive attitude, although in those days, due to so many opinions, about what they suggested was better, she says that "I was stunned."
Julieta was born in March 2014, and during the first hours, the doctors took care of making sure that the baby was well. After examining her and determining if her state of health was optimal, Tania was finally able to hold her in her arms, "I wasn't able to stop crying when I looked at her. Julieta also looked at me as if wondering, what is wrong with you? Why are you crying? I realized that I had no reason to cry."
Her father came to meet the newborn baby, he held her in his arms, and they spent a whole day together. It was the only day that Julieta spent time with her father. "The girl wants to meet him. I told her that I do not know where he is. And that when she is older, she can try to look for him. She has seen him in some photos on Facebook, but we no longer find him through this medium. It has been difficult to contact him."
From her first year, Tania began the long process of learning about her daughter's condition and finding the best alternative to enable her to walk and be independent. Visits to the doctor and X-rays became routine. As well as consultations with specialists from different cities, who had different opinions and suggestions. A doctor in Bucaramanga proposed that the best thing was to perform a surgical procedure. A specialist in Bogotá said that it was most likely that the girl would not walk. Another one suggested making a fictitious hip. A doctor in Tampa, United States, which they communicated through emails, determined that Julieta was not a candidate for the treatment that he thought. He offered the option of amputating her leg and providing her with a prosthesis. Finally, she received the opinion of a doctor in Medellín, who proposed to do a rotation plasty. After listening to lots of recommendations, she decided that she would not amputate her limb, as Tania prefers Julieta to be the one who makes the decision that considers best for her when she grows up.
Learning how to walk always represents a challenge in childhood. In Julieta's case, she had a greater degree of difficulty. Due to her condition, and even though she has suffered fractures in her left wrist and her small femur, she has never given up. On the contrary, she learned to get up from the falls with courage and the best attitude to keep going.
In 2016, Julieta received her first prosthesis from the International Committee of the Red Cross (ICRC). They are present in zones of armed conflict in Bucaramanga. This adaptation process meant a great challenge, while Julieta was taking her first steps. Quickly, her prosthesis was too small for her, so the Red Cross awarded her with a second one.
Tania has always been interested in research and looking for other options, which could be good for her daughter. On Facebook, she joined support groups where she met mothers who share similar experiences.
"I found out about Mahavir Kmina when one of the moms in the support group adopted a girl from India. She had an excellent-quality prosthesis that she got at the BMVSS. She told me about the technology of the Jaipur foot. So I decided to google them and found that the Corporation is in Medellín, Colombia." Tania contacted Mahavir Kmina and anxiously awaited the date of her little girl's date. In October 2018, Julieta arrived at the Corporation with her mother.
Julieta has a family that loves and supports her in every process. She always reminds her of how valuable she is to her. Tania has encouraged the family to request favors from the girl because she says that in this way, she will learn to face different situations and show that she can too. "I always insist that it is important to think I love myself, I accept myself, and I approve of myself. Self-esteem is important in the development of children when growing up," Tania expressed. Even though the little girl has suffered teasing and inappropriate comments from outsiders.
Her confidence needs reinforcement. It will help her to cope with difficult times and allow her to socialize easily. "When she has her prosthesis on, she feels happy. She sometimes gets tired and uses the crutches, and then she puts the prosthesis on again. She loves her leg and her prosthesis."
"Although I am her reference, there are other social circles, and it is important to socialize and share with others. In Mahavir Kmina, she has a space that opens up a possibility for her to speak and express herself."
Tania has also discovered a great interest in Julieta for art and ecology "she is happy collecting flowers and stones. She does not want to throw anything away. She fills my house with things she has found saying that we have to recycle and the importance of taking care of the environment."
Since she was four years old, to date, Julieta has received two prostheses from Mahavir Kmina. She has also attended two appointments to make some adjustments, receiving support from the entire Corporation team, to fulfill all the dreams that, since now, she has started to build.
Links: