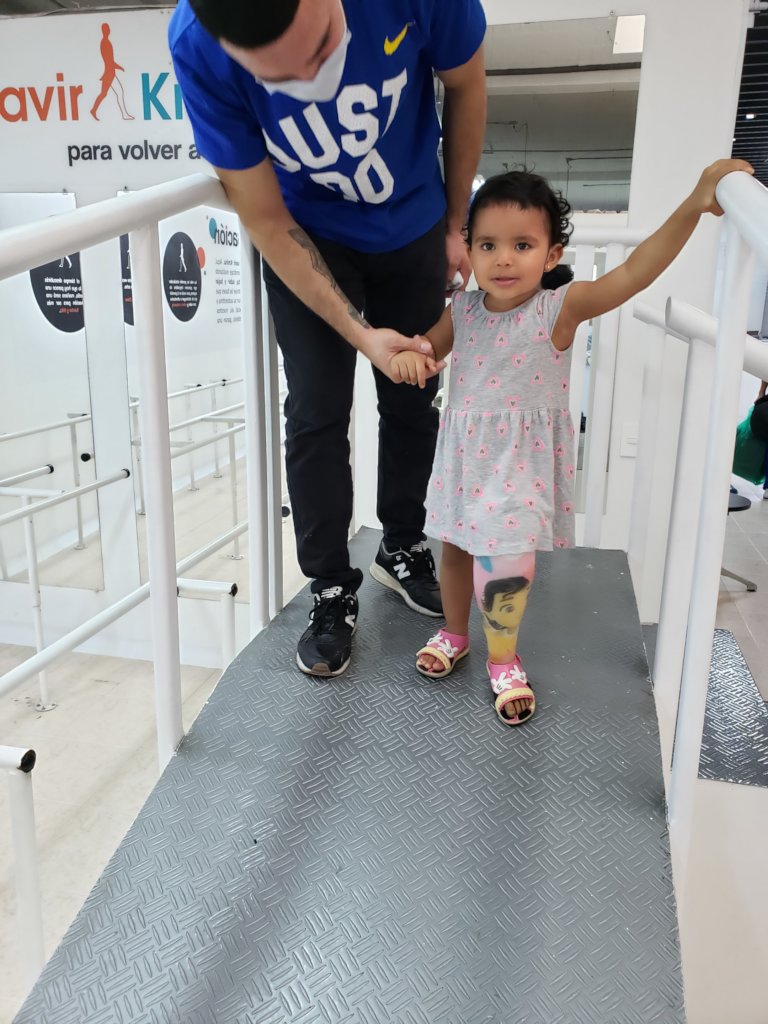 For everyone, Christmas is a time of happiness and sharing with loved ones. It was Christmas and Yudi was celebrating with her 8 months old baby. They were smiling with traditional music and carols. That Monday, on Christmas Eve in 2018, between laughter, gifts, hugs, and food, no one imagined how this family's life would change in just a week.
Who knew that New Year's Eve parties might surprise them with a daunting event!
Just a few days after the family Christmas celebration, New Year's Eve came with devastating news. That day Amelia was diagnosed with pneumonia. Her situation became complicated, and during her critical condition and with some organs compromised, she had to be sedated.
Doctors detected complications in one of Amelia's legs. A week later, her leg did not improve, as a widespread bacterial infection affected one of her lower limbs. The apparent solution was the amputation at the ankle. Yudi relied on medical opinion, although it was not an easy decision, she accepted the surgery with optimism and hoping the best for her baby.
January 8, 2019, was the day of her surgery, and as expected, it was the best decision, as Amelia's medical situation improved. She was able to get out of intensive care to special care.
It was only a few days after the first surgery, and Amelia was going through the second one, due to necrosis.
This time the recovery was much easier, faster, and more encouraging because it did not take long for her to start crawling everywhere at home, demonstrating from that moment her desire to be independent to move.
Amelia was a year old, and her stump was so inflamed that she could not flex her knee. She began to be attended by the physiotherapy recommended by the medical team, and little by little, she was managing to move her knee. This good news came with a better outlook: the solution to take her first steps.
She was lucky, one of the doctors in charge of her process at the hospital, is also the technical director of the Corporation. He gave her the prosthesis that could adapt better to the little girl, due to its characteristics: light, resistant, and personalized. Yudi could not believe it, and without thinking, she only said, "I will go wherever, whenever and however I have to go... Thank God, thank God!" It seemed like a miracle to her.
Then it was her appointment day in Mahavir Kmina. She would become one of the 180 youngest beneficiaries. Her parent's smiles said more than words could say. They had a lot of expectations, and without knowing much about the subject they wondered "how could she walk with that heavy prosthesis?", Nevertheless, she did not take long to stand up with balance and take her first steps.
One year later, the little girl had her second appointment at the Corporation, because she had grown so much, and her prosthesis was too small for her. She needed a new one. This time, her prosthesis had a special meaning. Amelia resisted more weight, and her foot was no longer made of foam. This time, she received a rubber foot that would look more like the real and, it also had a personalized design.
As she returned home, her family, friends, and neighbors were surprised to see the similarity between both feet, saying "how beautiful! It looks like the real. Now her shoes look perfect."
Amelia has shown that limits are in mind only, and for her, they do not exist. Despite her young age, she always wants to have her prosthesis on, and after taking a shower in the morning, she tries to put it on immediately to go outside. After seeing her abilities, Amelia's parents plan to give her the first bike. The little girl has become a great example for her entire family and, teaches them a lot every day. Now, when someone complains, they immediately say, "I am complaining about that nonsense, and look at Amelia, she can do anything."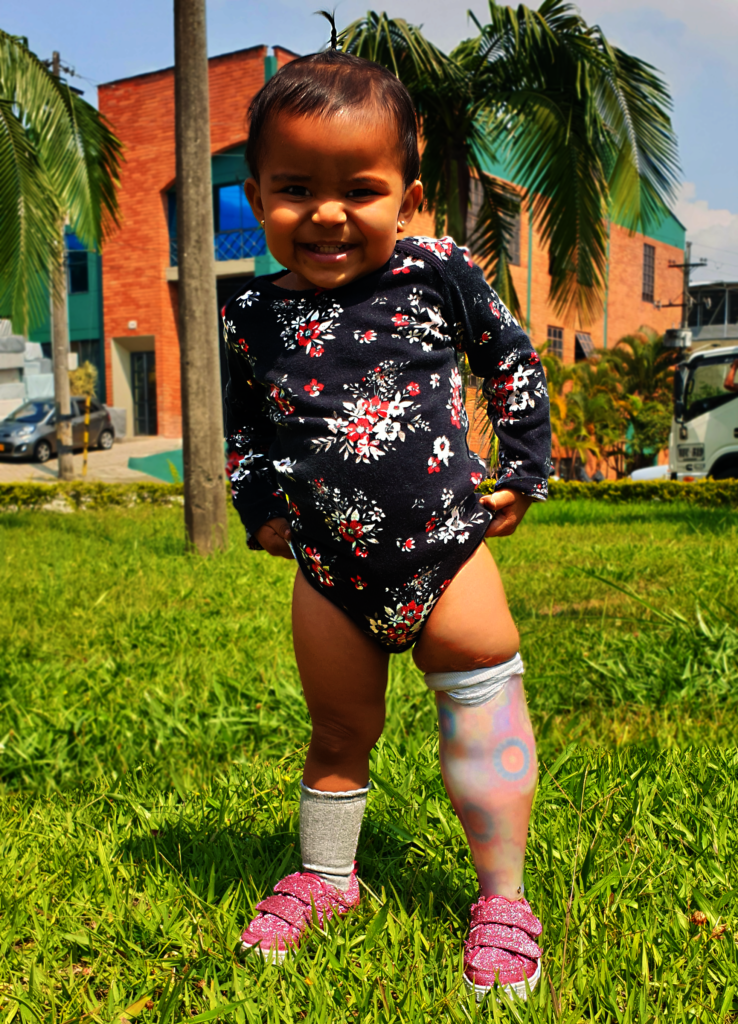 Links: