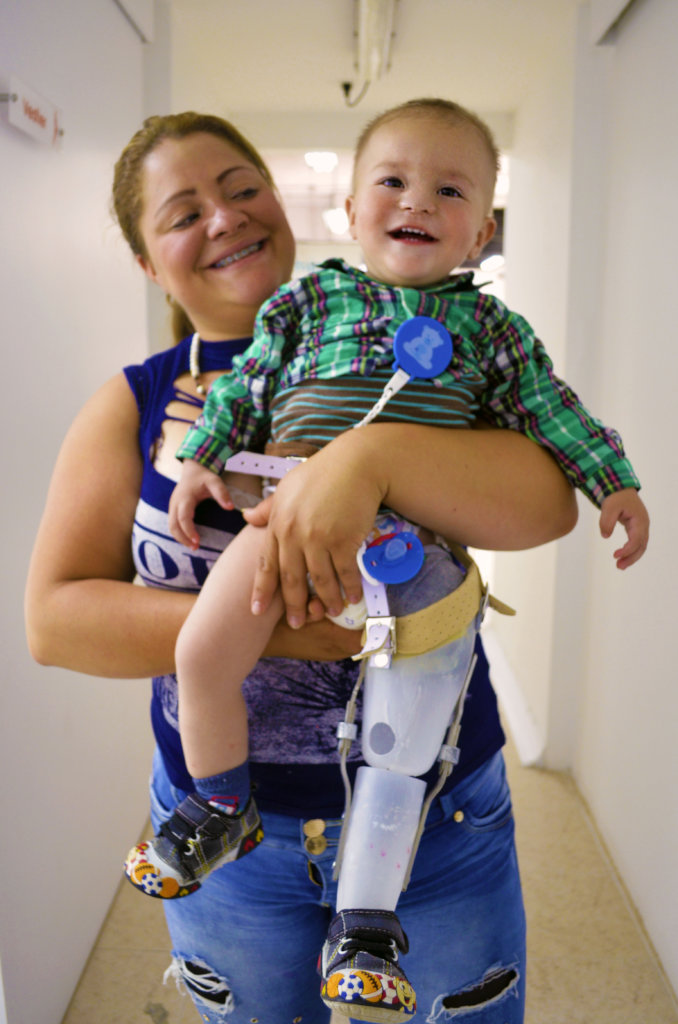 Gerome is a six months old baby with a special condition. When he was just two months old, he lost his leg due to an act of medical negligence, at least that is what Adiela, the child's mother, affirms. "It has been very difficult for us to adapt to this situation, there is no returning point, my baby will never get back his leg and it hurts me a lot that this happened due to an error of a professional who did not take the proper precautions", she says.
Even so, Adiela kept a thin thread of hope. A few weeks ago, she called us asking for our support and we, of course, gave it to her. In that moment she confirmed that all was not lost, because Gerome would have the opportunity to walk, as is typical for a child of his age, and later on he could have a completely normal, happy and healthy childhood.
Francisco, one of our technicians, took measurements of Gerome's stump to make what would be his first prosthesis. That same week, Adiela received a call from us informing her that the prosthetic was ready and she could come with her child to our attention center.
One month later, Adiela has noticed important changes in Gerome's life. He is already taking his first steps and will soon walk without help. "My baby looks happier and healthier, he does not want me to take off his prosthetic, I think he feels it like part of himself. He is now learning to walk, his record is four steps without help and we (his family) are sure that Gerome will be rehabilitated very soon", she says.
But Gerome's story is just beginning. He will need more prosthetics as he grows but, fortunately, Mahavir Kmina and its donors will be there to give him as many as he needsthroughout his life.
We love to share this kind of stories with you because your help is one of the engines that allows us to continue working for the benefit of thousands of children with disabilities. Please consider to become a recurrent donor to helps us change more lives like Gerome's. You can also share this story with all your friends and family members and follow us in our Facebook page and Youtube channel.
See you soon with another amazing story.