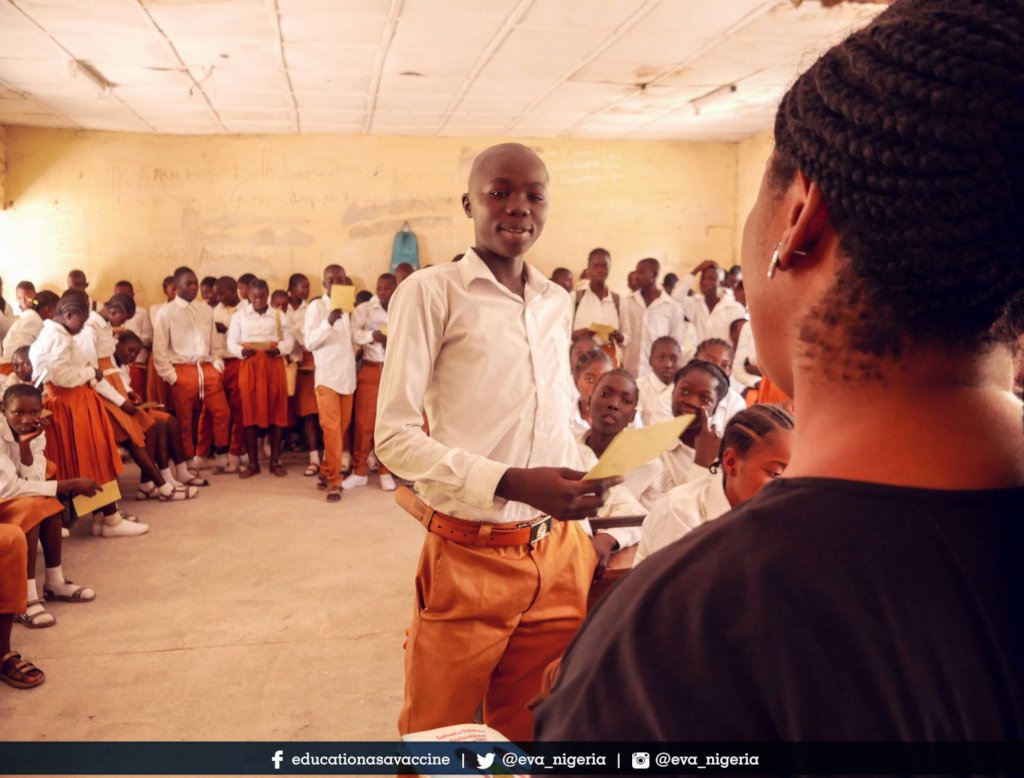 WHOOOPEEE! We are increasingly reaching more adolescents in rural Nigeria with sexual reproductive health information.
Young people are heterogeneous and have diverse needs. They can be found in urban, semi-urban and rural areas, some have access to education while others do not. They are influenced by their family, religion, peers, and environment. These influences may be positive, negative or conflicting. These influences may affect the kind of decisions they make in all spheres of their lives. Being able to plan for the diverse groups and target their specific need is one way to reach young people with the right information they need to make informed decisions. One of our objectives is to provide sexual and reproductive health information to adolescents and young people in hard to reach spaces. In this reporting period, we will be sharing our engagements with young people in Taraba state.
It was an impactful experience and learning session for the students in Jalingo, Taraba state. We discussed issues on sexual and reproductive health, and body changes that both girls and boys experience during puberty. We also discussed good hygiene practices that adolescents can adopt to live healthy lives. Other issues that were discussed included basic information on HIV, its mode of transmission and prevention. In our visit, we reached 287 adolescents and young people in two separate schools. The sessions were participatory and the young people had lots of questions to ask. We responded to their questions and went further to introduce the MyQuestion service to the students; a service where a trained counselor is available to provide them with factual and non-judgmental responses to all their questions. It is apparent from the MyQuestion platform that these young people we engaged with made immense use of the MyQuestion Service to ask questions about their sexual and reproductive health. This is evident as we had a 500% increase in the number of questions received from Taraba State this quarter (December 2019- February 2020) when compared with the last quarter (September –November 2019).
Some questions that were asked by the students include.
My boyfriend wants sex, but am still a virgin and not ready to break my virginity, what should I do in this situation? 17 Female from Taraba
I want to know how to track my menstrual cycle? Am 21 Female from Taraba state
What is Masturbation? Female 16 years Taraba state
Just to mention a few.
Thank You! Your generous donations have supported us in providing young people with factual information. There are a lot of misconceptions around issues of sexual and reproductive health among adolescents and young people. Ensuring that they get the right information to help them live a fulfilled life is our greatest objective. Your continuous donations will help us provide more young people with factual information and refute misconceptions.