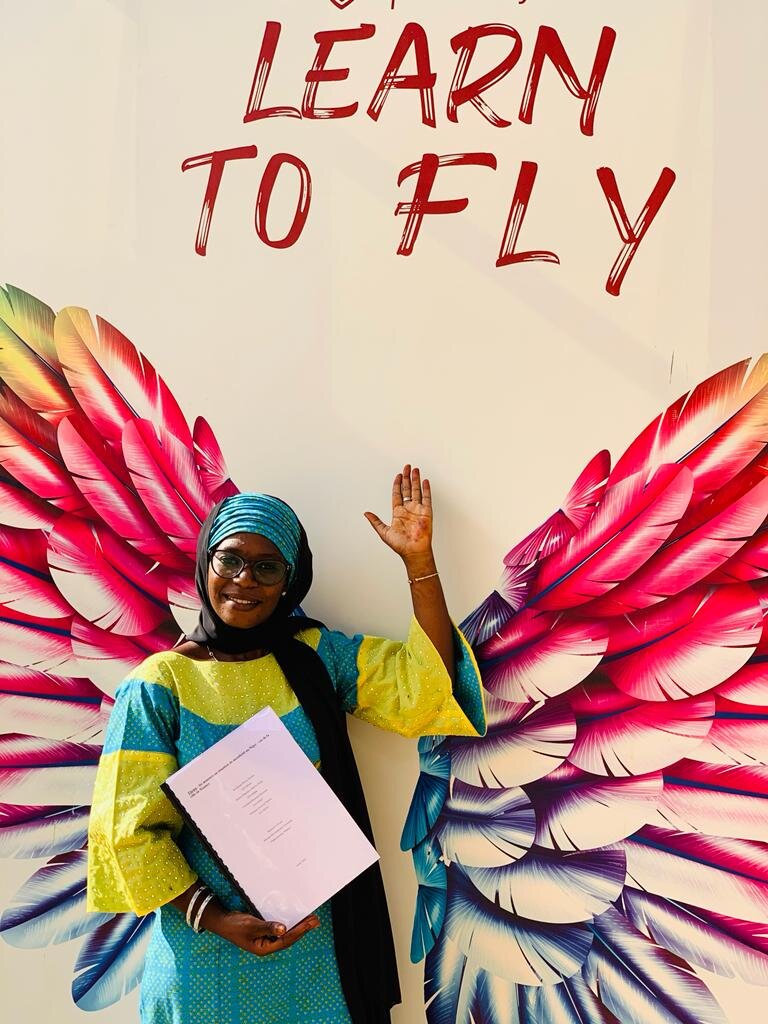 Thanks to your generosity, our non-profit, les Amis de Hampaté Bâ continues to enable young underprivileged students to go to Secondary school through our Scholarship Program that started 13 years ago. We have accompanied the Hampaté Bâ School in Niamey in their innovative actions to provide a quality education to students, including an impressive library, a well equipped computer room with computers, computer classes led by a qualified computer teacher, and after school tutoring for those students encountering difficulties.
A Rough Start for Aminatou
We would like to introduce you to Aminatou, one of the very first students to be accepted into our Scholarship Program in 2011. When she completed classes at a public primary school with overcrowded classrooms and was ready to enter 6th grade, her father passed away and she needed financial assistance in order to continue her education. She was an orphan and the only family she had left was her grandmother who could not afford to pay for her schooling, as she was particularly poor and had no income herself. At that point, Aminatou had virtually no skills, like reading, writing, speaking and maths, which made us hesitate to accept her to our program, since her situation was particularly dire. However, even though her grade level was very weak, we found her lively, intelligent, and resilient. Fortunately, our organisation decided to stand by her, encourage her constantly throughout numerous tutoring sessions, and extend a scholarship to her, thus giving her the opportunity to attend Hampaté Bâ Middle school.
Hope is around the Corner
Aminatou 's desperate situation started to change when she entered Hampaté Bâ Middle School where she found herself confronted with a new world of books, computers, small tutoring classes, and a fabulous library, along with nourishing meals, which also helped immensely ! This new school was a game-changer. She, who had no one at home to help her with homework, living with an illiterate grandmother, suddenly had tutoring sessions with experienced tutors who motivated her to bravely forge ahead. Our Scholarship Program, which enables students to continue their education past primary school and achieve their dreams of being the change in their country, is an integral aspect of our work.
A First Diploma: the "Brevet"
With the support of remediation courses in French, where she was given individual attention, her level rapidly improved. The tutoring sessions in a comfortable environment after school with reassuring and experienced tutors were a huge reward for her efforts. Aminatou became fully integrated into Middle School and was able to follow all the subjects with ease. In spite of a tough beginning, she was able to obtain high enough grades after 4 years, to succeed in getting her Brevet Diploma and was able to enter High School ! What an amazing accomplishment !
Back and Forth. Up and Down
However, High School was a hard blow to Aminatou, as the courses were much more difficult than expected and demanded a higher level than she possessed. In spite of her hard work and unrelentless support from her highly experienced tutors, she was not able to attain the level needed to receive her Baccalaureate Diploma. But she was not the only one. The Baccalaureate Exam is a huge challenge and very few girls succeed in getting this coveted diploma. In fact, the success rate percentage for girls in Niger is only 22%.
We had the privilege of meeting Aminatou when we visited Niger in 2018. Like so many other girls in Niger, Aminatou showed qualities of intelligence, courage and perseverance. After discussions with her, we felt that she deserved to stay in school to realize her vision for her life. Her desire was to become a lawyer so that she could defend the cause of poor people in her community who needed help.
We therefore decided to give Aminatou a second chance, an opportunity to repeat her senior year in high school and reinforce her capacities enough to get her Bac Diploma. Thanks to your contributions, this was possible !
A Shining Example
We were proud to learn, the following year, that we had in fact made the right decision. Indeed, Aminatou successfully graduated from high school in 2019. Furthermore, not only did she get her Baccalaureate Diploma, but she succeeded in passing an entrance exam to enter a prominent Business University in Niger where she was actively involved in a Debate Club and perfected her oral expression. She is currently pursuing her Law studies at her university both in French and in English. She received her Bachelor's degree in 2022 and has now received a State scholarship to attend the same university to obtain her Master's degree.
During her Master's Degree studies this year, she is also carrying out an internship at the High Court against Terrorism in Niamey and is working hand in hand with magistrates and judges every day, gaining an invaluable experience.
It is no wonder that Aminatou inspires us.
She is a shining example of what a young person can achieve when given the opportunity.
We are obviously very pleased that Aminatou was able to realize her full potential with courage and determination. Her success story is improbable when we take into account her poor background and consider that she barely knew how to read and write upon entering Middle School. Her reading and writing skills acquired from Hampaté Bâ Secondary School have stood her in good stead!
Coaching locally and at a distance : A miracle method
We are believers in the power of coaching and we are happy to report that all the programs we set up have shown remarkable and rewarding results, in spite of the many difficulties and road blocks that the scholarship students have encountered. In secondary school, we have used local experts to help us with the tutoring and as the students have evolved and matured, at university level we have been able to coach them personally at distance, and give them sound advice and confidence in themselves. We are thrilled to announce that our method works and has had a great impact on our scholarship students !
Many thanks to you !
We can never thank you enough for your generosity which has allowed us to support school fees and tutoring sessions for underprivileged students in secondary school and give them the chance to learn to read and write.
As some of our scholarship students successfully complete high school, it has been our dream to make sure that those students who want to continue on to university or to vocational training schools are able to do so. Your contributions to the scholarship program are making that dream a reality!