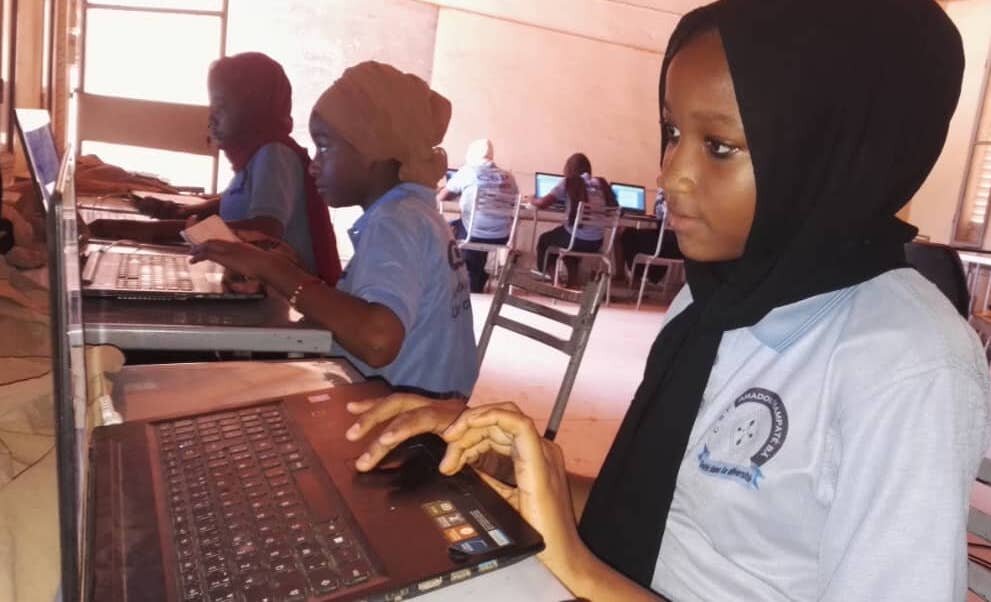 The Big Challenge
Our Non-Profit, les Amis de Hampaté Bâ, has been working for over 10 years now to improve the quality of education and help reduce the dropout rate of secondary school students in Niger.
That is our big challenge: to help underprivileged pupils not only to go to school by awarding scholarships, but also to stay in school, so they can complete their secondary studies.
How are we doing that ?
Exciting Opportunities to help meet the challenge
We have gained expertise over the years in finding ways to meet the challenge by constantly implementing new projects and offering new solutions. Our organisation is always busy creating exciting opportunities for students at Hampaté Bâ School in Niamey. In addition to funding scholarships for academic studies, and providing priceless tutoring, we also provide them with programs to learn and develop skills.
We are very proud to share with you some of our latest projects, presenting innovative solutions and inspiring success stories !
TRAINING STUDENTS IN DIGITAL TECHNOLOGY
This project rocks! Our aim is to help our students prepare and succeed in future careers by teaching them digital skills in hopes of overcoming the many barriers for access and use of technology in Niger.

It's an ongoing project that has developed in stages over 10 years. Initially, it started with a computer room dedicated to computer classes led by a professional, experienced computer teacher, with 20 computers, and some software programs.
Computer Classes in Daily Curriculum : Teaching Students to become familiar with Essential Digital Tools and Basic Software Programs
Middle School : The younger students start by learning basic computer skills : how to type texts on a keyboard and how to use simple programs, like word processing.
High School : More Advanced classes i.e. learning to use a Spread Sheet like Excel, Tools for Presentations like PowerPoint, and guiding students towards finding information on the Web, especially for history/geography with colorful world maps bringing new dimensions to the subject.
These computer classes have definitely increased students' passion for learning digital know-how. We have continued our efforts in this domain over the many years because of the incredible opportunity that technology provides for youngsters in Niger. So far, the students' accomplishments are impressive and in view of their underprivileged background and the context of Niger, even astounding.
Mr. Hassan, the computer teacher, remarks :
"At first we implemented this project mainly for 6th graders entering middle school, enabling them to learn Tech skills through using fun material. It is very popular with our youngest students who are very interested and curious as well as talented in applying their newly acquired skills to create beautiful lay-outs and imagining attractive frames. The introduction of technology is giving very good results and we are totally amazed at what some of the students are capable of doing. They have surpassed all of our expectations"
PROMOTING LITERACY SKILLS THROUGH DIGITAL EDUCATION
Our computer lab has proved successful so far as a guide and a tool and it keeps getting better. Once the students are taught to use the various tools that computers provide, we can use that technology and its advantages to improve the reading and writing process (Language Arts) at Hampaté Bâ.
How does Technology help Language Arts?
Technology is definitely a valuable tool that has the ability to enhance and improve the learning skills for reading and writing through interactive material and has the capability to motivate the learner and the teacher for creativity. Students acquire literacy skills vital for success in school and teachers invent new methods for teaching.
Back to our big challenge, many students enter Hampaté Bâ Secondary School as functional illiterates and are 2 or 3 grades below level with reading and writing deficiencies. Notably, French, the language of instruction, is not spoken at home and is therefore a struggle. This is especially true concerning our underprivileged scholarship students who arrive in 6th grade, coming from public schools with overcrowded classes where they virtually have learned very little, if anything at all. So they start Hampaté Bâ Middle School with a big disadvantage.
To curb this challenge, we are proud to announce that we are currently using new digital technology to enhance motivation for improving the very necessary skills of reading and writing in French, aimed at improving the quality of education, while also bridging the technology gap.

Students can use the computers to improve their French grammar and to better understand the rules. Teachers are devising multiple choice interactive exercises for computer use that make grammar rules more comprehensive and less boring. Learning becomes a challenge and fun.
First French Grammar Tests done on Computers with interesting results

The most recent example of combining the use of digital skills to complete an exercise in French grammar was in the form of a surprise test devised by the school's Pedagogical Director. It was a clever way to be aware of the students' knowledge and understanding of coordinating conjunctions and at the same time have a look at the students' level of computer skills.
The students were given a sheet of paper with 7 sentences typed out and were asked to type the same text on their compute keyboard. This required groundwork already acquired of mastering digital skills: knowing how to type numbers, letters, punctuation and duplicate the correct spelling of words and spacing used on the document. In short, the students needed previous knowledge and practice in basic computer fundamentals which they had already gained in their computer classes. In addition, they were able to notice how words were spelled and conjugated correctly as they were typing.
The students were then asked to find a coordinating conjunction in each of the 7 sentences and to put that word in the color red. So this required both digital know-how and also grammatical knowledge, in other words to be able to identify a coordinating conjunction. (For, and, nor, but, or, yet, so )
You can consult one of the students' exam tests in the photos at the end of this article.The exercice is in French but the principles are the same as in English.
The results were interesting, as the evaluation clearly shows that most of the students were able to duplicate the text correctly using their keyboard skills; however not all the students were able to identify the correct coordinating conjunctions. Sometimes the students put adjectives or nouns or adverbs in red, which pointed out that many did not know exactly what a coordinating conjunction is.
This evaluation will now make both the students and the teacher aware that a specific grammatical lesson had not been absorbed by the students and should be reviewed to improve results.
Some perceptions of teachers and students after the test
"Even though I made a lot of mistakes in the grammar test, I liked doing it and I was able to concentrate on the exercice while I was typing. It had a positive effect on me and I would like to do more tests like that to learn more deeply. I find the rules of French grammar difficult to comprehend but this test motivated me to do better. " said Abiba in 6th grade
"When reviewing my students' work, I realised that I had not explained clearly the lesson on conjunctions, which is actually quite simple, and I am now conscious of the fact that computer technology can enlighten my instruction. I also noticed that while correcting the exercise, the students were more enthusiastic to learn French grammar than before." commented Ms.Djibo.
We are so satisfied to see that our initiatives to explore new solutions through innovation have made a positive impact on even the most marginalized students. We are reassured to see that our technological projects have shown the potential of improving learning outcomes and we want to continue these efforts.
Your donations help us support scholarships for students as well as providing finances needed to keep our computer project alive. Thank you for continuing to donate to this very worthy project. All amounts of donations are welcome.
You can be certain that you are making a big difference in a child's life and giving him a brighter future. Thank you so much !