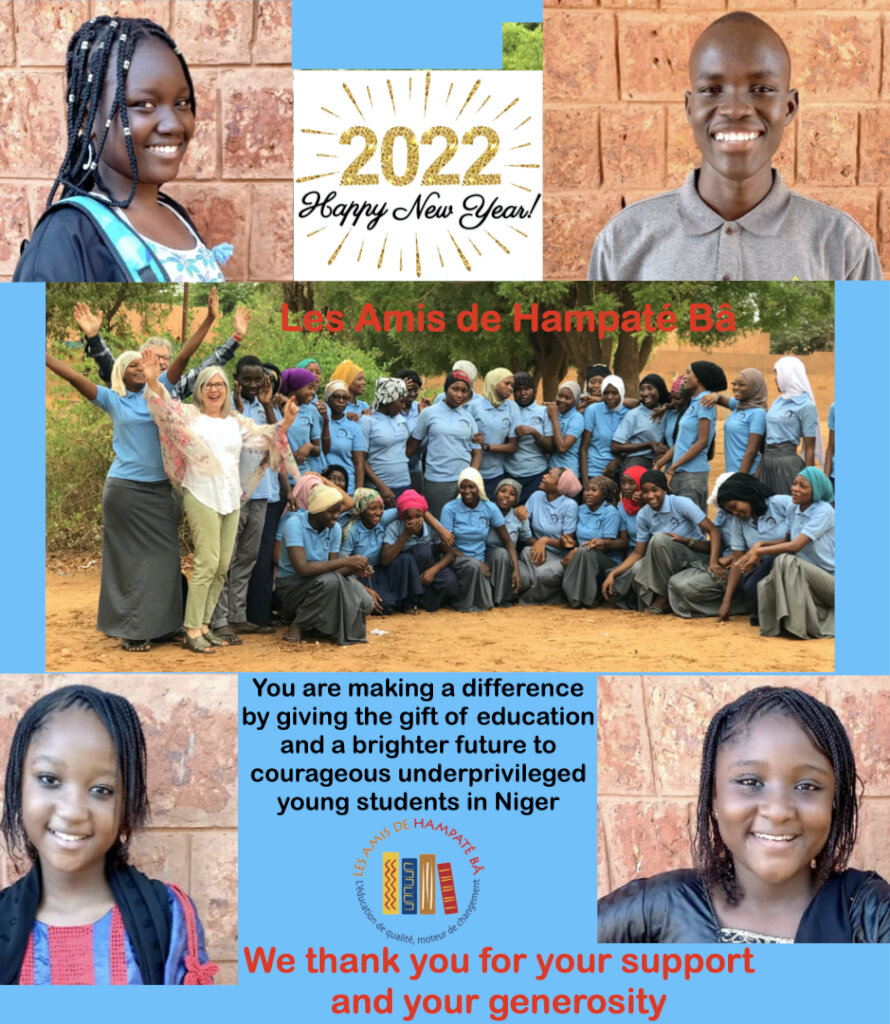 Our non-profit "les Amis de Hampaté Bâ" is starting off the New Year 2022 with a bang ! We are putting into action several of the United Nations' Sustainable Development Goals. Indeed, in our small way, at our leveL, we are contributing to the following global goals :
SDG Goal # 2. HUNGER : achieve improved nutrition
SDG Goal # 3. WELL-BEING : ensure healthy lives for our students and promote well-being for them at all ages
SDG Goal # 4. EDUCATION : offer scholarships for quality education to underprivileged youngsters and promote learning opportunities at all ages;
Our organization is working hard to make progress in this global movement and we feel committed to contributing to the world being a better place.
How are we concretely advancing the UN agenda and achieving some of their goals that are close to our hearts ?

Here is some evidence in the following News Report by our L'Association "les Amis de Hampaté Bâ" of SDG's at work !
+++++++++++++++++++++++++++++++++++++++++++++++++++++

NEWS REPORT JANUARY 2022
So WHAT'S NEW in this new year 2022 with our students ?
NEW CHEF ! NOURISHING BODIES at Hampaté Bâ School
Through our Food for Thought Program, over the years, we have provided our Scholarship Students who can't afford to buy food at the recreation pause, with good nourishing food. Our program is not only aimed at nourishing the body, but in addition, we have seen that nourishing food also gives students more energy to study and to follow tutoring classes after school, therefore also giving nourishment for the brain. And of course, adding benefits to the students' health and general well-being.
BREAKING NEWS : A new food chef has arrived at Hampaté Bâ School and is serving varied and copious meals at the break that the students find especially delicious (the former cook has retired).This is a welcome change since the students can choose the food they want right on the spot. It is inspiring to them because they have a choice. Meat and veggies are served as well as omelettes, hors d'oeuvres, sandwiches and crepes. The food is fresh and inspires the students. They wait impatiently for lunch-time to arrive, and are very keen to fill their empty stomachs with good food. Within a certain allotted amount that has been determined, they are able to compose the menu they want including soft drinks.
As expressed by Karima : "We like the new food of the new chef, Mr. Kader. He is very nice to us. He is very clean and makes such good food. This food is important to us since we stay after school to follow tutoring classes until late hours, so we are grateful for this nourishing meal. It puts us in good shape for our remediation classes and we are able to concentrate."
Abdoulrazak adds :" It's also fun and a good math exercice to compose the menu we want with the different elements and arrive at the right amount that we are allowed. It's like a game and it is a challenge".

QUALITY EDUCATION : NOURISHING MINDS at all levels
Our team is helping to ensure education at all levels : from Middle School to Higher Education.
NEW GIRLS entering Hampaté Bâ Middle School
This year we have a group of new girls, recipients of scholarships, who have arrived at Hampaté Bâ Middle School. The level is difficult for them, since they are weak in reading and writing skills, but they are following tutoring lessons in small groups and are striving to keep up their level. We wish them good luck.
Hafsa expresses her gratefulness : "We are so privileged to be accepted in this wonderful school but it is a challenge for me. I am grateful for this opportunity and am motivated and determined to overcome my difficulties and succeed."
Continuing students at Hampaté Bâ Middle School and High School
All the scholarship students in Secondary School moved up one level from last year to this year and are steadily making progress, with the help of tutoring.
Students with Bac Diplomas in August 2021 now entering NEW SCHOOLS and continuing their education, aiming for degrees in schools of commerce , law, technology and Health.
As many of our students became high achievers at Hampaté Bâ School and succeeded in getting BEPC or BAC diplomas, we are proud to announce that many of them have been admitted to vocational institutes or higher education schools. The first semester has shown that all of them have received more than average grades in their new schools. We are happy to see that the quality education they received at Hampaté Bâ Secondary School gave them a good basis to continue their education which will eventually give them opportunities to get interesting jobs.
As Farida mentioned : "I have always dreamed of going to a good Health Institute and be able to help people who are ailing. This is my fervent dream. I worked hard to succeed my Baccalaureat so I could have a higher education. I am so thankful to have this unique opportunity offered by the Association les Amis de Hampaté Bâ. I am working very hard to get the best grades possible in the next 3 years in order to get my Nursing Diploma. I am passionate about this career and I am ambitious. So I am confident that I will succeed. This opportunity has changed my life. "
EVIDENCE OF SDG's AT WORK
We are trying hard to achieve Education Goals in accordance with the UN's goals and make progress towards providing support services for underprivileged youth, therefore helping them, as well as their families, their communities and their country, Niger. It is incredible to see how successful they are, knowing that they come from impoverished families and were hardly able to read and write when entering Hampaté Bâ Middle School.
Of course, what we believe in and what we are aiming for is :
TO ENSURE THAT EVERY CHILD HAS AN OPPORTUNITY TO REACH THEIR FULL POTENTIAL.
Is this a dream or reality ?
Our team will continue doing everything possible to ensure the success of our "Reading and Writing" project : to provide tools for youngsters to achieve literacy and numeracy.
We have been striving in this direction for years and we will continue. We believe WE CAN DO IT with help from our GLOBAL GIVING donors !
YOU CAN HELP US BY DONATING
Your donations will help us achieve our goal to educate children in Niger and support their development in specific areas of their lives such as literacy, healthy living, and becoming self sufficient. They are courageous and determined and your donations mean so much.
We need your support to be able to continue our efforts to help underprivileged youth get a quality education and good nourishment. All amounts are welcome. Thanks for believing in us and our projects.