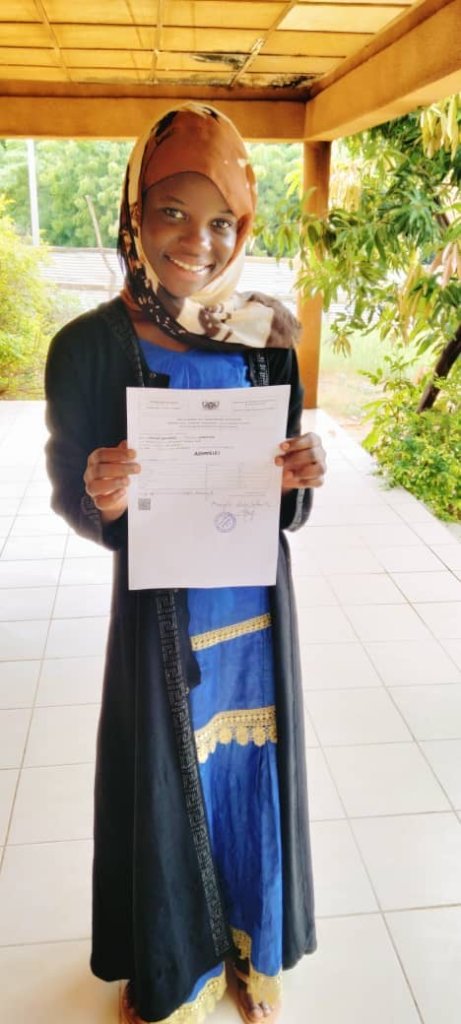 Diplomas Galore in 2021 !
We are bursting with pride to give you the extraordinary 2021 Exam Results concerning our underprivileged students to whom we have attributed scholarships and who have successfully graduated from Hampaté Bâ High School this year ! Results even more admirable, knowing that these students come from very poor backgrounds and often have parents who are illiterate. How amazing is that?
Breaking News: BACCALAUREAT 2021 Diploma Results
75% of our scholarship students at Hampaté Bâ succeeded the Bac exam
As compared to :
23% : National success rate in Niger at Bac this year
Now Heading to which schools for what career ?
More Breaking News : BACHELOR Degrees 2021
We now backtrack to Hampaté Bâ's first High School Graduates 3 years ago who succeeded the BAC in 2018 (44% success rate at BAC for scholarship students).
Those particular students have now succeeded in getting their bachelor's degree this year in 2021 ! An amazing feat!
Yet another step forward for these courageous students.
Bachelor Degrees in What areas?
Bachelor's Degrees in Taxation, Business Administration, Humanitarian Law, Communication, Accounting. How's that?
Diplomas Galore and More : An Alumni Community that sticks together
Getting diplomas is wonderful but is only part of the whole success story. What is also important is to have human values, to do your work from your heart, to be a positive leader and to be invested in helping your community, to be ethical and to be respectful to others. These 2018 Hampaté Bâ graduates are still very much glued together with common values. In fact, each one came to a very special event of the others: the Presentation of their thesis to a jury to qualify for their Bachelor's Degree. No jealousy among them. They are only too happy to see each other succeed, as witnessed by the cheers of joy and loud applauding. How touching is that !
Tutoring: Behind the Scenes of getting Diplomas
So how did these underprivileged students who were struggling with being able to read and write upon entering Hampaté Ba School in 6th grade, get up to level and finally receive prestigious diplomas? Remediation is the answer. We wanted to improve the weaknesses of these less fortunate students and give them equal opportunities, which was impossible without offering them tutoring sessions. Tutoring is actually an age-old practice, but we upgraded the classical approach of just providing a structure for learning.. Our tutoring sessions were meant not only to give instruction and to raise the level of weak students in small groups after school, but also to give them confidence in themselves and provide them with compassionate and empathetic tutors. This was a way to re-enforce their knowledge and ended up being a rewarding experience for both the students and the tutors. Our purpose was to help students to help themselves and become independent learners. And they still are, so much so that many have now achieved getting Bachelor's Degrees. Mission accomplished! Hats off to the students for their continued efforts, to the tutors, and to you for your unwavering support !
Students with Dreams and Determination
Djamila is joyous to have received her Bac on the first try! "I am so happy that I am without words. I have been waiting for this day for so long and cannot believe that I will be entering the Law Department in the school of my dreams.. I can only thank with all my heart all those who have contributed to my success by financing my scholarship and tutoring. sessions. Lots of hard work ahead, but I am ready for it!"
Roumatou speaks with passion: "I was good at Math & Physics, but decided I wanted to help my community and assist other women, so I put all my energies into Biology studies to be admitted to the best Medical State School and specialise in Gynecology. I was scared of not getting my Bac because I had problems with my eyes just before the exam, but I persevered and got the best grade in the" Scientific Bac" of students in my class. So proud !"
Sidi sighed : "I worked so hard on my Thesis to be able to get my Bachelor's in Accounting. As a surprise, all my old friends of Hampaté Bâ came to my Presentation to the jury and that gave me courage and I got a good mark. I am so grateful for the encouragement of my friends. I even wore a tie."
Atika is ecstatic : "My first dream was to become a doctor, but I realised it would take too many years. So when I got my Bac, I decided to go to a financial institute and became enthusiastic about the subject of taxation. I was always top of my class for the last 3 years, and when I presented my thesis to the jury to get my Bachelor's degree, I had tears in my eyes when they announced the grade of 16/20 : such an excellent result. I am so grateful to everyone who supported me through the years at Hampaté Bâ allowing me to succeed 3 years of higher studies and get my Bachelors. I am guaranteed to have a well-paid job next year.I'll never forget your kindness and support."
We need your constant support to continue making a difference in students' lives by offering the gift of an education
Help us keep students in school every year. Sponsoring scholarships and tutoring is so important for them to have a quality education. Help make the change. Please contribute to a very worthy cause. Thank you.