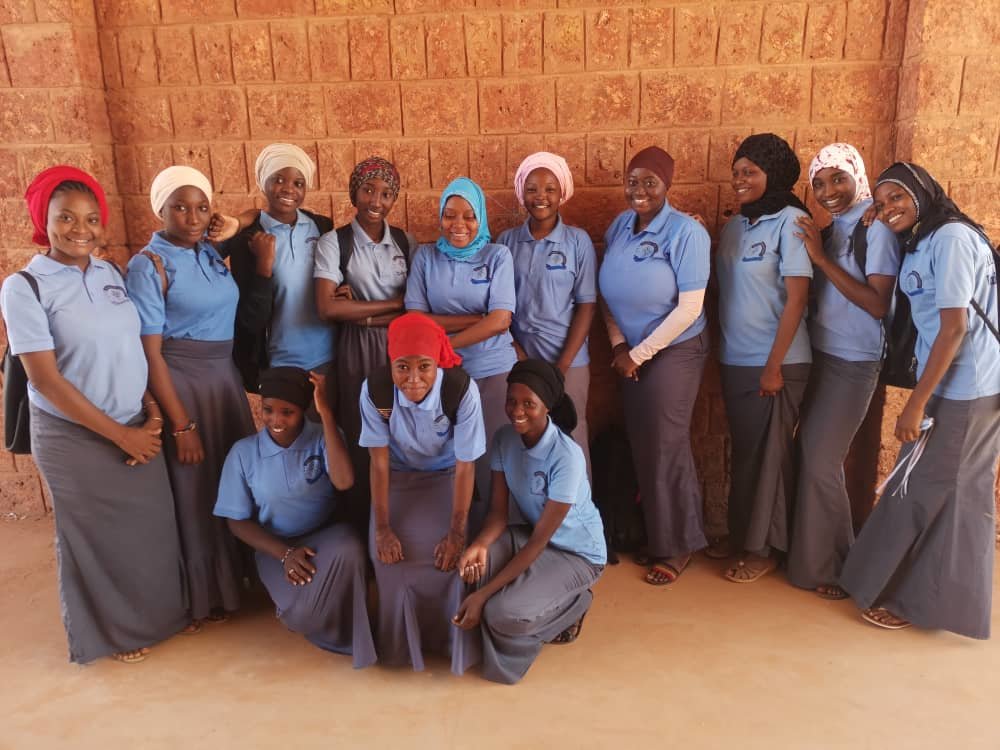 We thought you might be interested in a quick review of what's happening currently in Niger as well as a brief update of where we stand concerning the objectives our Association had set in 2009 to help our underprivileged scholarship recipients make progress and thrive. What started out 12 years ago as a program to give them a quality education, reduce drop-out rates, and specifically improve reading and writing deficiencies, has grown and evolved into a very encompassing project with amazing long-term results.
One of our cherished programs "Food for Thought" for our scholarship recipients at Hampaté Bâ School, was put in place with the following objective, which basically sums up in a nutshell our Association's overall objectives:

"That the "Food for Thought Program would help provide our underprivileged students not able to finance food, with good, healthy meals, more energy and nourishment for both body and mind, and in the long run, give these underprivileged students equal opportunities to help boost academic results, to reach their potential and to be able to complete their schooling and break the poverty cycle."
MISSION ACCOMPLISHED ?
Were those good meals responsible for the resilience and energy visibly fostered over the years by these students coming from low economic backgrounds? Most likely, the meals did help, as who can study on an empty stomach? But little did we suspect that these underprivileged students would indeed beat all the odds, resist many major challenges, et soar to unexpected heights academically and personally, with eagerness, motivation and ambition!
2019- 2021 : VERY CHALLENGING YEARS IN NIGER`
These are conditions the students had to deal with in 2019-2020: COVID-19 hit Niger and closed schools 20thMarch to June 1st, 2020
Niger continued with the regular Bac exam postponed until August 2020
Massive dust storms passed through in May 2020
End of August 2020 there was record-level flooding that hit Niamey (868 houses destroyed, including the house of one of our scholarship girls) With the rise in water comes a rise in malaria.
And it continues in 2021 …..
Contested elections in February 2021 closed down the schools and cities for about 2 weeks due to protests
(The government even shut down Internet to stop information being shared especially by those protesting the elitist win)
Imagine how you might deal with any of the 2019-2021 Events when you live in a thatched roof abode or live amid a pile of bricks with no electricity ?`
AND YET … THE RESULTS FROM 2020 - 2021 CONTINUE TO BE AS GOOD AS, OR BETTER
To cite a few examples of striking outcomes :
HABIBA :HER DREAM BRINGS HER BACK TO THE BEGINNING.
Everyone is not a scholar ! Successful outcomes are not always predictable. Habiba is an example of a disappointment transformed into a success story. In 2015 she succeeded her BEPC and decided to continue on to high school, but failed the Bac in 2018 and 2019. At that point, she realized she wasn't made for academic studies, but had a real passion for sports and repetitively won sports' competitions. She therefore courageously decided to follow her dream of making sports activities her priority.
Habiba entered INJS with flying colors :( Institut National de la Jeunesse et du Sport) and was easily accepted to pursue a diploma that will allow her to teach Sports and also continue to compete in outside sports activities.
Fast forward to 2021, you will see in the accompanying photos, Habiba completing an internship for her program, teaching Sports Class to boy students at Hampaté Bâ ! Here are her own words:
" I have had many emotions in my life, but this is the biggest emotion I have ever felt : To be able to come back and do my internship in Hampaté Ba School, where I studied from the 6th grade through my Senior Year in High School ! My deep thanks to the Association "Les Amis de Hampate Ba" for having believed in me and given me a chance to study at Hampaté Ba Middle School and High School and afterwards, to have let me continue to pursue my dream at INJS." Habiba even asked to meet the current scholarship students at Hampaté Bâ to share with them how moved she was to come back to Hampaté Bâ for her internship.
To witness the success of our Scholarship Students, in whatever domaine they choose, makes our support even more valuable.
SAADIA :BEST OF THE BEST NOW DELIVERING BABIES
Contrary to Habiba, Saadia was always academically inclined and top of her class at Hampaté Bâ. In 2019, this scholarship recipient succeeded the Scientific Bac which is very rare for girls and women in Niger. She then came in #1 out of 41 candidates for the post-Bac entrance exam to enter the highly acclaimed ENSP -National School of Public Health. Quite a feat ! She received a well-deserved full State Scholarship, although due to the total lack of financial support possible from her parents, our Association is backing her transport costs and food, as this top-rated School is very far from where she lives. Saadia is also doing an internship in 2021 in a local hospital, delivering babies and providing mental health services to women. Her reaction is expressed in this message: "Thank you to the Amis de Hampaté Ba, for all your aid and encouragement over the years. As long as blood will flow in my vains, I will continue my efforts. This is my passion, my every dream since I was a child." Saadia would like to complete her 3 year diploma to be a mid-wife and continue on to get her master degree to specialized in gynecology ! She is certainly not lacking courage!
SIDI : THE DESIRE TO STUDY LAW AND ONLY THE LAW
After getting his BAC in 2019, Sidi was stubborn and decided to try the very competitive exam to get into the highly revered HECF University, allowing him to specialize in Law studies. He not only succeeded in being admitted, but he also won a small scholarship. His fervent desire is to become a judge. His first semester Report Card shows that he is motivated and kicking off his studies in style. He received 15 out of 20 as a grade and a comment of "Good" and "serious student". He expresses his gratitude "Thank you to the members of the Association for giving me the chance of a lifetime to go to college and the chance to hopefully practice law".
THIRD YEAR POST-BEPC MEANS INTERNSHIP
After getting their BEPC diploma from Hampaté Bâ in 2018, 7 girl students preferred to do health assistant studies at ISPH, a Health Institute, rather than to continue on to High School, as they preferred to have practical experience rather than continue in an academic track only. After 3 years, each one of these girls is now completing her Health School internship. They are each working in different small, remote villages as "social health workers" for 2 full months. This is a very gruelling experience and a challenge for sure. We asked them to fill out a questionnaire upon their return, and each one replied that they were more enthused than ever after this experience !. They will all pass a State exam in September and if they succeed, they may continue to nursing school in hopes of obtaining a certificate to become a nurse . This is their dream. They are very grateful for everything they have learned so far and are enthusiastic for their next adventure ! These girls are particularly caring of others and joyful, despite their poor backgrounds. They are focused on serving their community despite the challenges which are omni-present.
Which proves that when there is a will, THERE IS A WAY
Here are some figures to prove that.
100% of the scholarship students in Hampaté Bà Middle and High School are predicted to move up a level according to 2nd semester results 2021, and several are top of their class:
o A boy scholarship student got the highest grade in Scientific Major at his level (Junior Year of High School)
o 4 girls in Middle School got 17/20 in Math (among the top grades at their level)
80% of the scholarship girls at HB who succeeded their BEPC 2020 (Brevet) decided to pursue professional BAC studies to get jobs sooner to help their families and give back to the community (Healthcare, computer management or accounting degrees after 3 years of study, so far with remarkable results)
o One girl who chose to specialise in accounting at a business school after her BEPC, received "Congratulations from the Jury" in her first semester and is bound to have a promising future.
77% of the scholarship girls in their senior year of HB high school, are predicted to succeed their Baccalaureat 2021 based on mock exams (National average was only 35% for girls in 2020)
o 2 girls received the most points in Literary Bac category at HB
o 1 girl received the most points in Scientific Bac track at HB
The Bac will take place on July 27th this year, so we wish them all the success possible !
o BAC IN HAND, BTS BOUND !
100% of Hampaté Bâ graduate students pursuing Post Bac university studies or vocational training in professional institutes have continued relentlessly their 2 or 3 year cycle and have maintained surprisingly high levels of accomplishment.
o 2 girls have already obtained their BTS in statistiques (advanced vocational training certificate) at a high level institute after 2 years and will obtain professional degrees in September
o 3 girls have completed 3 years at an international business school and will obtain a professional degree in entreprenariat in September
o 7 girls started at ESCAE this year, a well-known business school to study accounting, management and human resources and after 1st semester results, have successfully passed to next level
A BIG THANK YOU AND LET'S CONTINUE !
We can surmise, judging from the incredible and positive results of each student, at all levels, that the "read and write" remediation program was definitely worth it and has opened many doors and led to many great adventures, They couldn't have done it without you. We thank you for making a big difference in these needy students' lives. Through your donations, you have given them.confidence in themselves and equal opportunities to education and employment that will allow them to give back to their communities and have a brighter future. We welcome any and all donations to keep offering educational opportunities and well being to the students we are sponsoring in Niger. Thank you.