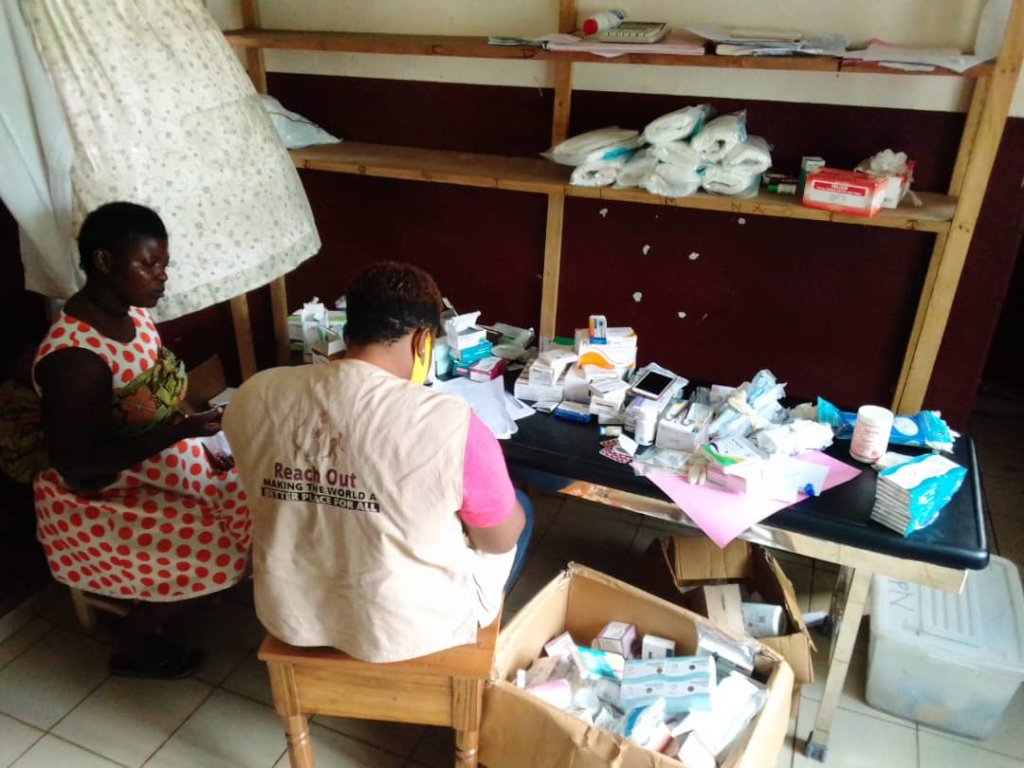 As reported in our February 2021 report, due to limited funding, our activities from the month of March 2021 going forward will focus on the use of Community health workers in remote communities rather than mobile clinics. This report is for activities carried out in the remote community of Kitta and Nalende in the Ekondo-Titi health area.
Kitta and Nalende were picked because there is no other program providing proximity healthcare in these two remote communities, nor a health facility, but the needs are overwhelming. They are at the center of the humanitarian crisis and recently the whole village was displaced to the forest while a military confrontation was taking place. The two community health workers are experienced and had worked with Reach Out in 2019 and 2020. Activities in Kitta/Nalende began in May 2021. The first phase of the project is intended to run up to the end of July 2021.
The objectives for this phase of the project include;
I. Diagnosing and treatment of uncomplicated (not severe) malaria to all members of the community.
II. Treatment of simple Upper Respiratory Tract Infections
III. Screening for malnutrition and treatment of uncomplicated cases using Ready-to-Use Therapeutic Food (RUTF) including plummy nuts and its supplements.
IV. Referral of severe cases of malnutrition to the district hospital
V. Distribution of Albendazole and vitamin A to children 0-5 years of age
VI. Distribution of delivery kits and multivitamins to pregnant women
Health education and YICE (young infant and child education).
Referral of pregnant women to the district hospital Ekondo-Titi for follow-up of ANC.
The above activities carried out by the CHWs are under the direct supervision of a field nurse based in the Ekondo-Titi field office. The Field Nurse communicates with the CHWs on a weekly basis, replenishes their stock from the field office, and transmits their bi-weekly reports to the Reach Out health department office in Buea.
Targeting
The CHWs will target all community members who are in need of health care especially children below 5 years of age and pregnant women.
Results for the month of May 2021.
A total of 193 (111 males, 83 females) persons were received for health problems by CHWs.
93 (50 males, 43females) persons were referred by CHWs to the Ekondo-Titi district health center
80 persons (41males,39 females) were tested for malaria using the Rapid Diagnosis test.
55 (30 males, 25 females) persons tested positive for Malaria out of which 50 (26 male, 24 female) were properly treated.
Total of 55 (31 males, 24 females) children/adults treated for Acute respiratory tract infections
A total of 107 (51 males, 56 females). children provided with vitamin A therapy
25 pregnant women benefited from delivery kits and multivitamins
77 (32 males, 45 females) children screened for malnutrition
community sensitization on basic health reaching 219 persons (73 males, 146 females).
70 children were dewormed with Albendazole.
The communities of Kitta and Nalende express their gratitude to all those who made it possible for Reach Out to achieve the above results by donating to the project. We are also acknowledge and express our gratitude for the immense support from UNFPA for their in-kind donations of birthing kits as well as Vitamin Angels for their in-kind donations of Vitamin A supplements which were distributed to the beneficiary population. We continue to seek more funding to reach out to those untreated or not reached in more remote communities.
Attached to this report are pictures of from our field visits not only in Kitta and Nalende but also in other remote communities in the Meme Division where urgent healthcare needs were identified.