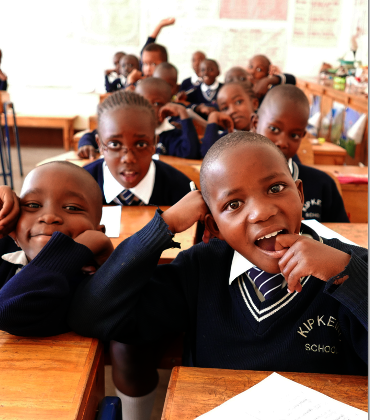 A total of 26 children received scholarships to attend schools in Kenya, thanks to the funds received from Arena Flowers coporate sponsor in conjunction with our lovely donors support - yours! Of these, six went to primary school, 15 went to secondary school, and six are attending university. With the profit from the farm, Lewa also supplied them with uniforms, shoes and school materials. Those who attended boarding schools or universities also received bedsheets, mattresses, and towels
Thanks from Kelvin
"My name is Kelvin. I am writing this letter to appreciate you for the good work you have done. Thanks for supporting me and paying my school fees and supporting me. I am in Form 2 and I got a good grade, but I will aim higher for pleasing results. I promise to be honest and disciplined."
I won't let you down - Cathrine
"Hello. How are you doing? I hope you are also good. Our school life has been great and we are saying thank you to our Almighty Father for taking us this far. We have just closed school and are going on a short holiday. I am promising to work hard so I can have a better life and not let you down. Thank you so much."
These are just two of the letters Bread and Water has received from the children who have received scholarships from Lewa.
Background
Several years ago Lewa Children's Home set up Baraka Dairy Farm to provide income to support the Home and Kipkeino School. More recently Lewa has expanded this to generate an income to pay the school fees and associated school supplies for the children from the Children's Home as well as those of poorer children from the local community to attend Kipkeino and other schools.
The farm is doing well, but needed repairs and new machinery, such as a cream separator, and water storage facilities to increase productivity and set the farm on a long-term stable footing. The aim is also to employ a farm manager and to train off-farm staff in dairy-farm management, which will also increase local employability.
Work achieved so far
Thnaks to your support, the Farm repairs have been completed and new machinery purchased to improve the quality and quantity of the cheeses produced.
Future work
Baraka Farm still needs funds to carry out the following:
Hiring a farm manager

Starting training for young dairy farmers

Repairing the water storage.
Please continue to support this worthwhile project, so that more children like Kelvin and Cathrine can receive a good education in Kenya.