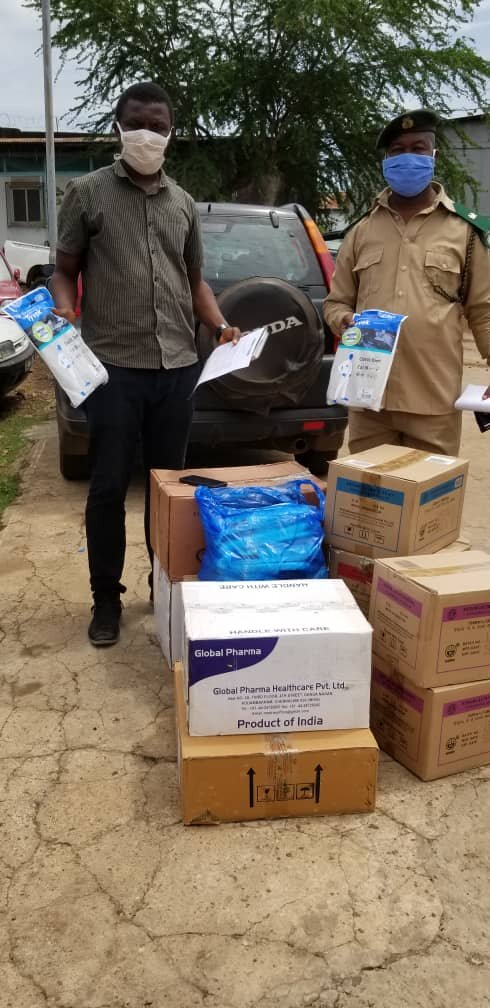 Thanks to your support through this project, AdvocAid has been able to deliver crtiical supplies to women in prison during the COVID-19 outbreak, such as soap, laundry soap, buckets and sanitary pads, which are critical to supporting hygenie and health whilst women are detained.
We also supported the prison treatment centre with urgent medical supplies and PPE during a COVID-19 outbreak in the prison. The doctor told us, "Thanks to AdvocAid for their timely intervention. I just can't imagine how we would have run the treatment centre this week without your supplies."
In recognition of our work, our Programme Manager, Julie Mariama Sesay, was spotlighted by the Ellen Johnson Sirleaf Presidential Center for Women and Development as a "COVID-19 Heroine". They highlighted how Julie had been unafraid to put her own health at risk to serve others. In an interview with the Center, Julie shares more about our work:
"When COVID-19 was first documented in Sierra Leone in March, many people at my organization were scared about continuing our work. However, I knew that this would be the time that women and girls would need us the most, and so instead of pausing our work during the pandemic we have scaled up our operations. We have continued to campaign to protect the rights of women and girls who are detained, and are pushing for recognition that COVID-19 is a human rights crisis as well as a health crisis.
"One of the issues we faced was that women—and some men—were being arrested simply for going to collect water during lockdown periods. Due to the water crisis we are currently facing in Sierra Leone, many people don't have access to clean water in their homes, and they have to regularly make trips to outside water sources, often traveling significant distances to do so. When strict lockdowns were enforced, many people still needed access to water, and they were forced to break lockdown rules when they left the house to fetch clean water. Often, these people ended up being detained by the police, and we worked with many of these cases, arranging to have them released. By engaging with the police on behalf of these detainees, we were able to explain that these people didn't intend to commit a crime, but they didn't have access to water in their homes.
"During the pandemic we've also been assessing the needs of our correctional centers. None of them had isolation rooms for new arrivals, so we've helped to implement isolation rooms to prevent the spread of COVID-19 among the incarcerated population. We've also provided correctional centers and police stations with face masks, handwashing facilities, and sanitizer, not only for police and correctional officers, but for detainees as well. Overcrowding is a problem in many prisons, so the risk of COVID-19 spreading is very high.
"We also continued to monitor police stations during lockdown, and distributed welfare packs with dried food rations and other essentials to people who were being detained for long periods of time without basic supplies.
"On 16 June, Day of the African Child, AdvocAid organized an event at a juvenile detention center in Freetown. The event highlighted the need for a child-friendly justice system in Sierra Leone and the urgent imperative to protect underage detainees from COVID-19, while at the same time advocating for their legal rights."
We'll continue to do what we can to make sure that people in prison, especially women and girls, are not overlooked as the COVID-19 pandemic continues.
Links: