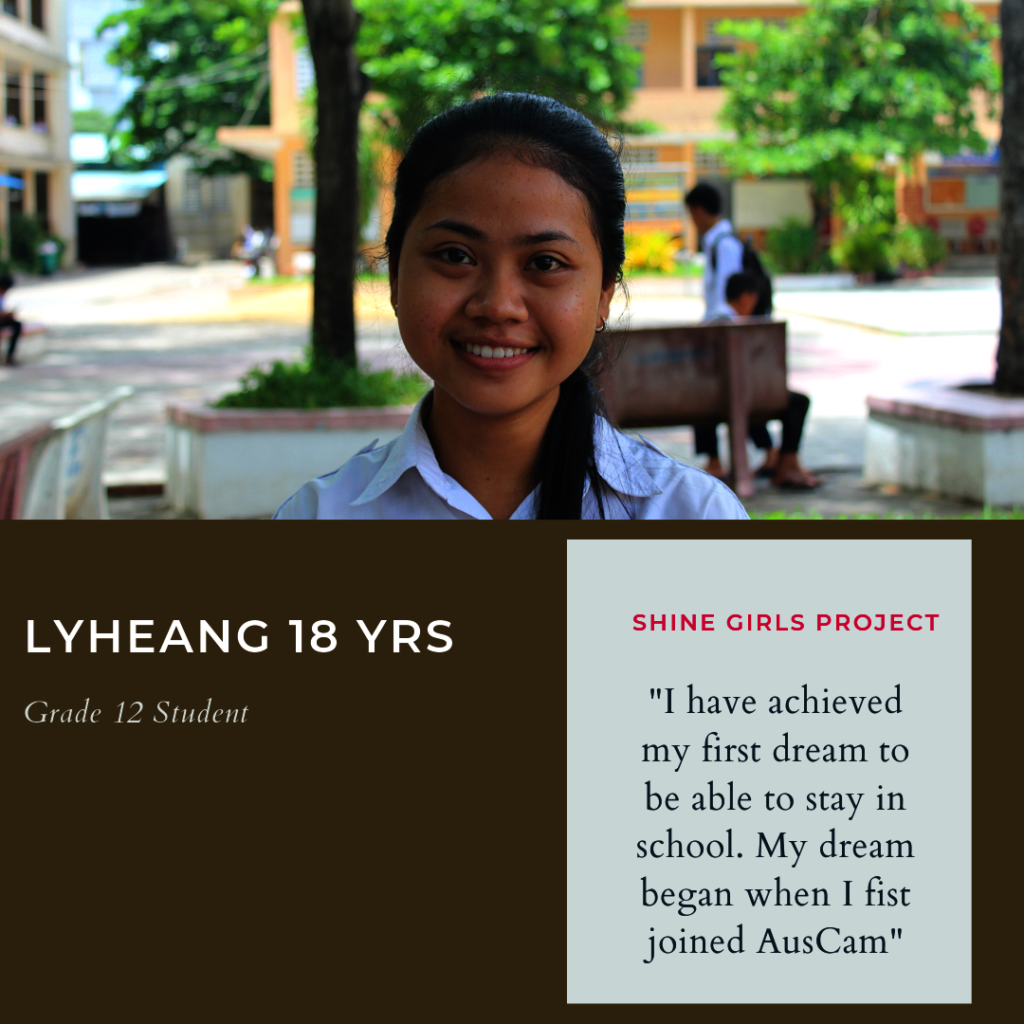 Dear Friends,

Our girls in Cambodia have recently completed another year of school and because of your support and belief in them, they are another year closer to fulfilling their dreams. While I would love to report to you that every one of our girls did exceptionally well and all passed their exams ~ it is important that we are transparent not only about their successes, but also their challenges. Regardless of their year-end academic results, we are incredibly proud of them - for their determination in creating a better world for themselves and their families.

Their grades in school are not inclusive of the incredible progress they have made. Given the environment where the girls live, keeping them in school is fraught with complexities. Most of our girls come from homes where parents are struggling to earn enough money to put food on the table every day; they live in the urban slum communities with violence, alcohol and drug abuse, gambling and little to no access to important health and support services. The schools they attend are also under resourced with hot, dirty and overcrowded classrooms. Teachers are underpaid and often times hold back vital information in lessons and then require that students pay for their (illegal) 'extra classes'. When you combine this with their own family circumstances, you can see why we have to be proud of how far the girls have come.

Our vision is for every girl to graduate school, go onto university and have a future filled with endless possibilities. But we also need to reimagine what success looks like for each girl in her own context. Our team of social workers are passionate and persistent about supporting both our girls and their families as they navigate their own individual challenges; and our leadership team, both in Cambodia and Australia, are continually looking at innovative approaches to help our girls reach their full potential. For some, it may not be completing grade 12, but rather moving from school to vocational training or employment in a safe, empowering environment.

We will remain hand-in-hand with the girls -- placing their individual expectations and dreams at the forefront, not ours. Our primary goal has always been to keep girls safe, free from exploitation and illegal activities. Every girl at AusCam is just that -- safe and free. I want to assure you that we are continually reviewing, evaluating and seeking ways to improve our programming and that we are determined to help girls create a future free of exploitation and to ensure they have every available opportunity for a fulfilling future.

The Numbers:
o 174 girls enrolled on our SHINE Girls project 2018-2019 Academic year
o 149 girls sat final year exams (all grades)
o 138 girls passed exams 92.62%
o 14 cases closed throughout the year
o 10 girls did not attend their exam
o 11 girls failed their exam
o 1 girl passed away from a traffic accident

Individual Completion results:
o Grade 7 - 26 girls; 26 sat for exams; 26 passed - 100%
o Grade 8 - 27 girls; 1 didn't attend exams; 26 sat for exams; 25 passed - 96.5%
o Grade 9 - 17 girls; 3 didn't attend exams; 14 sat for exams; 14 passed - 100%
o Grade 10 -33 girls; 4 didn't attend exams; 29 sat for exams; 29 passed - 100%
o Grade 11 - 32 girls; 32 sat for exams; 32 passed - 100%
o Grade 12 -24 girls; 2 didn't attend exams; 22 sat for exams; 12 passed - 54.55%
Thank you for taking this journey with the girls and for your belief in the ability to end the exploitation of girls in Cambodia and we are excited to see what remarkable achievements our girls will have in 2020.
Happy New Year!
Yours warmly,
Julie Dowse
Founder & International Program Director