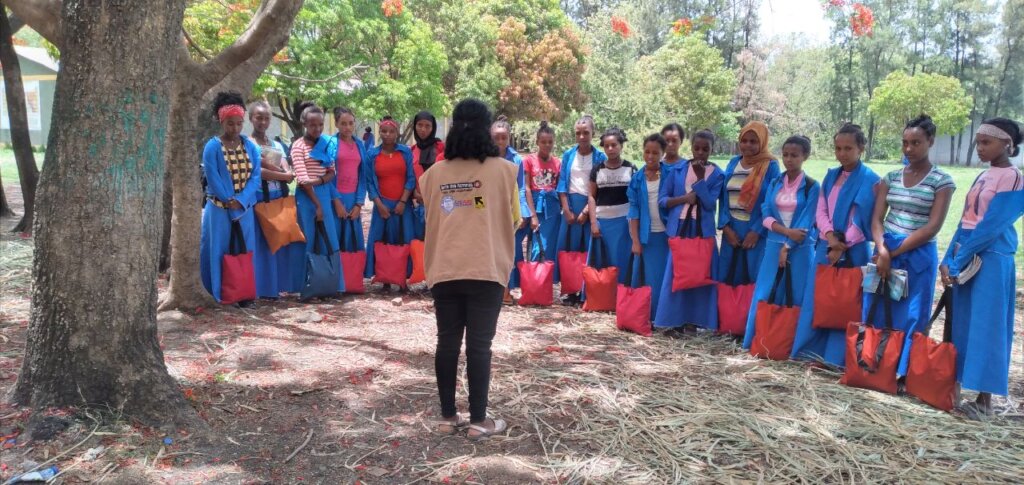 The conflict in Shewarobit was detrimental to the lives and well-being of children in Ethiopia, like Alemnesh, who had to discontinue her education at the age of 16. Having been displaced and moved to a camp for internally displaced persons, her survival became tough. Through our support, she was offered dignity kits, psychosocial counselling, awareness on gender based violence and child protection issues.
Disrupted by conflict
The constant conflict among communities in the Amhara region in Ethiopia pose a great risk to children, and make them vulnerable to exploitation. In April 2021, when an ethnic war erupted between the Oromo and Amhara people, Alemnesh´s life was affected. Her family lost property,their livelihood was disrupted and they got displaced after their house burnt down. Living with a single mother who was the sole breadwinner of the family, Alemnesh had no choice but to seek refuge at an IDP camp.
Life before conflict
Education is the key to success, so they say, and this is the very thing that Alemnesh banked on to better her future. When war invaded her innocent life, robbing of her dream to acquire education, Alemnesh´s hopes were squashed. Looking back at her life before a fight ensued in her community, she would leave home at 8:30 am and head for school. Even though the life she lived at that moment was not the kind that she desired to have, she firmly believed that, with education, her situation would soon turn around. But now, all these had been taken away by the conflict, and she was no longer pursuing her studies. Alemnesh developed psycho-social distress, which greatly affected her well-being.
Living in the IDP camp
Even though she was now in a safe space, Alemnesh experienced various challenges at the camp. She lived in a one-roomed structure housing over 200 people, a situation that made the place congested and uncomfortable. Additionally, she lacked access to clean water, basic needs, electricity, privacy and sanitary facilities. Considering the unfavourable conditions at the IDP camp, Alemnesh and other girls were potentially exposed to child marriage, child labour and gender based violence. Eventually, she became distressed and her mental health was at stake. She lost hope in returning home and was extremely worried about her future.
Supported to pursue her education
Amidst all her challenges, a silver lining ensued when Alemnesh was identified by the emergency response project team. Through our support, she received dignity kits, psychosocial counselling, awareness on gender based violence and child protection issues such as acces to education, child marriage and child labour. ¨I feel empowered. My mental wellbeing is restored. ¨ she said happily. Through the psychosocial support she received, which includes Psychological First Aid (PFA), individual and group counselling, she was able to reduce the stress she was going through. She also engages in child-friendly play and recreational activities which help her feel better. Her mother was also offered 130 Euros, which she used to cater for her daughter´s basic needs and scholastic materials —including a school bag, exercise book, pen and pencil. Additionally, her mother received positive parenting skills training in April 2022.
Future aspirations
The very dream that Alamnesh thought had crashed, was revived. We have been able to support her to access the right to education. She will be enrolled in school in September 2022. Speaking about her future dreams, Alemnesh said, ¨My dream is to become an engineer and lead a stable life. I am hopeful of achieving my dreams now.¨