Project Report

| Feb 25, 2022
Turning paper conservation into reality in the Year of the Tiger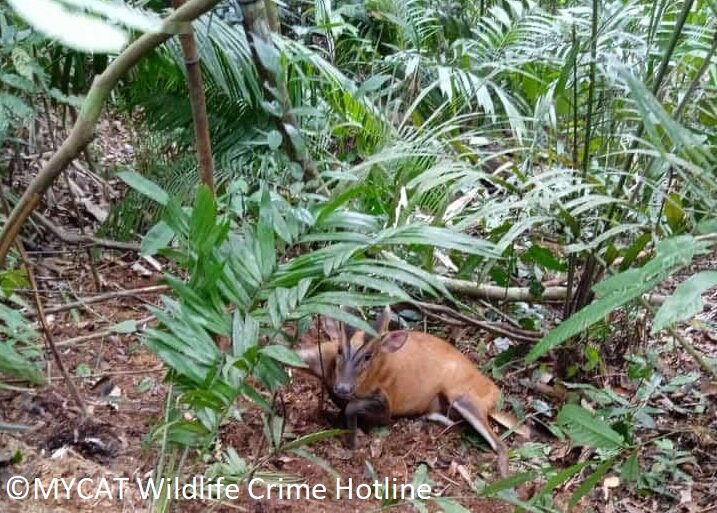 Dear global givers,
Your support of MYCAT and our efforts to protect Malayan tigers and their habitats couldn't come at a more critical time. Malaysia clings to its remaining wild tigers by a thin thread. During the Fourth Asia Ministerial Conference on Tiger Conservation held in January this year, Malaysia's Prime Minister announced that Malaysia has fewer than 150 tigers remaining in the wild, the number based on the results of a three-year nationwide survey that concluded in 2020.
As part of MYCAT's efforts to turn government policies into impactful real-world solutions, MYCAT, with your generous support, has been able to engage with various communities to safeguard Peninsula Malaysia's most important wildlife corridor.
This includes empowering local indigenous Bateq to conduct anti-poaching patrols as Community Rangers. Funding provided by you has allowed MYCAT to run multiple capacity building exercises. As a result, the Community Rangers have shown tremendous improvements in data collection, searching threats, and species identification based on signs. The Community Rangers have continued to detect signs of recovering wildlife in this period.

In a recent debriefing session, we discussed strategies to improve protection based on the data on wildlife and threats collected in the past year. Besides providing MYCAT with valuable insight, these sessions foster greater ranger participation, help to identify project and personnel needs, and provide an open inclusive platform for sharing ideas and concerns.
The programme also has spillover effects, engendering greater awareness of the poaching problem within the larger Bateq community. In a recent incident, we were informed of two young Bateq who had encountered an ensnared kijang (the local term for muntjac; see top image) in a forest located away from our project site. The MYCAT team immediately coordinated with local wildlife authorities to mount an enforcement and release operation. Unfortunately, by the time the tranquilising team arrived the animal was gone, leaving only blood stains behind. The poacher had got there before us and six more snares were found nearby.

The grief that followed the discovery was echoed among the Bateq rangers. "This kijang was always there in our forest," a Bateq ranger, Adi shared. "I am sad because it is no longer a part of it now." As tiger prey species, the loss of this kijang and the presence of snares has a cumulative impact on Malaysia's dwindling tiger population.

Hassan, one of the programme's senior rangers, patrols the forest daily because of his inherent love for his forest home. Losing wild tigers would be a great tragedy as he and other rangers like him have grown up sharing the forest with local wildlife like the Malayan tiger.
"Acquiring the necessary skills needed to do this work (patrolling tiger habitats) is a requirement set by MYCAT," Hassan said. "I thank MYCAT who have listened to our needs and given me and my fellow rangers a lot of training to enable us to gain those skills. It's a lot to learn at the beginning," he divulged, "But with the continuous support from MYCAT staff, I feel much more confident now than when I first joined the programme."

The loss of this kijang also underlines the persistent and ever evolving poaching scourge. As a result, we have chosen to move one of our patrol teams out of our current project site into this newly threatened area. With additional support, our plan is to expand the forest and the wildlife under our protection without compromising the recovering wildlife that has been under our protection in our existing site.
We are indebted to global givers everywhere who have supported this programme and our Community Rangers in the fight to save the wild Malayan tiger.