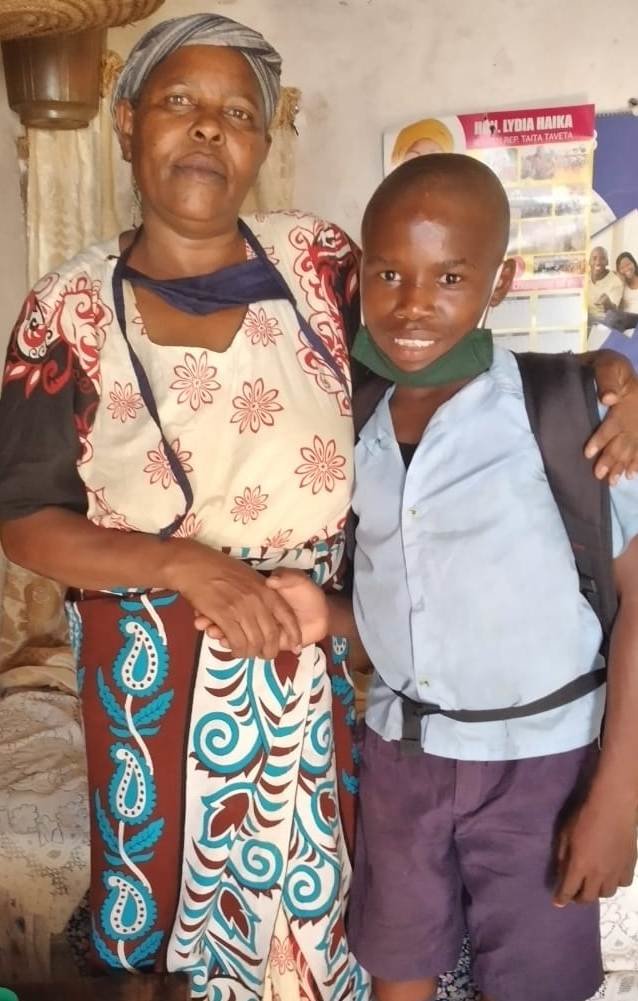 Mother and son were lost in words when they were reunited after several agonizing years. The path to the reunion was not a simple ordeal though. Sr. Janefrances and the social workers at the Grandsons of Abraham Rescue and Rehabilitation Centre had worked for many months to try and trace the home of Jasper, a boy who had lived at the centre for a few years.
"When he arrived here, he showed a desire to study and kept saying he missed his parents and siblings", says Sr. Janefrances. "He however could not remember how to get to his home, when we asked him to take us there though he knew the name of his village. At first he was afraid to go back home. He did not want to leave school and the friends he had made here. However we had to assure him all would be well, and that he would continue with his schooling. Eventually he was willing to meet his parents. We quickly got in touch with the local government offices in his home County of Taita Taveta and the search for his parents began in earnest."
When the parents were eventually found, they were overjoyed to learn that their son was well. They could not wait to hug him again. And so it was, in the month of November, when lockdown rules due to the COVID 19 pandemic were eased, that the Grandsons Team made that memorable visit to the outskirts of Voi town in Taita Taveta County. It was joy and jubilation at the village to be reunited with their son.
Jasper, like many boys on the streets, did not intend to live in the streets. However, circumstances forced him to end up there. When Jasper's parents could not afford money to buy him school uniform, books and writing material, he knew it was the end of his schooling. Young though he was, soon he would land in Mombasa with a dream to change his life forever and the lives of his parents and siblings. Though he had no knowledge of the big city, he knew looking back was impossible. He had to make a living at the tender age of ten. He was taken to the city by a distant relative who promised to give him work so he could earn some cash and send some back home to his parents who had four other siblings to look after and had no source of steady income for the family upkeep.
After only a few days in Mombasa, he wandered alone and could not find his way back to the relative's place. As evening approached he feared for his life but could not trace his way back. He says when some older boys saw him, they knew he was new in the city and invited him to stay with them. The rest is history. They would go around the town foraging for food and plastic bottles to sell until he got rescued and taken to Grandsons of Abraham Centre.
Thanks to supporters like you who donate to Grandsons of Abraham rescue and Rehabilitation Centre through GlobalGiving, Jasper and many other children like him can be reunited with their families.