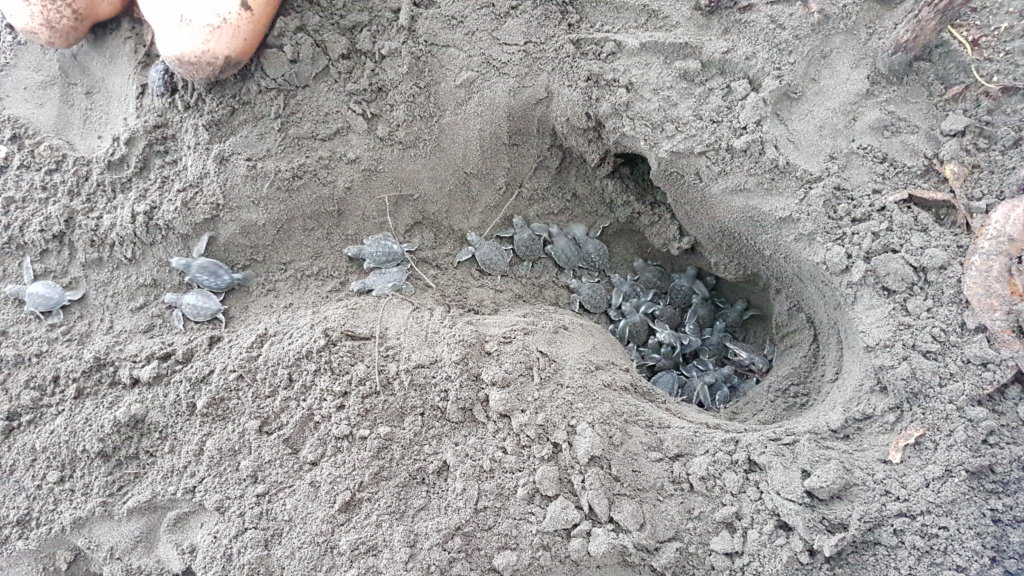 Dear Supporters,
Our base in Tortuguero National Park (TNP) re-opened in Janaury after being closed over December. We are getting back into the swing of things. We would like to take this opportunity to reflect on some of the highlights of each of our projects that we ran in 2016.
The Sea Turtle Project
We have been working in pertnership with the Sea Turtle Conservancy for over 7 years now. Our turtle seasons run from March-May for Leatherbacks and June- November for Green Turtles. In 2016 we
worked 10 Leatherbacks and marked 7 nests
Worked 567 Green turtles and marked 60 nests
Worked 13 Hawksbill turtles and marked 6 nests
This was a successful year for the Jalova Turtle Project, having trained more than 13 staff throughout the season, and more than 17 volunteers specifically for the turtle project. Jalova, also broke records in the area, having managed to work 25 turtles in one night patrol. 2017 looks promising for the hub and its turtles, as the turtle numbers, training and protocols will be improved.
Jaguar Project
In conjunction with Coastal Jaguar Conservation we have been working to determine whether predation of marine turtles by jaguars is having an impact on the turtle population in the area. This predation is not a new phenomenon but it seems to be increasing over the past 10 year period. Through our research we also aim to estimate the minimum number of jaguars using the coastal habitat of TNP and identify the availability of prey species in the area.
Using a series of camera traps and patrols over 2016 we have substantially expanded the knowledge base for this relationship. We are starting to better understand their presence, abundance and habits.
Incidentals and Forest Biodiversity Project
In collaboration with the Ministry of Environment and Education (MINAE) we have been documenting vertebrate species found on the southern tip of TNP. In 2016, we have been able to include 10 species that have not previously been seen in the area. The total number of species observed within this area since we began in 2010 is now at 462.
The Incidentals Project broadens the scope of our observations to include birds, reptiles and amphibians. We aim to construct a thorough species inventory for MINAE. We ensure that all of the volunteers are qualified to undertake the surveys, that they go out at different times of the day and to different areas. By doing so we can ensure that the data that we deliver to MINAE every 6 months is accuarte and reliable.
Bird Project
Also in collaboration with MINAE and with similar objectives- we aim to establish the species richness in the area. We have a special focus on 30 canal birds that are observed closest to our base. In 2016, we completed 119 surveys, recorded (visual or auditory) 1173 individual birds, a total of 64 different species. Of this, 24 were our target species.
We would like to thank you for your support of our work last year. We are looking forward to another succesful year in 2017!
With Gratitude,
GVI Costa Rica