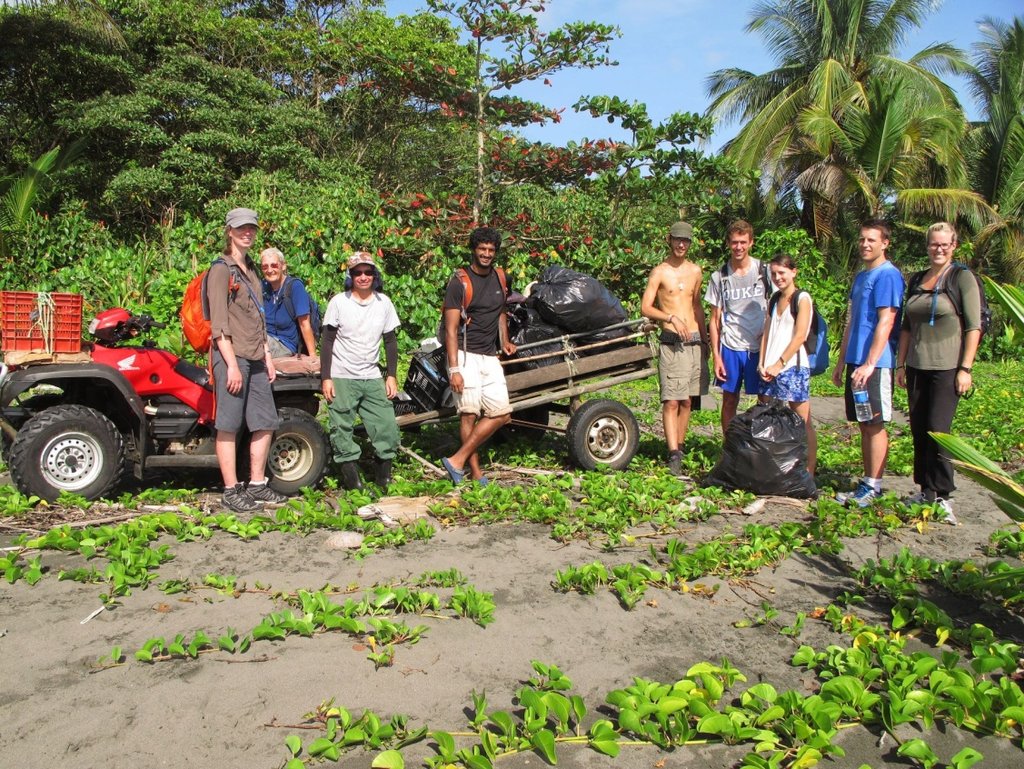 Last month, the GVI projects celebrated Earth Day along with the rest of the world! Tortuguero National Park boasts a stretch of coastline that is the second biggest rookery for nesting Green Turtles in the world; the most important nesting beach in the Western hemisphere. Each year, hundreds of turtles including Hawksbills, Loggerheads and giant Leatherbacks, make nests on our sandy shores.
Soon the eggs begin to hatch. Turtle hatchlings, upon climbing out of their egg chambers, face a number of natural dangers. Once through the breakers and into the sea they face a multitude of predators, and as they mature they face fishing nets and hunters. However, long before this on our beach they must contend with vultures, crabs, raccoons, coatis and poachers just to name a few.
It seemed fitting that as part of Earth Day we would do a litter pick to make their lives a little easier. We removed a large quantity of litter that had washed up on the beach via the rivers that run through the area and a strong rip tide that brings debris to shore. This assortment of plastic and glass is a danger to turtles and hatchlings that may mistakenly eat it or even be prevented from getting to the sea by it.
Over two days in what seemed like the hottest weather in months, teams walked a three mile stretch of beach collecting bottles, shoes, and even old gas canisters and refrigerators. The first day yielded eleven 15lb bags and a soda bottle from Jamaica! The second day yielded eighteen 30lb bags that were removed with the aid of a quad bike and trailer. A total of 705lb or 320 kilos was collected; a joint effort between us and the park rangers from the Ministry for the Environment. The project could not have been achieved without their help. It was an incredibly hard day, but well worth it as it has made the beach a safer place for the little reptiles.
If you would like more information on this project, please check out our website, like us on facebook or join us on Twitter! You can contact us at info@gvi.org with any questions or feedback on what you would like to see more of in our reports!
Links: