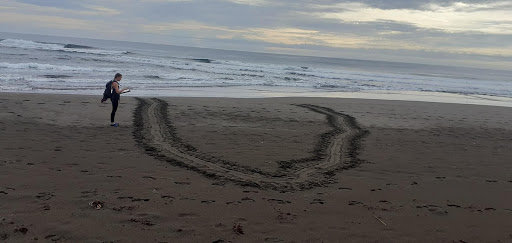 Dear Supporters,
Unfortunately for us all here at Jalova, the end of March saw our gates closing due to the Covid-19 crisis. Even with our gates closed, we have been able to help out the local community with their tree planting, beach cleaning and anti-poaching efforts amongst a town thrown into economic crisis. Without tourism the local economy has been reduced dramatically, leaving many people struggling but they are still banding together to protect their town and the local turtles who call Tortuguero home.
With the majority of staff and participants returning home when the crisis began, it has been up to local partners and the few remaining staff members to maintain the passion and integrity of our projects during this time.
The town of Tortuguero itself has experienced a terrible loss of its economic revenue during this period, as the local economy is almost solely driven by tourism. This has unfortunately led to an increase in poaching activity within the National Park which has been particularly impacting the local turtle population. To help combat the increase in poaching, the remaining staff have been working with our partners at the Sea Turtle Conservancy (STC) and local volunteers by participating in daily turtle monitoring surveys. While working with the STC we have been able to participate in local tree planting, a beach clean in conjunction with the local rangers and volunteers collecting over 200kg of rubbish and the protection of thousands of sea turtles through nightly beach patrols and morning surveys.
Over the last 3 months we have watched the transition from Leatherback to Green turtle season, welcoming the thousands of Green turtles who nest in Tortuguero National Park every year. We have also seen an increase in the local Hawksbill sea turtle population from last year, which is incredible news as this is a critically endangered species. Hatchling season has also begun, with hundreds of tiny tracks scattered along the beach. With SDG 14 - Life Below Water - being the focus these past 3 months, it is incredible to see these animals making their way to our shores with increasing numbers.
While we have been unable to fundraise during this time, it won't be long before we are back up and running and looking for the support of our incredible donors to help us reach our goals. Once our gates are open, we will need your support to make repairs, obtain new scientific equipment such as camera traps and to provide us with the never ending motivation to clean up our beaches after our months of absence. So we are calling on all of our supporters to hold tight, have faith and see the beauty that still exists in this world during this difficult time! We will be back before you know it and that return can only be possible with the strength and dedication of our supporters!
While this quarter has been a challenging one amongst the COVID-19 crisis, we have still been able to support our local community and protect the turtles we love. Our next challenge will be maintaining our high spirits until our gates are able to reopen and we couldn't do that without you! The Jalova field team could not have held strong or achieved so much with so few resources without the help of you – our supporters – and we cannot thank you enough for your constant support and generosity!
With Gratitude,
Costa Rica Conservation