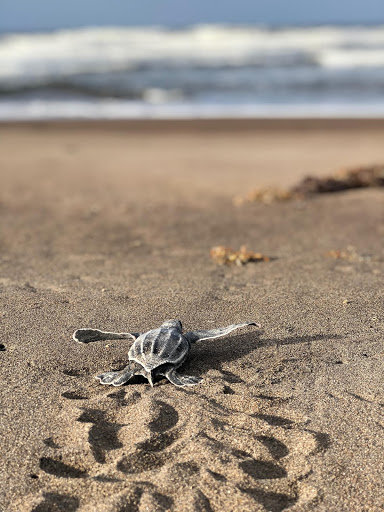 Dear Supporters,
This quarter our staff and participants have collected over 136kg of trash from our beach, installed over 50 sign posts and installed 4 camera traps in preparation for the beginning of the jaguar and turtle seasons here in Tortuguero National Park. The tireless work of our participants is so crucial to having a successful season and we couldn't be prouder of everyone's hard work! Our interns have also been working hard to lead the team in designing and installing a new garden bed and painting a new mural for base. Every little improvement helps to make Jalova more eco-friendly and welcoming for everyone!
Building projects aside, Jalova had an influx of incredible sightings over the last three months! From vine snakes eating whiptails to jaguars bouncing down forest trails and kingfishers fishing along the canals, we've seen it all! Heavy rains in January meant that the frogs were flourishing, and many evenings were spent out in the coconut plantation following their mating calls for a glimpse. There's nothing quite like wading through the swamps to find our amphibian friends!
Being a hot humid jungle means that the life of our electrical equipment is significantly shortened, and we often need to replace crucial monitoring equipment part-way through the season. Something absolutely essential for our jaguar project are our camera traps! Jalova is in desperate need of a new set of cameras, which are due for purchase ASAP! Any support or donations to the trust would be amazing to help us obtain these important pieces of equipment! You're continued support means that we can work to protect and better understand elusive creatures such as the jaguar, and better protect their habitat within Tortuguero National Park.
The largest impact that we have made together is through our monthly beach cleans. By supporting our fundraising efforts, your support is a constant motivation to collect more and clean greater areas to make our beaches a cleaner place. These beach cleans not only link with SDG 14 – life below water – but also with SDG 15 – life on land – because while our beaches are crucial for our nesting sea turtles, they are important habitat for jaguars and other land reptiles too.
Unfortunately, due to COVID-19 our research base at Jalova has been forced into hibernation. We are calling all our supporters to not lose sight of the bigger picture during this time! As once we reopen, we will be relying on all of you to help us once again recreate the beautiful and safe place that our beaches are for the wildlife of Tortuguero National Park.
This quarter has once again left us in awe of the wildlife Jalova has to offer and strengthened our mission of helping Tortuguero's beaches become a safe haven for wildlife. Our next challenge will be keeping faith and keeping our spirits high, so that when Jalova reopens we can jump head first into ensuring our piece of paradise is protected for generations to come! The Jalova field team could not have achieved so much without the help of you – our supporters – and we cannot thank you enough for your constant and consistent generosity!

With Gratitude,
Costa Rica Conservation