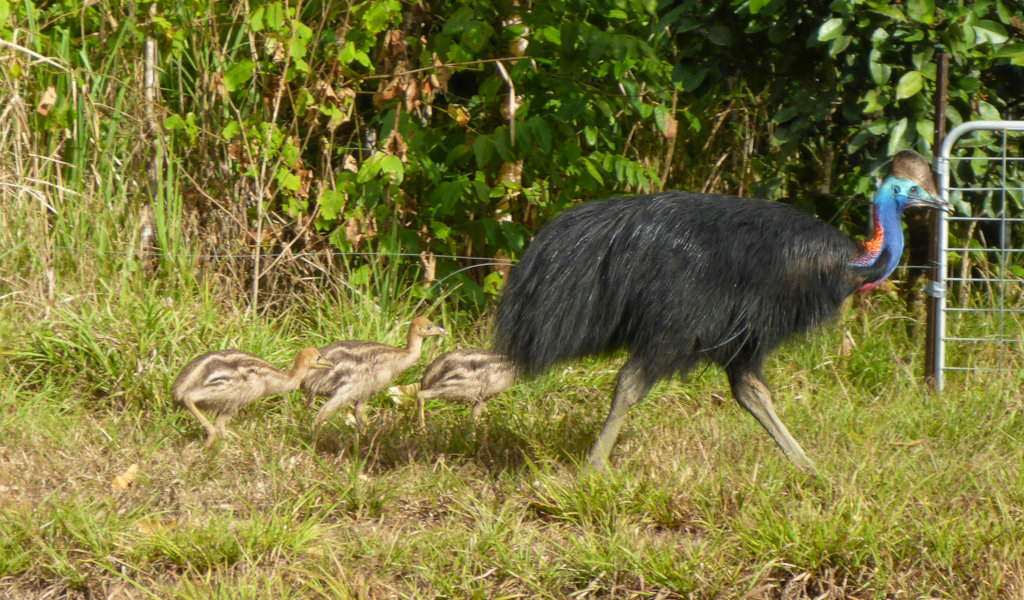 Years after the nearly 50,000 trees were planted to help regenerate and repair Lot 46, Cape Tribulation in the Daintree rainforest, the local Daintree flora and fauna are continuing to benefit enormously.
When I asked for an update on Lot 46 for our wonderful GlobalGiving Donors, from both our new Land Manager, Justin, and Ecological Advisor, Allen, the Southern Cassowary played yet again, a starring role.
Justin says, ''I have been watching the local male and female cassowary utilising Lot 46 year after year for the last 5 years for refuge, feeding and raising chicks… It is a valuable corridor to move between other neighbouring properties throughout the year but also provides valuable food sources seasonally of fruit of all sizes for the chicks to the adult birds.'' Justin has captured Dad and his chicks on Lot 46 as below.
Allen reinforced that; ''…Cassowaries are continuing to use Lot 46 in increasing numbers, as with more and more trees, come more fruit production (cassowary's food sources), so increased cassowaries.'' In the YouTube video here (Fast Facts - The Glossy Laurel (Cryptocarya laevigata) - YouTube), Allen speaks to one of these food sources, a primitive flowering plant among the interesting family of the Glossy Laurel, and the impact it has in the rainforest.
Allen also commented on the massive 27-hectare property as a whole saying ''…it is looking spectacular – many canopies are closing over, meaning very little weed activity.''
Further life abounds on Lot 46, with Justin adding that, ''… since November the Buff Breasted Paradise Kingfishers have returned from Papua New Guinea for breeding once again. Some pairs have taken up residence for feeding to refuel after the long trip but also have excavated a number of nest sites within the termite mounds that grow from the forest floor. Conditions are perfect for the termite mounds … for an airconditioned nest for them. Breeding is now in full swing with the chicks hatched and growing fast preparing for the big flight back north before the rains really set in.''
Thanks to your support, Lot 46 is the thriving rainforest that we have visioned – all those ten years ago when we purchased this huge piece of rainforest for forever protection. Thanks to you – flora and fauna of the Daintree are all that much safer.
We couldn't do it without you, we appreciate you and your support SO much.