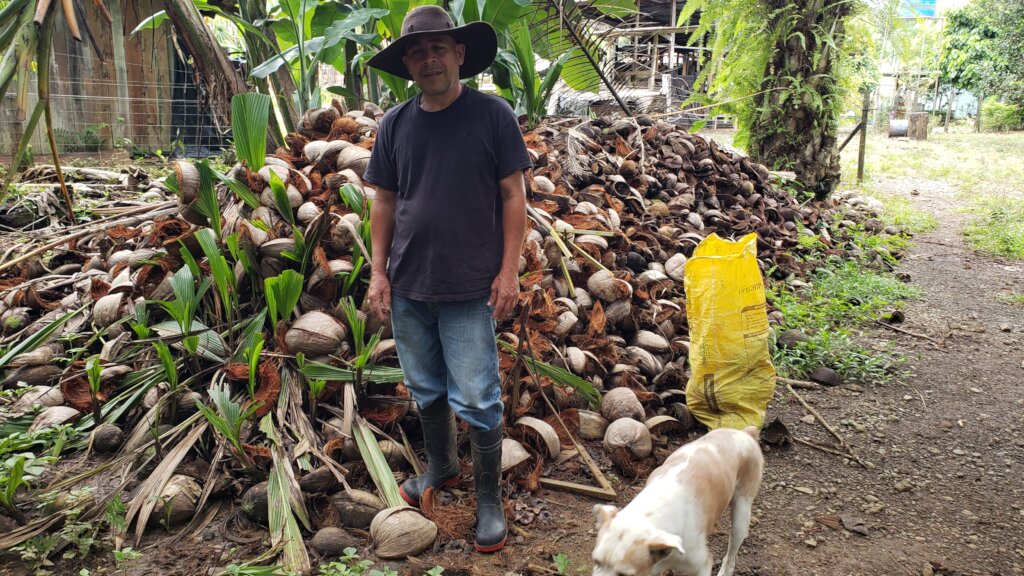 October was a very productive month for our sustainable agriculture project in the Costa Rican Osa Peninsula. Through several training sessions using a "train the trainers" approach, we were able to equip lead farmers in the Osa Cooperative with the knowledge and skills to train other producers in the community. Sustainable agricultural and environmental practices, as well as creating farm-level action plans, will contribute to strengthen the cooperative and improve its members' livelihoods while they protect the environment.
The trainings provided farmers with practical and actionable tools that will enable them to operate more efficiently, diversify their production to increase resilience, and reduce the cost and usage of fertilizers and pesticides. We also distributed flower seed starter kits to the participants that include local plant species that attract beneficial insects and pollinators.
Some of the training topics touched on:
Biodiversity is a smart investment
Risk mitigation - pests and diseases
Monitoring pests and their natural enemies
How to promote ecosystem services.
Training participants highly appreciated the practical approach to learning and spaces for exchanging opinions, knowledge, feedback, concerns and hopes. We encouraged them to think critically about their situation, their strengths, their improvement opportunities, the risks they face and innovative, collaborative solutions to keep moving forward and ensure their and their families' livelihoods. See what farmers said about the trainings they received here.
All lead farmers in the sessions invited others producers to the sessions they led, and the majority expressed their satisfaction and pride in leading the sessions and being able to share their new acquired knowledge in combination with their previous experience.
Participant farmers acknowledged the importance of biodiversity as one of the main value proposals of their products and businesses, and the role it plays in building up climate change resilience.
From the farmers' perspective, biodiversity is also about diversifying their own crop systems, with almost all of them implementing intercropping in their field plots to mirror the ecosystem services that can be provided by natural habitats. Most farms are nearby or within the Osa Peninsula conservation areas, which also means that a good portion of their farms is dedicated to preserve primary and secondary forests.
All participant farmers agreed that training is one of the best opportunities they have, as many of them are empirical and rely on the traditions and practices passed-on by their parents, several of which are not sustainable nor biodiversity-friendly. Knowledge sharing also plays a fundamental role in their development as individuals, farmers, and entrepreneurs. And it goes it both ways: they can share their learnings and experience and receive knowledge from others. They also recognized the importance that the cooperative has on reuniting them and allowing them to create a knowledge hub.
However, they also pointed out that training alone cannot make the difference – they need support to build their capacities and then commit to keep practicing and improving their learned abilities. Therefore, our next step will be to keep providing the needed backstopping while farmers are implementing their action plans. For our next update, we will tell you how the action plans are being implemented.
Thank you for your continued support.
Links: