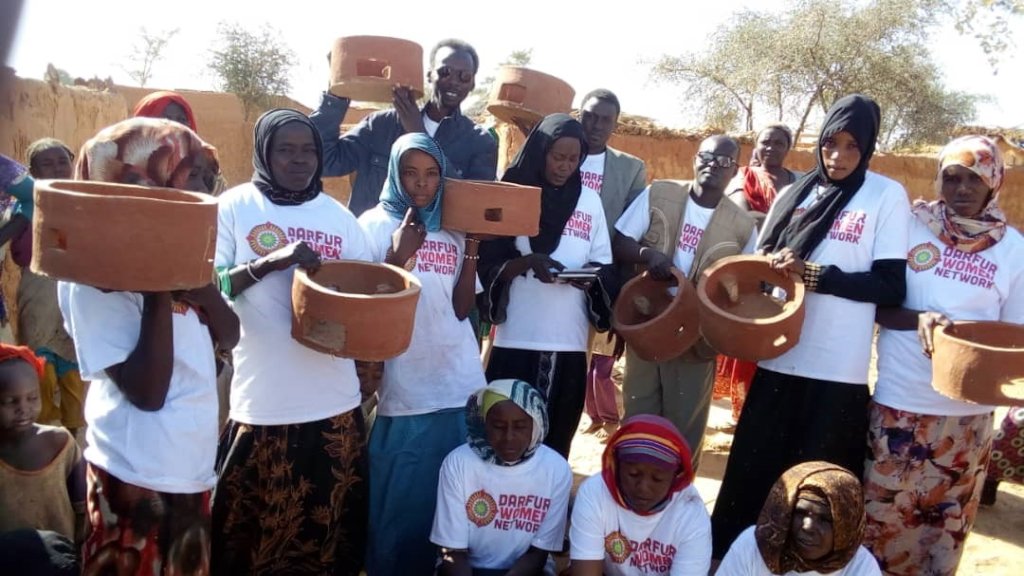 safe stoves are improtant for the refugee women for many things:
Hello Supporters!
Congratualations! in May 2018, our production groups in Darfur refugees' camp recieved 220 Safe Stoves as International
Women's Day's Gifts.
We began with the goal of supplying 7000 safe stoves to Darfur refugee Mothers . We've now dropped that number since
we've been able to provide 1220 stoves mothers.
Now, we committed to continue the Safe Stove project til we declear that Touloum camp free of traditonal stoves
or Safe stoves in all shelters and can move
to another camp.
This February 18, our Exective Director travelled to Darfur, Sudan. She said that she found a safe stoves in her family
home and in many family members and neighbors.
Our Exective Dirctor used that stoves to cook for family for three years. She said that the stove idea is same as the
one the Darfur Women Network has provided to mothers in the camp.She said that the one in Nyala, Darfur, it is made
of cement, sand, and small rocks. This stove is made to use charcoal as energy for cooking rather than firewood.The stove in Nayala,
Darfur keeps that heat for very long time and use small amout of charcoal. It is very heavey and difficult for women to
move it from place to another.

She was able to work with our Touloum to make safe stoves to celebrate Inernational
Women's Day.Leader of the production group had recieved our request to make 220 Safe Stoves. However, in February 2018, the group pasponded making the stoves we
requested becasue the group leader's son was very sick.
She had to travelled to N'djamena to seek treatment for her only son. The group decided to make stoves after their group leader return.
We respected their decsion.The group made the Safe Stoves in April. In May, our voluntee staff distributed the 220stoves to the refugee mothers.
Those who recieved the stoves, they acknowledged that they are gifts as celebration of International Women's Day.
The 1220 Mothers who recieved the safe stoves are happy for several reasons: They decrease their trip to collect firewood, they are safe, their children are safe, and
the environment in their house becasue the safe stove dosen't produce much smoke during cooking process. Moreover, the
production group also are very happy when they sold us the 220 safe stoves becasue they earn income and able to take care of their families.
We are grateful for your generous donations and strong support of our donors. Thank you for enable us to make great
progress in our mission.

Safe Stoves positively impacts survivors of genocide in Darfur refugee camps:

1220 safe stoves were produced and distrbuted
200 Women have access to income from the Economic Empowerment
More that 6000 families benefit from this project
We are committed to provide 5780 mothers with safe stoves to announce that Touloum Camp is traditonal stoves free

Reduce the number of dangerous trips that women and young girls must make to collect firewood by 75%
Decrease the risks associated with the open flame of the traditional stove, such as smoke inhalation, burns, and accidental house fires
Reverse adverse ecological effects and desertification by allowing more wood to decompose natural
Please help us to create an opportunity for economic empowerment for the women that DWN pays to make the stoves and to safe mothers and grils from rape
and voilence attacks.
please check the impact of your donations:https://youtu.be/p7N27JISS_U
Here is your project:https://www.globalgiving.org/projects/protect-empower-refugee-women-and-girls-from-darfur/reports/#menu