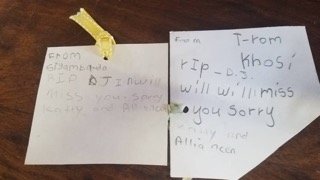 When I moved to the Vusumnotfo grounds back in March, I quickly became attached to the three dogs that lived here; Coffee, DJ and Rhino. Rhino and Coffee always wanted love, but DJ took lots of effort, I had to be very intentional with her. As a puppy she had been stolen from her mother and stuffed up a drainpipe; 15 years later the physical scar was still visible.
Over the last 6 months I grew to love DJ, as did my little sisi (sister) who comes to visit me often on the weekends. Khosi - through spending time with Coffee, DJ, and Rhino - learnt how to treat dogs, how to love them and how dogs give back love in return.
Sadly, back in June, DJ passed away peacefully in her sleep. She had lived a wonderful 15 years filled with love, walks, great food and all the humans she could ever ask for. Losing DJ was difficult, but something I didn't expect from the experience was the visual proof of how a companionship with dogs can motivate empathy in children!
After DJ died, we had Khosi and her friend Siyamthanda come over to spend some time with Coffee and Rhino. When they came, they brought these amazing cards for my boss Kathy, which said "RIP DJ I will miss you. Sorry Kathy and Alliancen". After they gave the cards to us, they then went out to the grave to pay their respects, and say their goodbyes to DJ.
If you had told me this would be their reaction a year ago, I would not have believed you. However, these two little girls have been able to grow as young ladies and expand their emotional abilities as a direct result of spending time with these dogs! It truly is an amazing transformation to witness!
One of our main programme activities is our annual spay day. Spay day is part of Vusumnotfo's early childhood training programme "to increase knowledge of early childhood development and learning, including factors that influence this". Specifically we use the spay day as an example to show how animal care can demonstrate responsibility and empathy to children.
Having these amazing experience with Khosi and Siyamthanda remind me daily of how much a family pet can in fact change the lives of their humans. By supporting our project, you help make what we do possible! Please note that all donations made up to $50 on September 14 to 18 will be matched by GlobalGiving at 50%.
For updates on our related activities, go to our Instagram handle Vusumnotfo.Eswatini and our Facebook page Vusumnotfo.Eswatini.
Links: