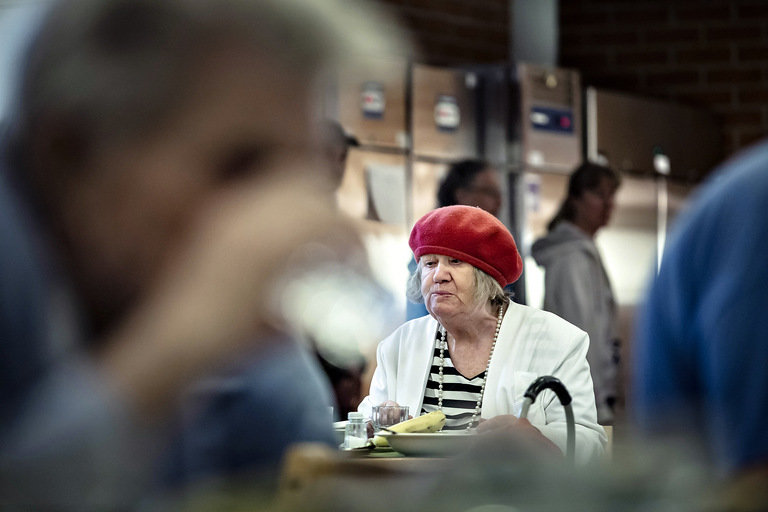 The Blue Cross in Finland is currently concentrating strongly on food and food aid in line with the global trend. The aim is not only to prevent food waste, but especially to provide food to the poor by distributing meals and to provide a place of encounter and community for elderly people.
Eating alone in later age is a big topic. The isolation when loved ones die around and the social environment shrinks, causes many eating habits among older people that are not healthy. Many people feel that it is not worth cooking for themselves, so the variety of food is limited. Other people, one may willingly say older men, often cannot cook because they have been blessed by their wives all their lives. Yet others are no longer fit enough to stand in the kitchen or carry shopping bags.
This very often leads to emotional discomfort. "Happiness goes through the stomach". If the food is suddenly a burden, tastes flavorless or reinforces the solitude, it leads to health and mental damage for many people.
The Finish Blue Ribbon allows older people to eat together regularly. The benefits and enjoyment of the lunch tables are underlined by the following statements:
The diversity of food aid work is a relief in everyday life, it reaches many different people for many different needs.
Peter, an annual member of the Church who eats at church three times a week, says he can't even cook: "I would eat cold food if these places didn't exist." Two other days a week, Peter goes to Vuosaari for dinner and the other in Vartiokylä. Nina, a resident of Vallila, says she regularly attends a meal held by 4-5 parishes around Helsinki: "I must visit here when there is such a small pension. I'll go somewhere. The crowd is fun to eat." Peter, sitting at Nina's table, says that cooking at home doesn't make sense: "What would you even cook for yourself."
The most important theme throughout the day is that a person should be allowed to be involved in the society in which you live. Modern food aid work brings a lot more than food.
With your support, you help to ensure that old people not only get a warm meal, but also enjoy their daily lives through the community. The social contacts throughout the meal become friendships! Thank you for your donation!