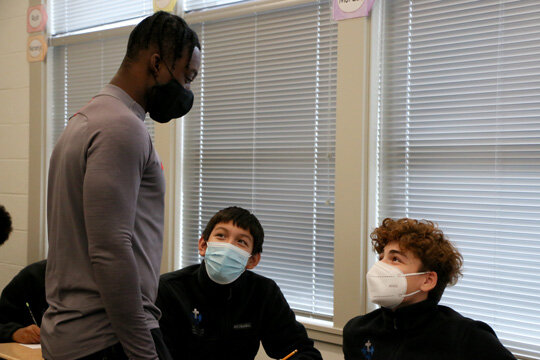 Students with Warner Pacific University's (WP) Departments of Nursing and Physical Therapy usually train with each other to develop interpersonal skills that they'll use in their future professions. Yet one group of students has taken on an added experience that places them directly inside a classroom of ninth graders to mentor young people toward healthy behaviors.
For Brian, who is studying occupational therapy at WP, his mentoring experience at De La Salle North Catholic High School (DLSNC) has surprised and inspired him.
"One thing I noticed about the class is that they really get comfortable with us mentors very quickly," he said. "After our session I had one student call out my name from down the hall as I was leaving and he just gave me a good bye wave which I thought was totally cool considering the fact that it was my first day as a mentor and I was only in the class room for about 40 minutes."
His colleagues, all WP nursing students, arrive in their bright blue scrubs ready to share their excitement about health. They work together to create lessons and activities around a specific health topic each week. They've developed lessons on nutrition, exercise, how food affects the brain, ways to manage stress, understanding the current impact of COVID-19, and how to fact check sources.
The WP students take turns presenting the main topic of the day, then they gather in small groups with the DLSNC students to participate in activities and discussions. The smaller groups help promote discussions where everyone gets a chance to talk and share.
"It was interesting to see individual participation of some in smaller groups," said WP mentor Emma. "They were more engaging, inquisitive, and well adjusted, compared to when they are in the full classroom."
Her colleague Dev, also a nursing student at WP agreed. "By being in the small groups, the students were able to voice their opinion and participated more in the discussions."
The ninth graders at DLSNC provide the WP students with genuine reactions about the lesson content and information, especially during their session about understanding health misinformation and sourcing.
Sienna said, "I learned that a lot of influencers promote unrealistic things." Kim shared, "It's important to fact check so you don't spread misinformation accidently." And Sam said that he learned that misinformation is bigger than he realized. "It's important because it can cause frustration."
For the WP mentors, their experience at DLSNC helps them build leadership skills and confidence in presenting health information to a younger audience. Belle said, "I like that the material is relatable to the students, which increases more engagement when prompted with questions."
Such engagement helps foster positive relationships, which help build knowledge and trust. Your donations help foster this vital experience for both college and high school students. MIKE is thankful for your support to nurture our future healthcare professionals.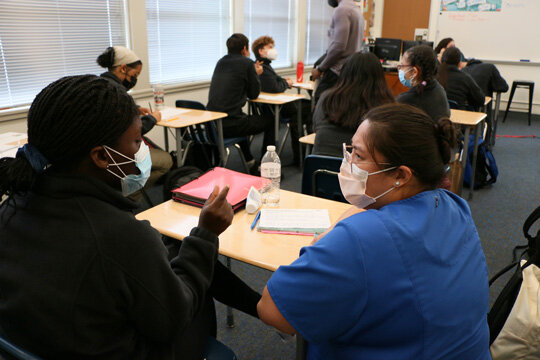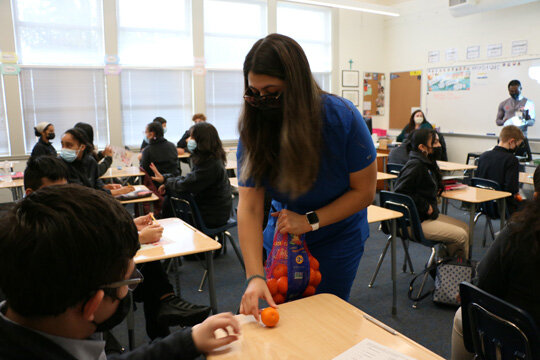 Links: