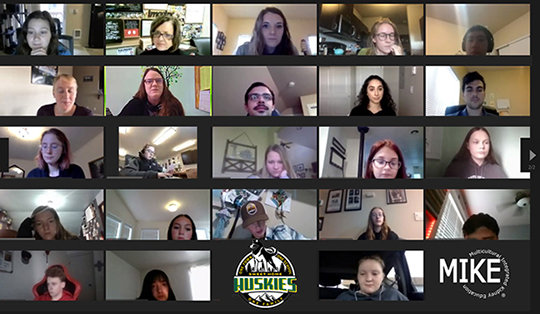 2020 has proved to be a challenging year for everyone, especially for high school students. The stark reality of closing schools and shifting education online has changed how teachers, students and the community engage. Yet, positive changes have emerged, such as the MIKE Health Club at Sweet Home High School.
Students in grades 9-12 are joining an opportunity to engage directly with medical school students in this unique program. Ten medical students from Western University of Health Science, COMP-Northwest (WUHS), are volunteering to mentor youth each week, even with their own demanding schedules. As one of the mentors, Joe says, "This is something I cherish with the Mike Program because it enables me to improve myself while given the privilege of helping others."
The MIKE Health Club is held once a week between the high school students' other classes. The students log in each week to learn about health and healthcare careers. And, what better way than having the opportunity to talk directly with young professionals who are working toward those careers in healthcare.
The Sweet Home High School teacher involved in the MIKE Health Club shares that the students are so excited for this opportunity. One of the most popular segments each week includes the breakout time. This provides the students direct time with their mentors for some meaningful conversation. It is one of the biggest draws of the MIKE Health Club. The discussion focus reinforces the information presented in the lesson plan and provides the youth with a direct line of communication with students and other healthcare professionals. The conversations illuminate topics of interest for the youth and help build trust in health information.
The MIKE Club also features a guest speaker each week. The mentors reach out to professionals in the community that work in the field that is covered in the lesson plan. It provides the youth with additional opportunities to meet physicians, counselors, dieticians and others as they explore a variety of career options.
Lou, who is one of the lead mentors with the WUHS team says, "I've experienced first-hand how my energy, overall health, and ability to do the things that I love changes depending on the decisions I am making every day. I am eager to share what I have learned about health, as well as to continue to learn about what it means to lead a healthy lifestyle with the youth."
As MIKE continues to build relevant health programming and opportunities for youth, it is only possible because of supporters like you. With end 2020 having met numerous challenges, yet look toward 2021 with renewed energy and vision. Together, we can make a positive impact in the lives of youth.
Links: