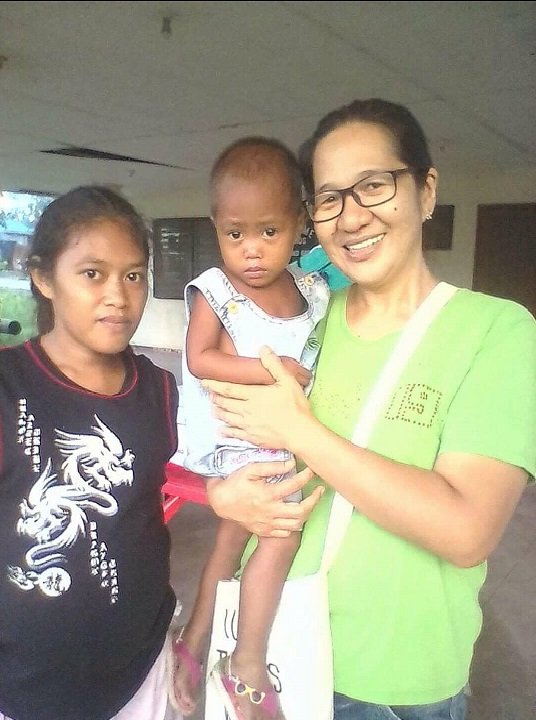 Dear friends and partners,
2017 has been so good to us. We were able to open new feeding stations, partner with different organizations and individuals to create more awareness on malnutrition, get a lot of training to improve our services and most importantly, see improvements on the nutritional status of our beneficiaries. Here are some of the beneficiaries of #projectbaon and how they have improved overtime.
At the beginning of the feeding program, Mary (not her real name)he cries a lot, she walks very slow, smiles very little and looks like she's in pain. She's severely malnourished. She was almost 4 years old and she only weighs 8.1 kg the first time we weigh her.
After several weeks we have seen how she's changing. She started saying "bye bye" to us after every feeding. It's a big change from not talking to saying some simple words like that. We have seen her smile often too and the mother who was pregnant that time was very happy to the progress she's sees from her daughter.
Small little girl she might be but she eats a lot during the feeding. She loves the manna rice and the soup. She loves all the food that's being served.
Now, she even likes coming to the program with a bag pack.
Lindy (not her real name) is an eldest daughter. She has 2 siblings. Her father is a tricycle driver and her mother is a housewife. They live in a small community with lots of kids. She's a grade 3 honor student. She's very smart and excels in school. The first time we met her she really wants to join the program. She was included on the first batch this year. She really enjoys the food that we serve especially the rice (Manna Pack) and the Lumpia (Mix Vegetables). She loves dancing and hearing wonderful stories. She has an initiative on helping others, she has a compassionate heart.
One time after our feeding program she came to me and asked if we still have a leftover food so she could bring it to her family because she wanted also for her siblings to eat what she had. She cares so much for her family. Her parents are very supportive also in order for her to finish the program. Right now Lindsey passed the normal weight and an active member of our Sunday School.
Heart (not her real name) is the youngest in the family. At first she was skinny, sickly and was always carried by her mom. She seldom joins activities. After a few months changes have happenned. She eats a lot, has become energetic, starts to talk to us and joins activities. With more health interventions, we hope Heart will reach her normal nutrition status.
We'd love to tell you more champion stories on our next posts!
As we say goodbye to 2017 and joyously welcome 2018, we hope that you will continue to work with us to end the cycle of malnutrition.
With a heartfelt thanks,
Team Reach Out Feed Philippines