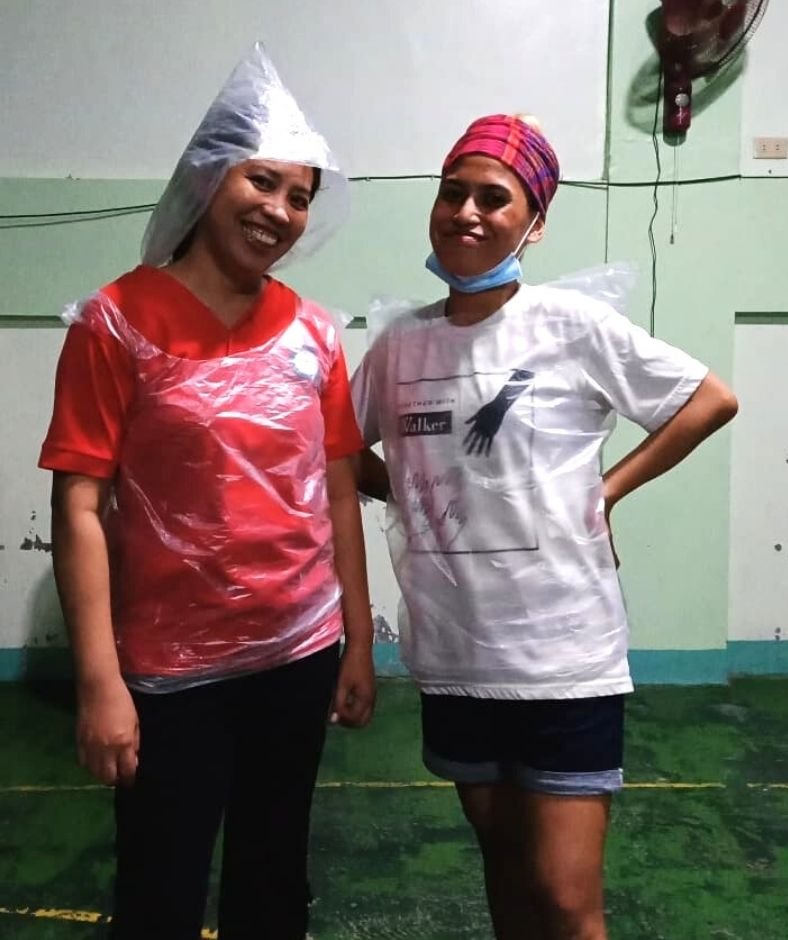 It has been difficult for all of us ever since the pandemic started. Many of us have experienced some kind of loss and most of us adjusted to new circumstances. That is why we would like to share our volunteers' story of dedication and selflessness to inspire and cheer you up.
On September 22, Ana, Charles, Ate Leony, Ate Weng, Monic, and Ate Ruth who are regular volunteers, prepared an early dinner meal for the kids at Sitio Dumpsite. They finished cooking and packing the meals of fried chicken, rice, and banana and were ready to deliver the food to the community by 3 pm. (Because of Covid-19 we're now delivering meals to the kids instead of gathering them at our feeding station.) However, heavy rain started to pour. They waited for the rain to stop but it did not. Time was running out and the meals needed to be distributed. After one and a half hours, they decided to leave.
Armed for the rain in improvised raincoats made of plastic bags, they rented two tricycle. However, another hurdle came into view. The rain made the last few hundred meters impassable, so the team had to walk the rest of the way. With plastic bags full of meals in each hand, the team walked up the muddy and slippery road to reach the kids. It was nighttime when they finished serving all the food. They had to walk back to the feeding station because they had reallocated their transportation money to the meal budget to produce more meals. "We walked home drained of energy but our hearts were full," one of them said later.
Ana documented their experience and you can watch it on our Facebook Page.
From the collective funds we received thru your generosity, together, we were able to provide meals to children in four feeding stations:
1. Bagumbayan and Libis: 130 kids
2. Sitio Dumpsite: 200 kids
3. Cainta: 100 kids
4. Brgy. Tarace: 50 kids
A total of 480 kids are served every week.
"There is nothing more beautiful than someone who goes out of their way to make life beautiful for others." - Mandy Hale
This quote doesn't apply only to the Sitio Dumpsite team but to you as well who finance this advocacy.