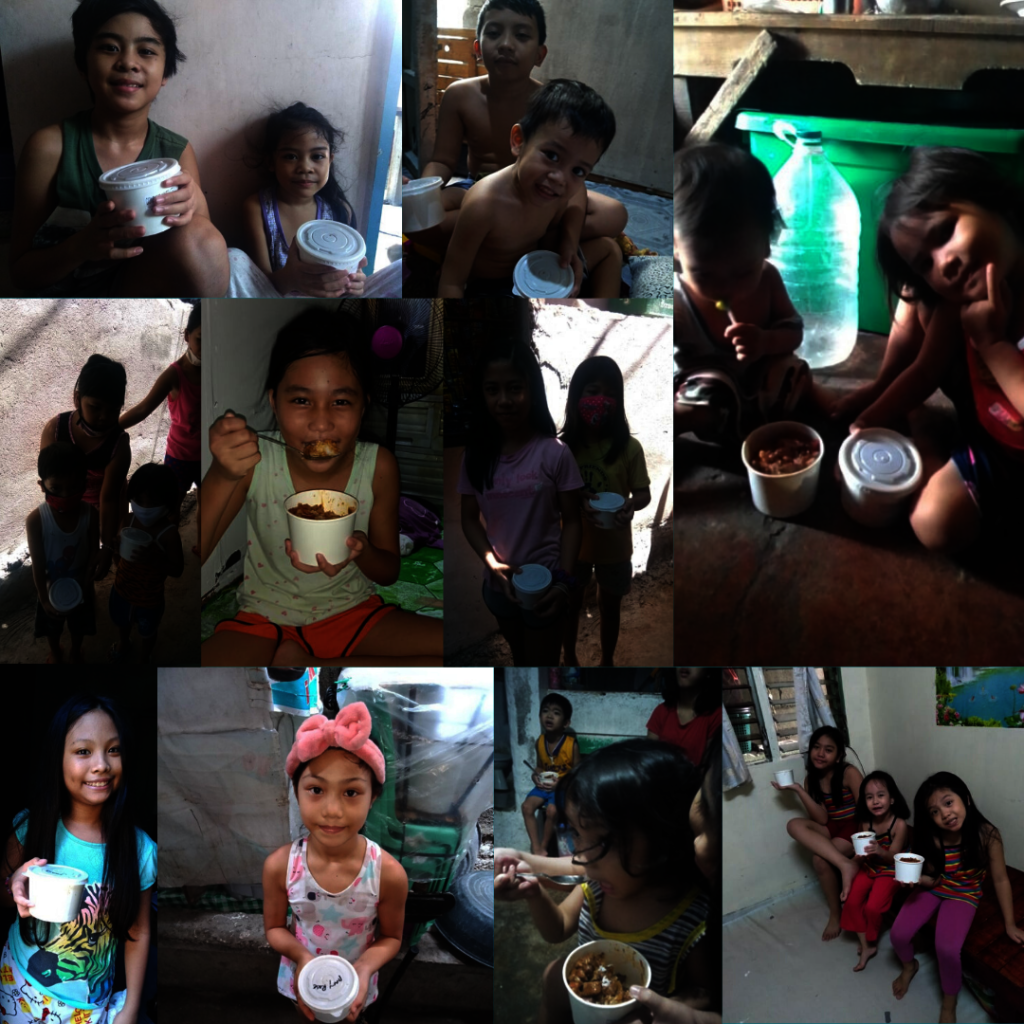 To our dear Donors and Partners,
Year 2020 is the 5th year of the #ProjectBaon program and there are simply no words to describe our gratefulness for your support and love for the thousands of kids who have received their school meals through this program since 2015.
School year 2020-2021 will be a totally different experience for all the kids in the communities we serve. Due to the Covid19 Pandemic, there are still no definite plans on when schools will be open. With covid 19 cases still on the rise and no vaccine yet available, the government, educators and parents are all in agreement that Schools should NOT open yet.
And so #ProjectBaon continues with our team going house to house to deliver these essential meals for the kids and in some communities even for their whole family. To maximize the impact, we have decided to combine funds from the #ProjectBaon Fundraiser with our Covid19 Relief Funds.
In the first wave of meal and food pack distribution, a total of 3,071 meals were distributed to 4 different locations as below :
Brgy. Bagumbayan, Quezon City
Brgy. Kamuning, Quezon City
Sitio Banaba, Antipolo City
Brgy. San Jose, Antipolo City
In Brgy. Bagumbayan Quezon City, one family you are helping is the family of Lilian, a single mother of 5 kids.
"I see happiness in my kids whenever we receive meals from you." says Lilian. The father of her children is in jail. Lilian had him imprisoned because of his drug habit. "Even if it means my having to raise the children alone, I'd rather see him behind bars" she says. Before the quarantine, she made a living by peddling sampaguita flowers along Katipunan Avenue and sometimes by cleaning condo units at Eastwood City. Since the lockdown began, she and her children have been forced to stay in their small house beside the river in Brgy. Bagumbayan, Quezon City. She has no way to earn a living, no means of providing food for her children."
Lilian is just one of the thousands of families we are able to help through your continous support.
Please pray for our team as we increase our reach to more locations needing help. Please pray for the protection of staff and volunteers who has been preparing the meals, packing relief and distributing it to the communities as Covid19 remains a real threat to the health of everyone.
We THANK you! We hope that you will be blessed beyond your expectations in the coming months even through this difficult season we are all in. Thank you for showing us, and the families we help that there is still HOPE.
Yours sincerely,
Dawn + ROFP Board of Trustees, Staff and Volunteers