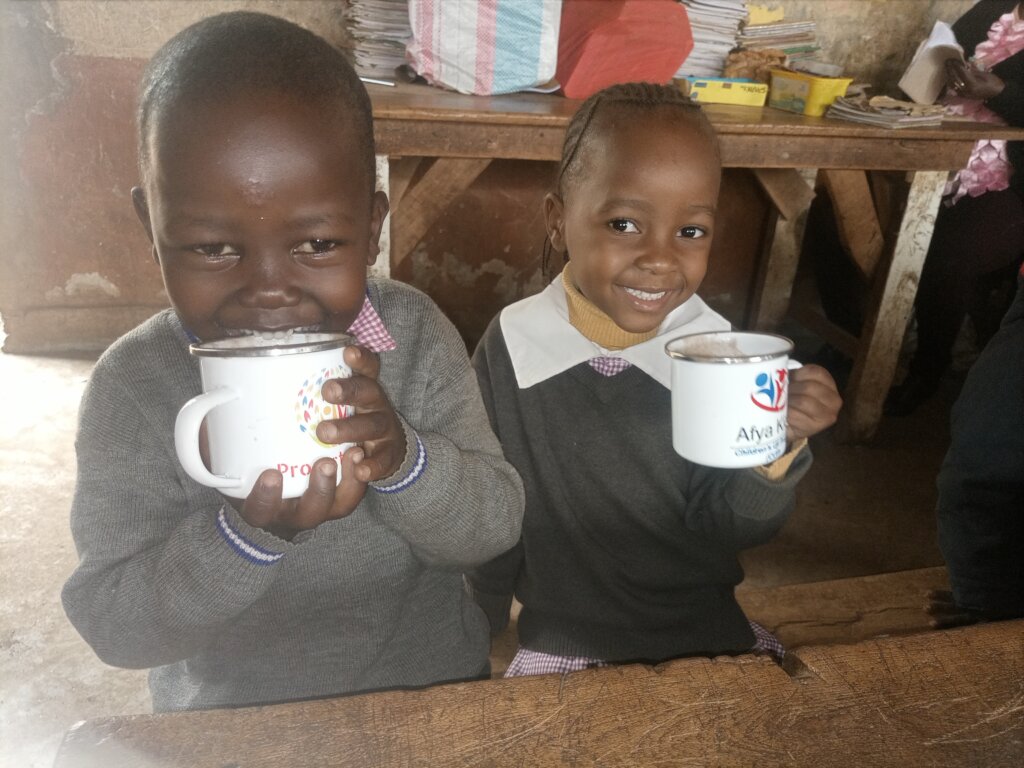 PROGRAM REPORTS
Greetings from the Monicah Ndegwa Center for Women & Children!
These are reports of our three programs:
The Children Uji Program(CUP)

Stitches of Hope Program

Kinga Community Health Education Program
CHILDREN'S UJI PROGRAM (CUP) REPORT
This is a progress report submitted for the Children's Uji Program (CUP) with regards to Preventing Maternal & Child Malnutrition in Kenya implemented by Project Afya in Githurai. The schools in this locality have been affected by childhood malnutrition due to the high rate of poverty in the community. If this problem is not addressed in time, the effects are usually irreversible.
This year's CUP program commenced on 31st May 2022 with 168 pupils from Early Childhood Development Education(ECDE) that included the PP1and PP2 classes.These are children that are under 5 years old and are susceptible to infections hence the supplemented porridge boosts their immunity. Below is a summary of pupils who were served porridge during the JUNE period;
WEEK ONE:-151 pupils
During week one,the children were delighted that the program was back and their excitement was written all over their faces.
WEEK TWO:-168 pupils
Week two showed a spike increase in attendance which is an indicator that the program is achieving the desired result.
WEEK THREE:-164 pupils
The week three data collected indicated that some pupils were absent from school due to the flu outbreak caused by the cold June weather.

WEEK FOUR:-183 pupils
Week four registered an improvement in attendance as the students sat for their exams.They were also excited about the porridge and had recovered from the flu.
WEEK FIVE:-149 pupils
The Thursday of week 5 showed a spike decrease in attendance because the PP1 class had closed school on Wednesday. Their portion of the porridge was then given to the rest of the older students who were elated to have a taste.
As we served porridge to other students we noticed Naomi sleeping. Upon consulting with her teacher, we found out that Naomi comes to school on an empty stomach since there is no food at home. She depends on the porridge we serve at the school.. We gave her some porridge and snacks and it was wholesome to see her come to life again. She even asked for more saying 'niongoze', which means 'give more more'. This is evidence that some of the pupils. We have no food at home. With the high levels of poverty in Githurai and the elevated cost of living, parents are thankful for the CUP program.
The Stitches of Hope program empowers women to lift themselves out of poverty through developing skills in tailoring and dress making. The program also mentors them to become drivers of social change for themselves and others in the community.
Sewing
The first cohort of women is set to graduate on August 17th 2022. Currently the second cohort is in session. We have 8 women in the second cohort which is a great deal for us. They are very interested and eager to learn about all aspects of sewing and they are making strides in their training. The women are greatly for this opportunity as it will help them become self reliant and be able to make their own decisions with regards to their families and communities.
With the increasing number of women, there is a need for more sewing machines and we cannot do this without your support.
KINGA COMMUNITY HEALTH EDUCATION PROGRAM
The goal of the Kinga Community Health Program is to promote health and prevent disease in Githurai. The program delivers health and hygiene education at the community level using simple terms and basic illustrations. The lessons are centered on the whole-person taking into account mental and social factors, rather than just symptoms of a disease.
In April we rolled out the Kinga Community Health education program, a weekly health education program where interns from Kenyatta University hold discussions about matters concerning health with the ladies enrolled at the Stitches of Hope program.
The program runs every Wednesday and the health talks are about topics such as reproductive health, mother and child health, infectious diseases and noncommunicable diseases.
Thank you all for your generous donations and continued support!